Veeva Vault SiteExchange Simplifies Document Exchange in Clinical Trials
Streamline information sharing, increase visibility, and improve operational efficiency.
Learn More
Veeva Vault SiteExchange
Veeva Vault SiteExchange makes it easy for sponsors, CROs, and investigator sites to collaborate on study activities by providing a single point of access and consistent processes for document exchange during clinical trial execution.
Sponsors, CROs, and investigator sites are one log-in away from securely accessing the latest study documents, workflows, alerts, and notifications across multiple trials all in one place.
With a single view and consistent processes for document exchange across trials, Vault SiteExchange streamlines information sharing among clinical teams, increases visibility across studies, and improves operational efficiency.
BENEFITS
Complete Visibility – Always have a full view of the status of key investigator tasks across sites to make more informed decisions, faster.
Improved Efficiency – Make it easy for study teams to access and exchange trial documents in real-time to streamline communications, and increase clinical trial efficiency.
Single Source of Truth – Equip study teams with one single version of the truth that is always up-to-date and accessible.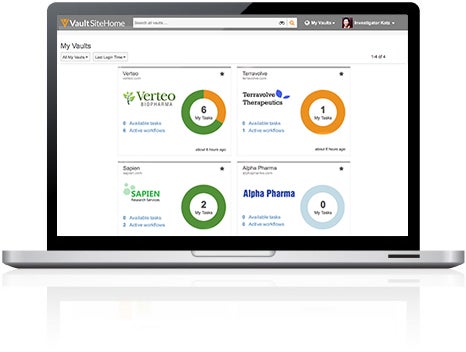 Features
SINGLE POINT OF ACCESS
Sites log-in once to access all study documents, requests, notifications, and alerts across multiple sponsors.
SITEHOME PAGE
A consolidated view of all study document requests enables investigator sites to quickly and easily identify which studies are complete, which are outstanding, and fulfill document requests across all studies from one central dashboard.
DOCUMENT EXCHANGE
Guided workflows make it easy for clinical teams to request, receive, electronically sign, distribute, and update study documentation.
COMMON EXPERIENCE FOR SITES
A consistent user experience for document exchange simplifies interactions and improves communications between sponsors, CROs, and investigator sites.
DASHBOARDS AND REPORTS
Gain full visibility into the status of all document exchange activities across studies. Know what is requested, what's completed, and what's outstanding at all times to speed documentation completion.
COMPREHENSIVE AUDIT TRAIL
Ensure full visibility into document and transaction history, and maintain proper controls with an always-on audit trail.
SINGLE SOURCE OF TRUTH
Study teams access the same clinical information with the seamless unification of study documents in
Vault eTMF
and
Vault Study Startup
applications for one, single version of the truth. Information silos are eliminated, reducing administrative burden, and increasing visibility, and operational efficiency.
INTEGRATION WITH THE TRANSCELERATE SHARED INVESTIGATOR PLATFORM (SIP)
Integration of Vault SiteExchange and the Shared Investigator Platform (SIP) gives investigator sites a secure, single login from within the SIP for document exchange across participating sponsors.
SCAN DOCUMENTS ON THE GO
Veeva Snap allows users to easily scan documents directly into Vault from an iPhone or iPad. With the snap of a button, documents are encrypted, secured, and automatically uploaded to your Vault.  
See Veeva Snap in action
.
Resources

Product Brief
Veeva Vault SiteExchange Product Brief

Product Brief
Veeva Vault Clinical Product Brief