Snap!
Jun 29, 2017 | Rik Van Mol
Last year I took a snap of the audience while on stage at Veeva European R&D Forum, and if I tried this year I would have needed a much wider camera lens.

Wow, what a turn out! We had more than 250 attendees from 70 different organizations, travelling from 19 countries join us in Copenhagen.
The community feeling was strong this year. In joining the sessions and talking with attendees, I heard common topics, themes, and learnings across the clinical, quality, and regulatory tracks. There was a real spirit of people driving towards the same objectives, including adhering to regulations, replacing legacy technologies, and managing change.
These objectives, while from many different organizations, are to support a common industry goal: delivering innovative and quality products to patients faster. In today's life sciences market, it is no longer good enough to have teams working in silos, focused on only their part of the process.
Instead, functional area teams want to collaborate and manage common content on one platform. This ensures teams leverage the same authoritative information, avoiding duplicating efforts, while creating greater business efficiencies. For example, study protocol documents should be created once and re-used between clinical and regulatory operations teams without the need of distributing and managing various copies of the same document.
This is where Veeva Vault is helping teams transform their internal end-to-end processes and how they interact with external teams. Removing the need to integrate and stitch multiple systems together, Veeva Vault unifies operations and connects teams with one platform.
What's great about R&D Forum is that people realize they aren't alone in their challenges. The level of interaction and discussion was remarkable as attendees realized what others have achieved and they wanted to know more. As a lively group, attendees challenged both each other – and Veeva. For example, automating and reporting on TMF completeness and accessing real-time status of a submission from planning through to registration were two examples that sparked lively discussion.
It's always exciting to share our latest news and to do so on stage at European R&D Forum is even more special. This year, Avril England, general manager for Vault, and Stijn Willems, solution consulting director, previewed Vault Snap…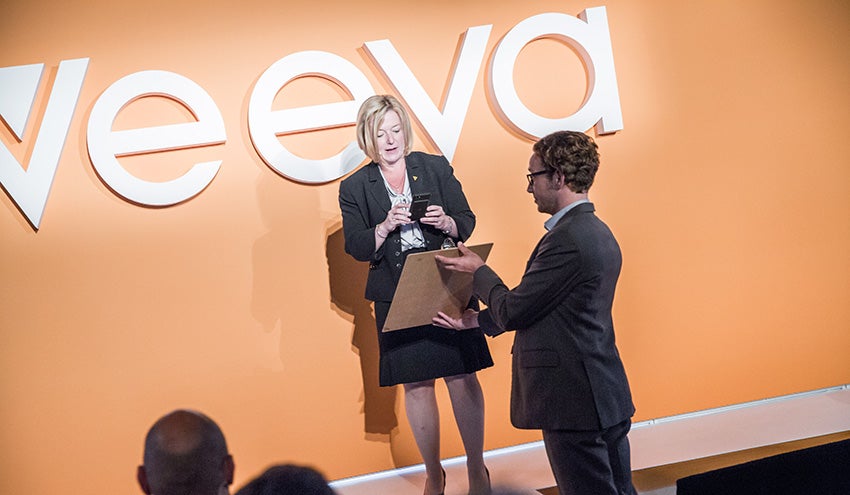 Vault Snap, which will be available at the end of the year, is the Vault mobile app. It allows users to scan multiple documents directly into Vault from an iPhone or iPad, increasing the accessibility of the platform and improving productivity of users.
Like a snap of your fingers, our product team delivers new capabilities, and we are all proud of the speed at which Veeva innovates. It appears that our speed is infectious as Vault customers shared their stories during European R&D Forum about how they adopted new technologies and processes in a matter of weeks.
I, along with the Veeva team, thoroughly enjoyed European R&D Forum and look forward to the upcoming Veeva European R&D Summit that will take place on 12-14 June in Barcelona. I can't wait to meet up with the European R&D folks for another engaging and thought provoking couple of days.