Speed & Compliance, from Concept to Distribution: What's New in Vault 19R2
Jul 09, 2019 | Brian Harper
19R2 is all about making everyday tasks — like assembling compliance packages or submitting documents for review — faster and easier than ever before. Here are the top 5 features you should know about:
Improvements to multi-document workflows – make bulk updates, like canceling workflows, to grouped documents
Approved documents in compliance packages – require documents to be approved before adding them to compliance packages for FDA form 2253
Lifecycle visualizations – get a simple view of your document's lifecycle state through Vault-generated flowcharts on the document's info page
Multi-pass reporting – cross-link multiple reports to gain a deeper understanding of your content in Vault
UI updates for Vault MedComms Medical Inquiry – streamline how medical teams enter case requests and response records
See a deep-dive of these enhancements below:
Improvement to Multi-document Workflows
With over 4.5 million approved materials across all instances of Vault PromoMats, our customers have been hard at work delivering their messages to the market.
Our first feature in 19R2 focuses on helping teams simplify the MLR process to get content to the field faster. Back in 18R3, we introduced multi-document workflows, which allow users to bundle documents on a single workflow. Since then, we've received great feedback from customers on how to further streamline this process so teams can save even more time.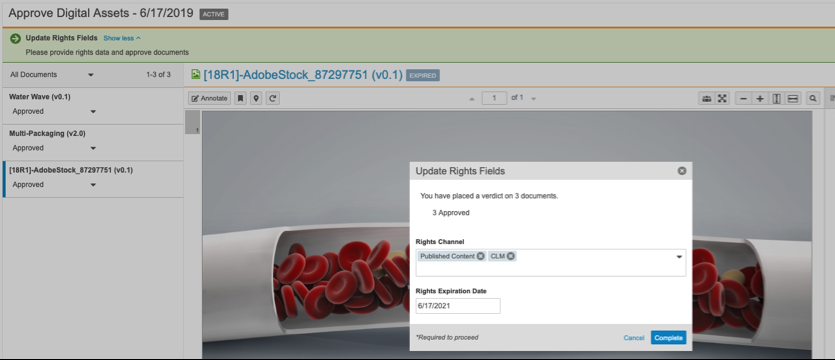 The first improvement to multi-doc workflows lets users cancel workflows, cancel tasks, and reassign tasks for any bundled document, all within the document's timeline view. Users can also access all multi-doc workflows and tasks in the document's audit trail — not just the object record's audit trail. This makes it easier and faster for teams to access important information about their workflows.
The second enhancement helps teams ensure they're capturing important document metadata. When a user initiates a new workflow, Vault can now prompt them or the task owner to complete certain key fields. For example, when a brand manager goes to submit content for approval, the system can be configured to ask the brand manager to also fill out certain document details, like a planned distribution date. Since the file is part of a multi-document workflow, the planned distribution date will populate on all related documents, saving the brand manager the time and hassle of updating the other materials.
Approved Documents in Compliance Packages
From gathering the right materials to organizing the final contents, regulatory teams need to ensure they're submitting and updating the latest approved versions of each document.
In 19R2, we added two features to help teams maintain compliance while streamlining the creation of packages for FDA form 2253.

Vault Admins now have the ability to require document approvals prior to being added to the compliance package.
Once documents are in the package, they can be automatically bound to the latest approved version of the material – even if teams modify or iterate on the content. This prevents drafts or unapproved versions of the material from getting included in the compliance package. And, teams can rest assured knowing they're submitting the right content.
Lifecycle Visualizations
Getting materials from concept to distribution involves more than just marking content as "draft" or "approved." With dozens of steps in between, it can be difficult to understand what still needs to be done before pushing materials to market. In 19R2, we're giving teams better visibility into workflows for documents and objects.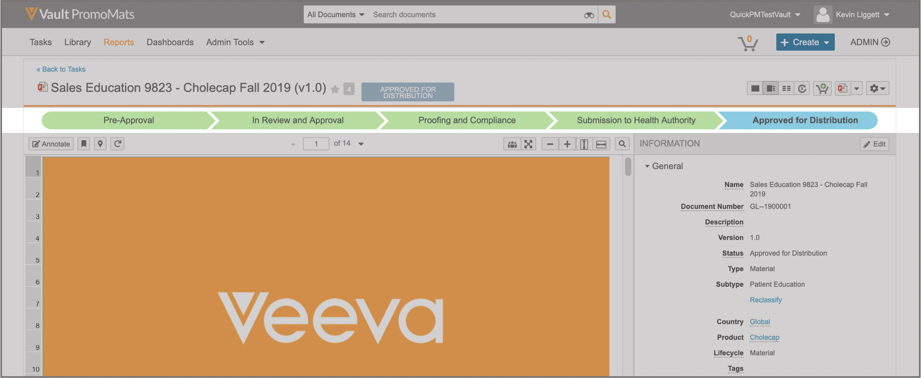 With lifecycle visualizations, users have the ability to organize the lifecycle states of documents and objects into ordered groups. Vault automatically generates a simple, visual flow chart of this lifecycle at the top of a document's "doc info" page or an object's "object record." Users can now get a quick and simple overview of how content and objects are progressing from start to finish.
Multi-pass Reporting
While lifecycle visualizations give users a clearer look into the status of individual files, our next feature for 19R2, multi-pass reporting, lets users quickly analyze all documents and data within Vault.

Vault's reporting and dashboards already provide users with the power to gain insights such as the number of documents in a "draft" state, or which regions are consuming the most content. With multi-pass reporting, users can now link multiple reports together to gain a deeper understanding of their content.
Let's say your medical team needs to view cases alongside the addresses of the case contacts. Previously, this required two reports: one for the case and case contacts, and a second report for the case contacts and known addresses. With multi-pass reporting, users can link these two reports by their mutual field, case contact, to provide all data in a single view. Teams not only save time on creating multiple reports but can also analyze results faster.
UI Updates for Veeva Vault MedComms Medical Inquiry
On the medical side, we're also making it easier for teams to manage important materials and tasks by simplifying the user experience for completing medical inquiries.
Back in 19R1, we released Vault MedComms Medical Inquiry. This allows medical teams to directly manage and fulfill the entire medical inquiry process from within Vault MedComms.
Since then, we've focused on streamlining the medical inquiry process even further through enhancements to Vault's UI.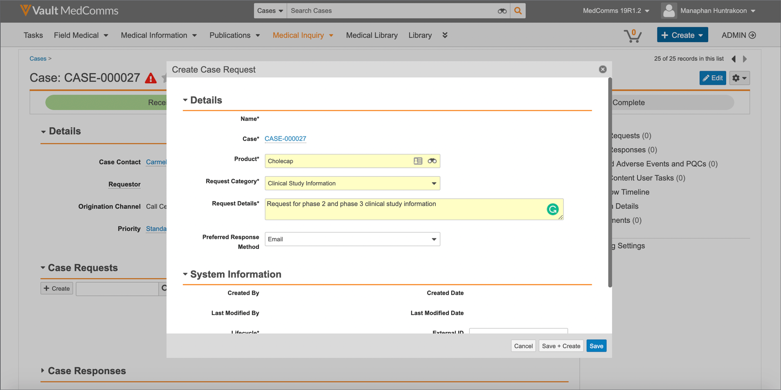 These new UI capabilities will allow Vault Admins to configure how users enter case requests and response records. Users can either submit them through a pop-up window, or navigate to a unique page for each new entry. When users create records on their own pages, they will remain on this page even after the document is created. Before this update, users were taken back to the original parent case and had to navigate back to make further edits.
More intuitive and streamlined, this process saves medical teams the extra clicks once needed to access these files.
Thanks again for partnering with Veeva. Check out the resources in the 19R2 release kit for more info on what's new in this release. And as always, reach out to your customer success manager with any questions, or feel free to ask a question in the Veeva Support Portal. We'd love to hear from you.