What is Engage Meeting?
Engage Meeting is a web application that provides a safe, secure, and compliant way for you to meet with industry representatives via video when face-to-face meetings are not an option.
Quick Start Guides




Tips & Best Practices for Engage Meeting

Frequently Asked Questions
HOW TO JOIN AN ENGAGE MEETING
---
Why can't I join my meeting?
Please make sure you have the latest version of the Engage app installed. You can enable auto-updates in the
App Store
or
Google Play App Store
. Please find instructions on how to download in the links provided.
---
It says "Meeting Has Not Started" for a while. Why is it not letting me in?
Your host may not have started the meeting. Make sure you've disabled popup or ad blockers on the
engage.veeva.com
site to have the meeting automatically open when the host joins. You can also try refreshing the page if it doesn't open up automatically.
---
Am I on the latest version of the Engage app? Where can I find this?
Your Veeva Engage app version info is on the Join a Meeting page at the very bottom. Please enable auto-updates in the App Store or Google Play App store.
---
What are my options for joining a meeting?
You can join an Engage Meeting from many devices such as iPad, iPhone, Android, Mac, or Windows laptop or desktop. If you're joining from a laptop or desktop, it is recommended to use the Chrome browser, you can also use Edge Chromium, and Firefox.

It is also possible to use Safari but you will need to use your phone to dial in. Numbers are available in the Engage Meeting browser when following the invitation link sent to you in the email.
---
Which browser should I join from?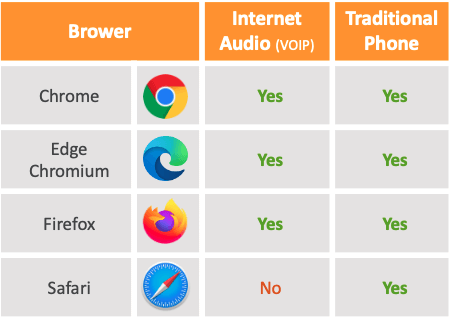 ---
Can I join an Engage Meeting using Zoom?
You may have received two join options in your meeting invite. You can join the session by either using the Engage app or the native Zoom app on your device.
---
Do I have to download anything to join an Engage Meeting?
If you join from your iPad, iPhone, or Android, you can download the Veeva Engage Meeting app via the App Store or Google Play. If you join from your laptop or desktop, you will join the Engage Meeting through your browser. No downloads are needed.
---
Do I need a password to join a meeting?
Most likely not. If you click on the meeting link of a password-protected meeting, it will bring you right into the meeting with no prompt for a password. You may need to type in a 6-digit password if you manually key in your meeting ID or if you are joining on an older version of the Veeva Engage app.
---
PARTICIPATING IN AN ENGAGE MEETING
---
Can I sign for samples or a medical inquiry in an Engage Meeting?
Yes, you can! Signing for Medical Inquiries and Samples has never been easier. Your representative may be able to send you a prompt for a signature right on your call. Please ensure you do not have an adblocker/pop up blocker enabled for the functionality to work properly.
---
I can't see or hear my host, what can I do?
Ensure you do not have the audio/camera access blocked on your browser. You can check your permissions by clicking the secure button in the URL and allowing access.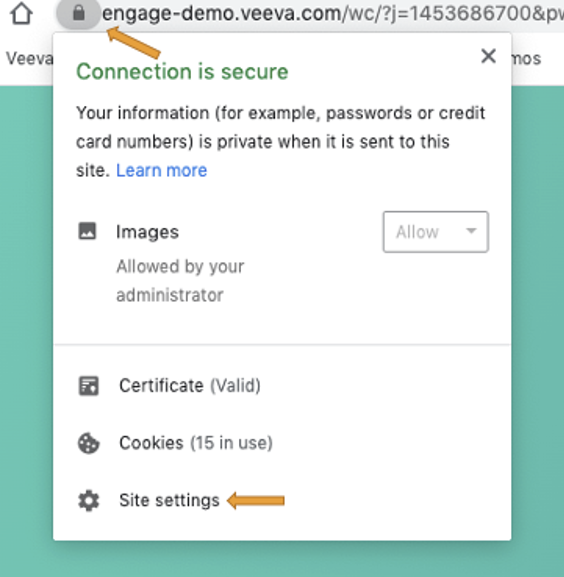 If you are using the Veeva Engage app, please select the audio/camera option from the bottom of your screen and ensure you are connected.
---
My audio got cut-off during the remote session, what shall I do?
When you dialed into the Engage Meeting session by using your local telephone line, it is possible that a brief local disruption is cutting you off. Please dial in again or use the computer audio instead.
---
Can I share the meeting invitation link with a colleague?
The invitation link you receive is unique for you and should not be shared with others. If you'd like to invite an additional guest to your meeting, please ask the host to send the invitation.
---
Can I turn off my camera?
When joining an Engage Meeting, by default your camera is turned off. When you turn on your camera, the host and other attendees can see you during the meeting. The camera can always be turned off again if needed.
---
No. Engage Meeting sessions do not have the ability to be recorded.
---
Can I download the presentation(s) shown in the meeting?
You cannot directly download the presentations from the meeting. Please work with your representative to obtain requested materials.
---
PRIVACY & SECURITY
---
Is Engage Meeting secure?
Yes. Veeva partners with Zoom as its video conferencing provider for Engage Meeting because Zoom provides enterprise-grade security, a core focus on product integrity and stability, and industry-leading ease of use.
Veeva uses several Zoom features to ensure meetings are secure and confidential:
AES-256 encryption protects data in transit
File sharing and session recording have been disabled
Users can share specific windows instead of the entire desktop
Both hosts and attendees can disable video at any time
Ejected participants are automatically blacklisted
Only the meeting host is able to present
Veeva regularly reviews new features with Zoom and adjusts its configuration inside Engage Meeting appropriately.
---
Is Engage Meeting GDPR compliant?
Veeva Commercial Cloud, which includes Engage Meeting, complies with all applicable data protection requirements, including the GDPR. For more information, please see
veeva.com/privacy/gdpr
and zoom.us/gdpr.
---
What information does Zoom collect on me?
Zoom collects non-identifiable information like join time, leave time, and device type and identifiable information like IP address for their reporting purposes. As a healthcare professional, your preference for and agreement to remote meetings may be documented using Consent Management in Veeva CRM.
---
Who can I contact regarding additional questions or feedback about my experience using Engage Meeting?
---