Veeva SiteVault
SiteVault Free is a modern cloud solution that provides research sites with a fully compliant eReg application. By replacing manual and paper-based regulatory processes, it allows sites to streamline their operation, collaborate more easily with sponsors, and focus more on the work of treating patients.
Benefits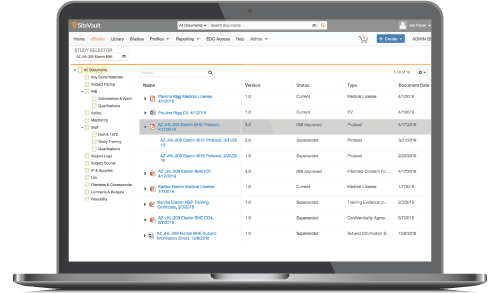 Improved Site Satisfaction and Compliance
Improve site satisfaction by arming them with an eRegulatory solution built specifically for site workflows and regulatory compliance, that can be used for all studies.
Remote Monitoring
Remote monitor into the site's Vault to gain visibility into investigator files for greater oversight.
Supported by Veeva
Eliminate the need to assess sites technologies during qualification. Training and support provided by Veeva, so that you can focus on higher value engagement with your sites.
Features
Standard Features
SiteVault Free includes the following standard features:
Full eRegulatory System
Provide investigators and staff with easy access to study documents through an intuitive electronic regulatory binder that supports compliance with 21 CFR Part 11 and HIPAA requirements.
Remote Monitoring
Provide monitors with secure, direct access to study binders from any location. Monitors can perform source data review (SDR) and source data verification (SDV). Watch a video of remote monitoring.
Electronic Signatures
Simplify approvals and replace printing, faxing, and scanning with fully electronic signature workflows that investigators and staff will love.
Standard Reports and Dashboards
Save time with built-in workflows for eSignatures and certified copies. Improve visibility with intelligent reports that provide visability into open tasks, expiring documents, and more.
Single Login Across Veeva Vaults
Sites use the same login across all Veeva Vault Products.
Enterprise Features
SiteVault Enterprise includes all standard features, plus the following:
Configurable Workflows And User Groups
Modify standard workflows to fit SOPs. Provide visibility into study documents to different groups across the organization.
Real-time Collaborative Authoring
Seamless integration between Veeva Vault and Microsoft Office Online provides real-time collaborative authoring.
Unlimited Document Retention Period
Preserve and archive regulatory documents for as long as sites use Veeva SiteVault.
AstraZeneca
"Veeva is helping sponsors think differently about supporting their clinical research site partners. Veeva SiteVault Free will allow all types of sites to standardize on the same Veeva Vault technology that is widely utilized by their sponsors."
Executive Director, Clinical Operations at AstraZeneca
Read more
University of Louisville
"Veeva SiteVault Enterprise gives us a flexible solution to support the complexity of research operations at large research hospital systems and run trials faster."
Executive Director of the Clinical Trials Unit at the University of Louisville
Read more
Previous
Next
See How SiteVault Reduces the Administrative Burden in Executing Clinical Studies in this 3 Minute Video