Where big thinkers, creators,
and builders can thrive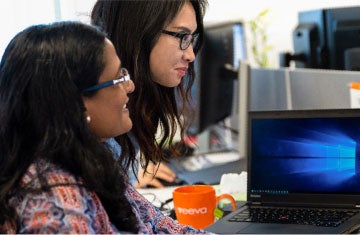 Balance work and life
Veevans work hard, but also work smart. We have personal lives and it's important to find the right balance. There is a place at Veeva for everyone. We integrate with your life so you can do your best work and experience employee success.
Build great products together
Teamwork and collaboration are fundamental to being successful at
Veeva. Team results are put ahead of personal agendas, guided by one of our core values "do the right thing."
Drive your career
At Veeva, your career is what you make of it, and you're given a platform to define your path. We provide every employee an annual budget for career development and encourage movement throughout the organization.
Perks of working in our Toronto office

WELLNESS
PROGRAMS

DOWNTOWN
LOCATION

WEEKLY
LUNCHES

SOCIAL
EVENTS

DEVELOPMENT
OPPORTUNITIES

RESTRICTED
STOCK UNITS
Where you can make an impact
What our team has to say


Lori-Ann
Software Engineer
The #1 reason that I enjoy working for Veeva is growth. The product offering is always evolving. We're answering the needs of the market and more.


Jahnavi
Software Engineer
One of the things I really enjoy about working at Veeva is the opportunity to work on a variety of projects. Each project has been challenging, interesting and taught me something new. I always find my input is also welcome, accepted and considered.


Miki
Sr. Director, Product Management
From conceptualizing new product offerings to working with early adopters to achieve customer success, I'm always challenged to learn new skills and grow as a product leader.
Generation Veeva
We are dedicated to building the careers of new university graduates throughout the company. Our Programs are designed to develop you professionally in a supportive environment.