Let's Connect on June 10.
Register Now!
Join the life sciences community on June 10 as we come together to learn and connect. Summit Connect is your opportunity to hear from industry leaders, peers, and experts disrupting and advancing commercial and medical models in pharma and biotech.
Why Attend?

See what's coming next
See the latest innovations in data & analytics, content, and technology that are driving digital excellence in scientific engagement and across the entire customer journey.

Learn from industry leaders
Engage with industry leaders who are transforming commercial strategy and advancing medical innovation. Hear their stories and ask questions live.

Collaborate with colleagues
Connect with industry leaders, experts, and peers who are facing similar challenges to share best practices and strategize on your project's next steps.
What Past Attendees Say
"Helpful perspectives about making quick decisions and pivot as needed to adapt to the constantly changing environment."
What Past Attendees Say
"Great to hear real-life examples of how others solved their data challenges."
What Past Attendees Say
"Lots of excellent info and ideas! Passionate speakers
real-world experience is very helpful."
Previous
Next
How Veeva Summit Connect Works
This year brings a fresh approach with a new one-day agenda focused on creating an interactive environment that connects you with the people and ideas you care about most, alternating between large group sessions and small, more intimate discussions based on your interests.
Register Now!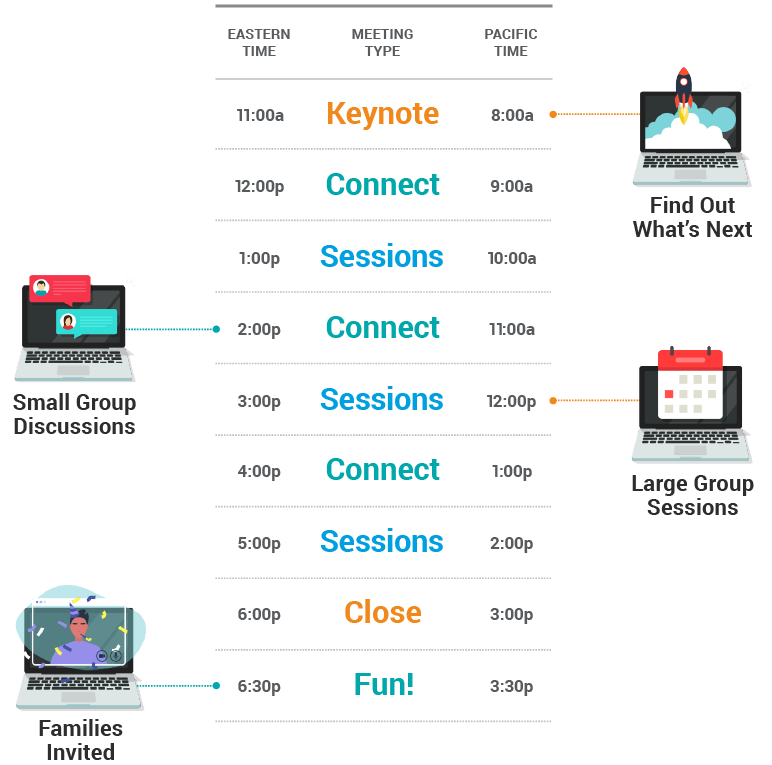 Keynote
Find out what's next. Be inspired by industry leaders sharing their deep experience and insights into the future of life sciences.
Connect
Join open discussions of any size. Mingle in our small mix rooms to create new connections or exchange insights in a larger group roundtable discussion.
Sessions
Hear the latest ideas brought to you by leaders and experts across life science in these 15 minute live presentations followed by interactive Q&A.
Fun!
Unwind at the end of the day with virtual escape rooms, cooking classes, karaoke, and more. Families are invited!
One day of insights: June 10, 2021 Countless ways to connect with the best in life sciences
Register Now!