Veeva CRM Events Management
Accelerate End-to-End
Pharma Event Management
Improve event execution and gain more insight into speaker
programs, advisory boards, strategic meetings, and more.
Veeva CRM Events Management is an application for managing the end-to-end event lifecycle and related information, including content, attendees, speakers, and expenses. CRM Events Management supports multiple field-initiated event types, such as speaker programs, advisory boards, roundtables, and other fee-for-service engagements.
Users can create event requests, identify compliant content, determine budget and expenses, identify speakers and attendees, and initiate approval workflows.
CRM Events Management works seamlessly with Veeva Commercial Cloud products, including: Approved Email for attendee invitations, PromoMats or MedComms for approved content, Engage for virtual event content sharing, and CRM or OpenData to reconcile attendees for transparency reporting.
All events activity is automatically captured in CRM.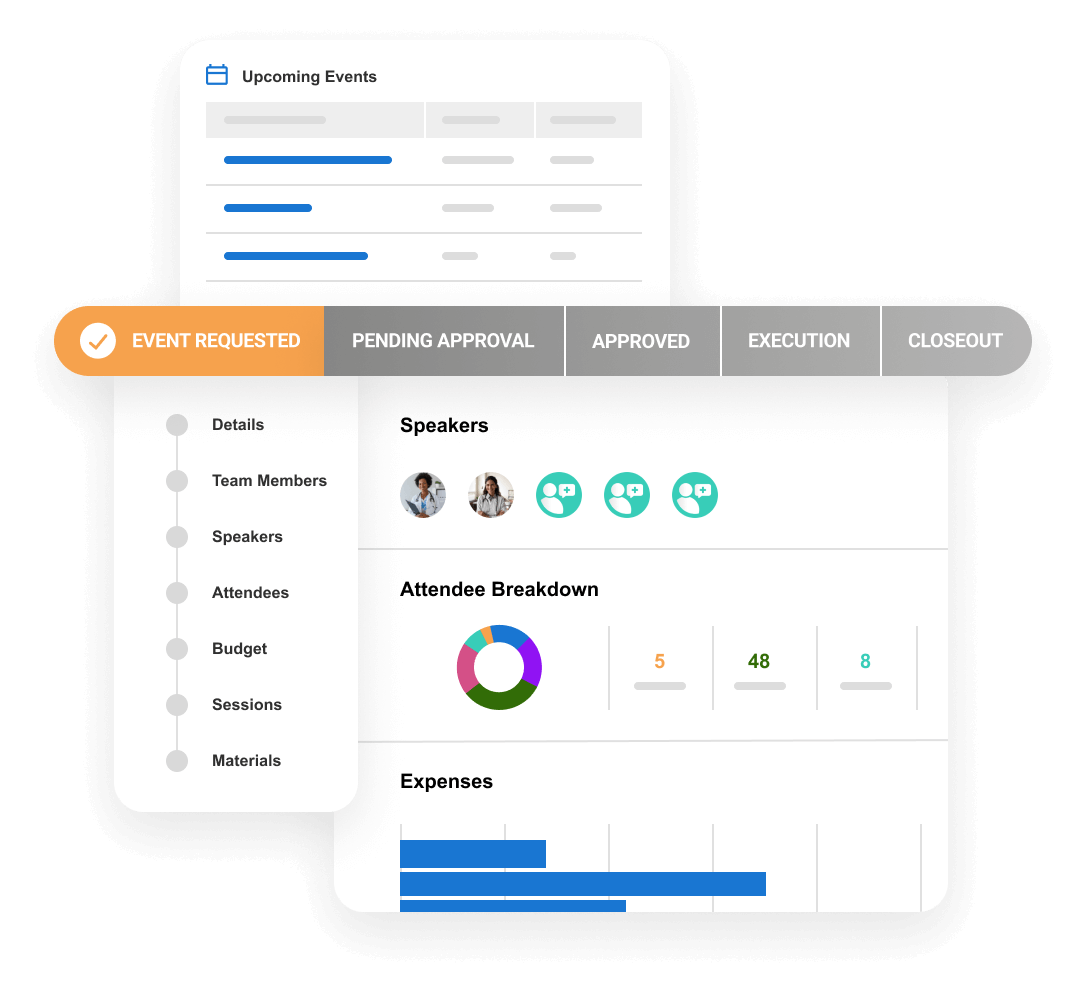 Why CRM Events Management
End-to-end visibility and compliance
Optimize customer engagement

CRM Events Management is embedded in Veeva CRM for a 360° view of the HCP across all channels.

Simplify the events tech stack

One system supports the entire events lifecycle, from speaker nomination to attendee reconciliation.

Stay agile and compliant

Configurable guardrails and monitoring help tailor the event lifecycle for your business needs.
Exceed the
likely outcome
1.5M+
events run on CRM Events Management per year
128
countries using CRM Events Management
15%
savings in event expenses
"Events are very powerful for our reps and now we're able to do it all on one platform by using CRM Events Management."
Amy Hawrylo, Associate Director, HCP Engagement
Technology and Analysis
Novo Nordisk
Watch video
"With CRM Events Management, we are now more compliant with our internal financial policies and FDA submission requirements."
Dina Dickson, Product Manager, Marketing & Sales
Octapharma
Watch video
"CRM Events Management gives us the ability to generate insights so we can better manage and support our customers."
Beate Hansmann, Global Capability Owner, Meetings and Events
Boehringer Ingelheim
Read case study
Interested in learning more about how Veeva can help?