Veeva Link Key Accounts
Get real-time intelligence on key accounts to improve account management.
Benefits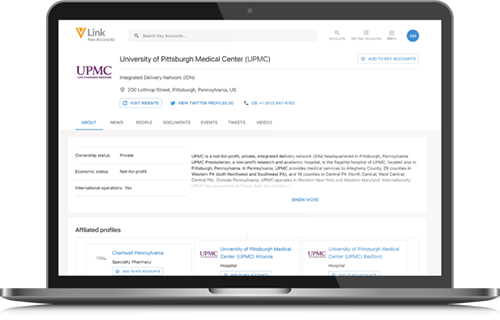 Save time on account planning
Identify key stakeholders, build dynamic stakeholder maps, and access their profiles in Veeva CRM.
Enhance cross-functional collaboration
Share a common enterprise view of accounts.
Proactively engage
Stay on top of account insights with real-time alerts.
---
Unique Datasets Tailored to Each Market
Leverage Veeva Link's rich profiles on key health systems to gain a more nuanced understanding of each account. Available now for early adopters in the UK and US, with other EU5 markets, Australia, Brazil, Canada, Japan, and South Korea to follow.
Improve Market Access
Use real-time intelligence to transform your approach to key account management.
1

Inform Account Planning
See real-time account information
Find key metrics and insights
Work from a single source of truth
Receive personalized alerts on accounts and people
2

Prioritize Key People
Find new decision makers based on their roles and committee positions
View deeply curated profiles (including affiliations and associations)
Create tiered stakeholder maps and share with cross-functional teams
3

Tailor Engagements
Receive relevant account news, documents, and events via alerts
Shape your customer strategy and value proposition based on relevant account insights
Understand customer connections within accounts to drive broader engagements

"Being an early adopter of Link Key Accounts has been an amazing opportunity to increase effectiveness and efficiency."
Global Access Capability & Performance Lead, UCB
Watch the Video
Features
Deeply curated account profiles
Access accurate, comprehensive profiles enabled by advanced technologies and validated by 1,500+ data curators working across the Link platform.
Dynamic stakeholder maps
Find, map, and prioritize decision makers across the account ecosystem to improve your engagement planning and account coverage.
Comprehensive account documents
View the latest documents (formulary, guidelines, strategy, organizational, and financial) in one place.
Real-time social and video activity
See the latest social posts and digital content from your key accounts and relevant stakeholders.
Latest events
Track and view account-related congresses, local workshops, and webinars.
Personalized newsfeed and alerts
Build a list of favorite accounts and decision makers to receive timely notifications on their latest activities.
Native integration with CRM
Enhance the user experience with account insights surfaced in Veeva CRM MyInsights. Data is embedded in the CRM account record and account plan.
Secure, rigorous compliance
Stay compliant with data that meets the highest security standards and GDPR requirements. Veeva Link uses publicly available data sources and carefully controls data access.
UCB: Accelerating Market Access with Real-Time Key Account Intelligence
How can Veeva Link help your business?