Link Workflow
Link Workflow is a no-code platform for process owners
to easily define compliant workflow applications.
Benefits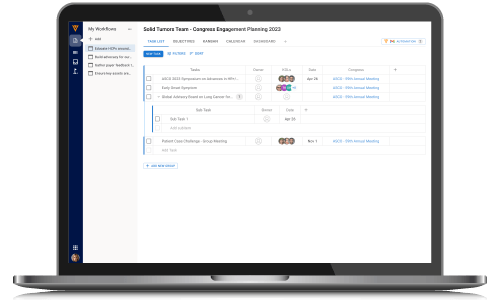 Empower business teams
Create custom and compliant workflows without IT support.
Streamline critical processes
Define objectives, events, and tasks to facilitate team collaboration around Link data.
Improve process visibility
Access flexible reports and dashboards for all your workflows.
Featured Use Case: Enterprise Engagement Planning
Intuitive Engagement Planning
View, plan, and capture cross-functional engagements with key people.
Create objective-driven engagements
Coordinate engagements across functions and regions
Share visibility between HQ and field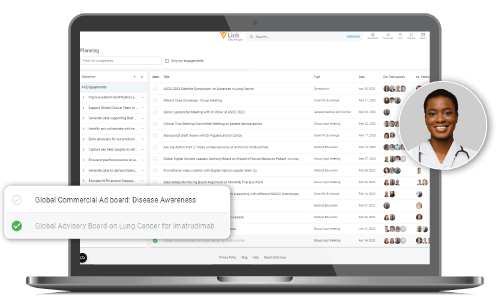 ---
360 View of the Customer
Share a common view of external experts across the organization.
See all planned and past cross-functional engagements
Designate points of contact
Access 360 view in Veeva CRM via MyInsights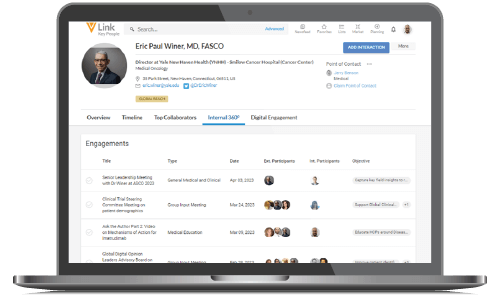 ---
Designed for Compliance
Achieve cross-functional transparency while decreasing compliance risks.
Restrict visibility by function
Create an audit trail of engagements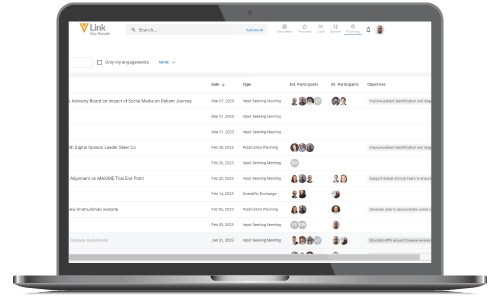 ---
Intuitive Mobile App
Get the benefit of Link on the go.
Capture interactions with one click
View profiles from Link Key People
Receive notifications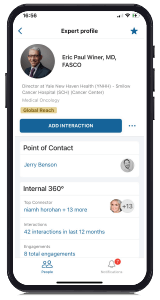 ---
Novartis
"Link Workflow brings much-needed transparency to all the functions that are interacting with external customers, enabling users to engage as one unified organization."
Worldwide Head, Scientific Alliances, Novartis
Watch the video
How can Veeva Link help your business?