A better way of working
Veeva Link transforms your understanding of scientific, medical and digital leaders through commercial, scientific and personal insights. It improves interactions throughout your company by aligning medical, commercial and research departments, as well as customer facing teams.
Our solution makes it easier to implement the organizational change required to increase agility, innovation and collaboration – the key to accelerating digital engagement across the Scientific Leader journey.

Expanding therapeutic areas
Veeva Link provides real-time customer intelligence on Scientific leaders in different therapeutic areas, which continue to grow in number. Eleven new therapeutic areas now build on the success of Veeva Link for oncology, which is currently used by 6 of the top 10 largest pharmaceutical companies.
Our current therapeutic areas are:
For information on Veeva Link solutions, both current and impending, please contact us.
Contact Us
The real-time view you need
Veeva Link offers a choice of solutions depending on your use case:
Veeva Link
Our complete real-time Scientific Leader intelligence platform, Veeva Link seamlessly integrates with Veeva CRM, or can be used as a stand-alone web-based solution.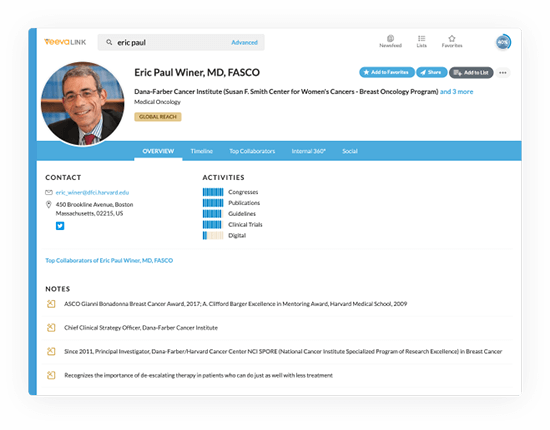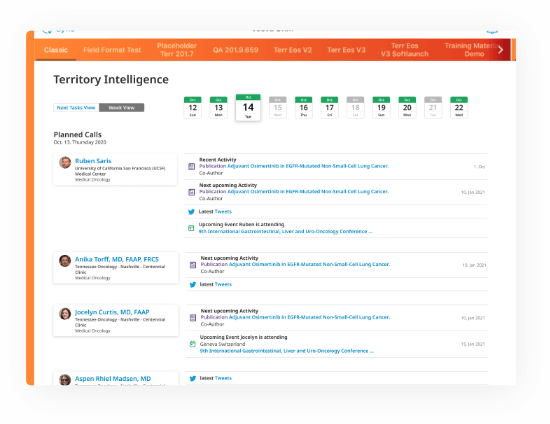 Veeva Link Real-time
Connector for Veeva CRM
Provides the real-time intelligence of Veeva Link using Account and Territory views, all integrated in Veeva CRM through MyInsights. This supports your field teams and delivers new engagement opportunities, while providing tailored information and compliant data views for both medical and commercial teams.
Improve engagement with scientific, medical and digital leaders