Veeva Link Key People
Veeva Link Key People delivers real-time customer intelligence to enable relevant engagement with medical and scientific experts.
Benefits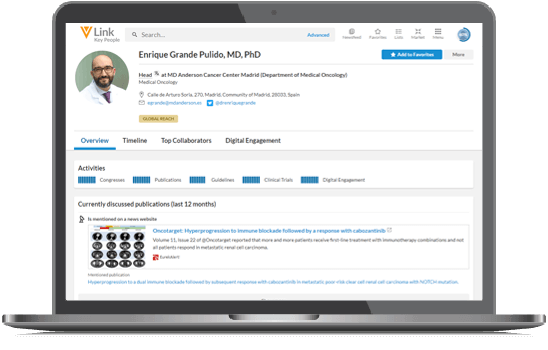 Find the right experts
Identify and prioritize all relevant scientific, digital, and community leaders.
Stay up to date
Keep track of their scientific and digital activities in real time.
Personalize engagements
Identify new opportunities to engage and leverage the most relevant talking points.
Deeply curated profiles for your specific disease area
Provides real-time customer intelligence on key people across many different therapeutic areas.

Addiction Disorders

Aesthetics

Bacterial Infections

Cardiology

Dermatology

Endocrinology

Equitable Care

Gastroenterology

Gynecology

Hematology

Hepatology

Nephrology

Neurology

Oncology

Ophthalmology

Osteology

Orthopedics

Pain

Psychiatry

Link for
Respiratory

Rheumatology

Urology

Vaccines

Virology
Top Pharmas
Use Veeva Link
The Industry is Moving
to Link Key People
Contact Us
Top Pharmas
Standardized Across All
Therapeutic Areas
Unique Global Datasets
Leverage Link's global presence to identify current and emerging leaders, experts, and influencers and gain a more nuanced understanding of the therapeutic area ecosystem.

Podcasts

Patient Associations

National and Local
Congresses

Scholarly
Publications

Social
Media

Scientific
Associations

Clinical
Trials

Industry
Collaborations

Healthcare
Organizations

Clinical
Guidelines

Payments/
Transactions
Features
Real-time
Activities, tweets, research findings, and collaborations are aggregated in real-time in one place.
Deeply curated profiles
Enabled by advanced technologies and validated by over 1,800 data curators, Veeva Link ensures data accuracy and coverage.
Unique datasets
Unrivaled depth and breadth covering 500,000+ local and national congresses and 75,000+ associations reveals the experience, focus, and goals of key people.
Community leaders
Identify the HCPs who are shaping clinical practice locally with AI-driven Community Leader scores that combine claims data with referrals and peer nomination surveys, as well as local association and congress activity.
Equitable care
Find the experts advocating for health equity globally, so you can partner and ensure your strategies promote equitable care.
Global footprint
Deeply nuanced marketing insights are tailored for each region across over 85 countries. Data curators are native speakers, ensuring that nothing is lost in translation.
Seamless integration across Veeva solutions
Enables commercial agility and operational efficiency through data and platform integration.
Secure, rigorous compliance
Veeva Link uses publicly available data sources and carefully controls data access. It meets the highest security standards and GDPR requirements.
Tailored to your disease ecosystem
Provides real-time customer intelligence on experts in many different therapeutic areas.
Program management support
Dedicated team to assist in all aspects of implementation: planning, project governance, end-user training, program adoption, and ongoing support.
Resources for Veeva Link Key People
How can Veeva Link help your business?