Veeva Compass
Veeva Compass is a suite of longitudinal patient data, longitudinal prescriber data, and sales data designed for a wide range of commercial use cases. Compass Patient and Compass Prescriber are available today, with Compass Sales planned for availability in late 2022.
Benefits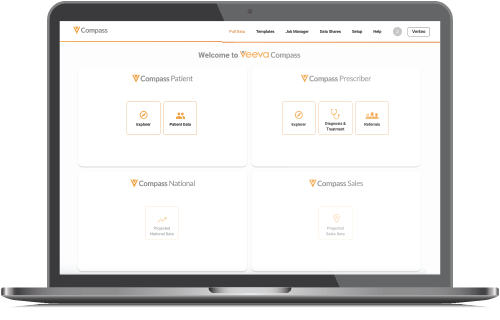 Close Gaps and Gain Confidence
Gain visibility into patients with longitudinally complete data that delivers unmatched accuracy and privacy.
Access What You Need, When You Need It
Get up-to-date data when you need it with on-demand access to an unlimited market basket.
Achieve Faster Omnichannel Execution
Turn key questions into clear strategies for launch planning, HCP targeting, and patient journey analytics.
Veeva Compass is built on privacy-safe, patient identity-linking technology. It accurately connects diverse data sources to deliver a more longitudinally complete view of patients and prescribers.
Longitudinal Patient and Prescriber Data Available in the U.S.
Compass Patient
Gain visibility into diagnosed and treated patients
Understand the patient journey
Segment and target HCPs
Conduct forecasting and promotional assessments
Compass Prescriber
Track and adapt HCP targeting strategy
Understand HCP patient populations
Analyze competitive products and prescriber trends

Better Data Quality
Unique and diverse data sources
Built from the patient perspective
More longitudinally complete


Higher Data Accuracy
Higher patient matching accuracy
More complete patient matching
Privacy-safe


Unlimited Market Basket
On-demand access to the
entire data network
Broad use case support
Frictionless process

Unmatched Speed
Daily data updates
Available within 24 hours
Unlimited queries


"Our experience with Veeva Compass has been tremendous. We've been able to leverage a number of insights from the data immediately after getting access to it".
Senior Director, Operations & Analytics

"Veeva brings a deep expertise and a unique set of data assets
that really give us an incredibly strong analytical foundation
to understand our HCPs and our customers."
Director, Lead Data Scientist
PharmaEssentia U.S.A. Corporation
"Veeva Compass has been a great asset for our commercial go-to-market
operations and launch strategy."
SVP, Sales and Marketing

"Veeva Compass provides us with a purpose-built digital foundation
and common data architecture."
Vice President of Commercial Operations
Previous
Next
Veeva Patient and Prescriber Data available now. Interested in learning more?