Veeva Compass
Patient-First Data for
Modern Therapies
Get complete data access for more comprehensive insights.
Veeva Compass
Veeva Compass is a suite of patient data, prescriber data, and national data designed for a wide range of commercial use cases. Compass Patient is available today, with Compass Prescriber and Compass National planned for availability January 2024.
Benefits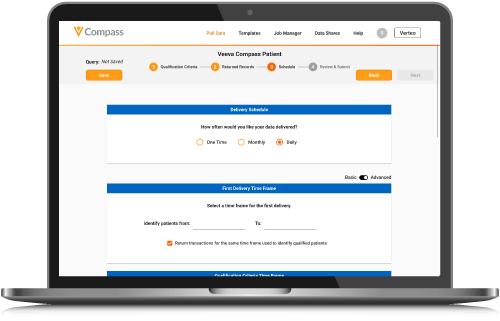 Close Gaps and Gain Confidence
Gain visibility into patients and HCPs with more complete data that delivers unmatched accuracy and privacy.
Access What You Need, When You Need It
Get up-to-date data when you need it with unlimited access.
Achieve Faster Omnichannel Execution
Turn key questions into clear strategies for launch planning, HCP targeting, and patient journey analytics.
Veeva Compass is built on privacy-safe, patient identity-linking technology. It accurately connects diverse data sources to deliver a more longitudinally complete view of patients and prescribers.

Better Data Quality
Unique and diverse data sources
Built from the patient perspective
More longitudinally complete


Higher Data Accuracy
Higher patient matching accuracy
More complete patient matching
Privacy-safe


Complete Data Access
Access to the entire data network
Broad use case support
Frictionless process


Unmatched Speed
Daily data updates
Available within 24 hours
Self-service queries

Top and Emerging Pharmas Rely on Compass










Interested in learning more about how Veeva can help?