Veeva CRM Engage
Digital Engagement That Puts
You at the HCP's Point of Need
Adapt to the way HCPs like to connect with a suite of advanced
meeting, messaging, and content sharing capabilities.
Veeva CRM Engage is an add-on application to Veeva CRM for digital engagement between CRM users and HCPs. Users can schedule meetings, meet in video calls, connect with HCPs and staff, and share approved content. CRM Engage is accessed directly in CRM for end users and via a standalone application for HCPs.
CRM Engage uses Veeva CRM Approved Email to support compliant invitations that allow attendees to schedule meetings or meet virtually through their device of choice.
All engagement activity is automatically captured in CRM.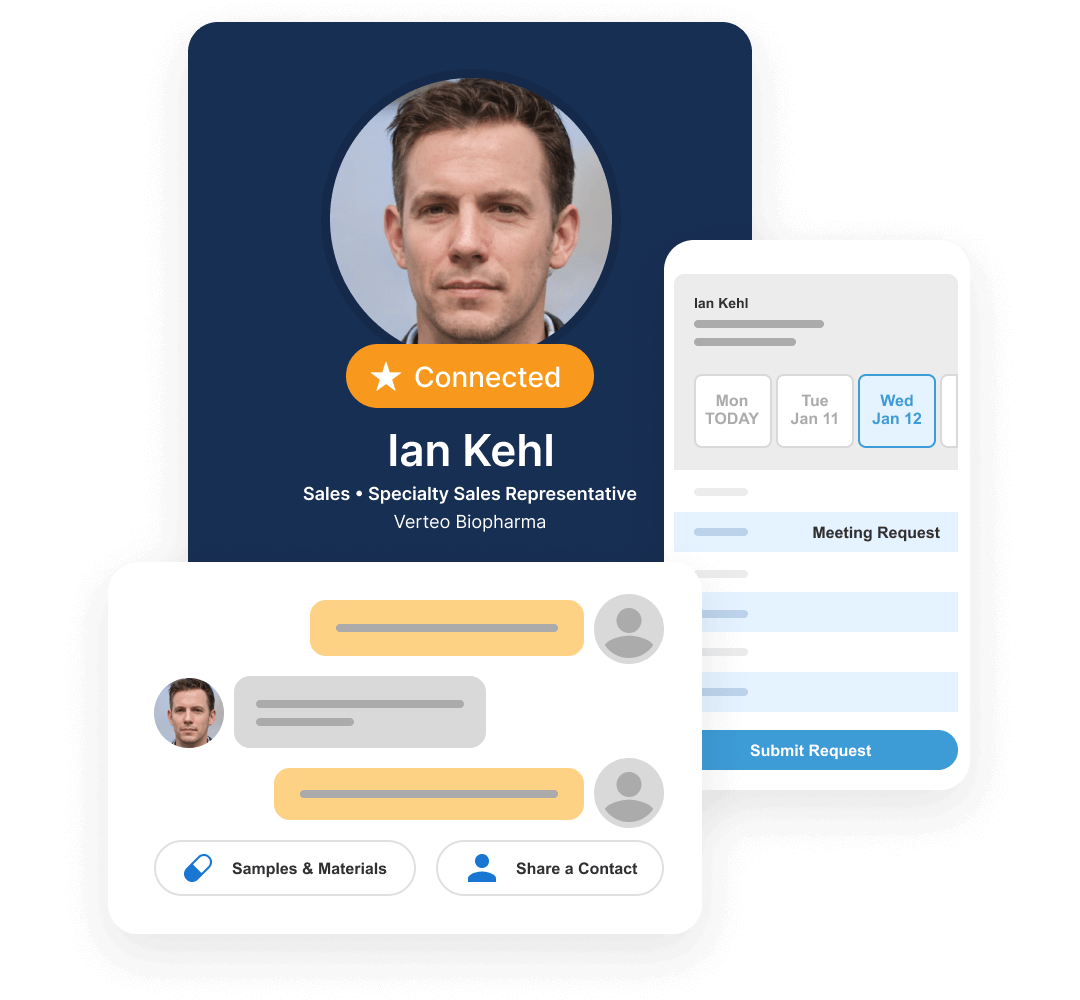 Why CRM Engage
More frequent and timely conversations
Be there when customers need you

Instant, asynchronous channels make it easy for HCPs to reach out whenever they need your teams.

Improve field agility

Adapt to changing conditions and preferences with one tool for interactions in multiple channels.

Make compliance the default setting

Stay audit-ready through full interaction logs and text input monitoring across all channels.
Exceed the
likely outcome
90%
open rate of Engage chat content
40%
click-through rate of Engage chat content
19 min
average length of Engage virtual meeting
"With Veeva CRM Engage, our field teams can quickly connect with HCPs in a more personal, convenient way."
Deborah Sullivan, Director, Field Force Automation
Sanofi
Read press release
"Veeva CRM Engage gives our medical sales reps and medical science liaisons a better way to connect with doctors."
Alex Renner, Global Head of IT Marketing and Sales
Boehringer Ingelheim
Read press release
"Our team quickly adapted to digital channels, including Veeva CRM Engage, to provide valuable information in a compliant way."
Flora Tung, Director, Field Systems and Projects
Novo Nordisk
Watch video
Interested in learning more about how Veeva can help?