Let's Connect. 20 May, 2021.
Save the Date
Veeva Summit is where customers come together to learn and connect. More than 1,700 life sciences professionals and experts gathered at Veeva R&D and Quality Summit Online, Europe in 2020.
This year brings a fresh approach with a new one-day agenda focused on creating an interactive environment that connects you with the people and ideas you care about most.
More details to follow. In the meantime, be sure to add the date of Veeva Summit Connect to your calendar now.
How Veeva Summit Connect Works
Each hour our agenda alternates between large group sessions and small interactive discussions based on your interests. You will learn about the latest trends in R&D and quality and engage with leaders and experts across life sciences.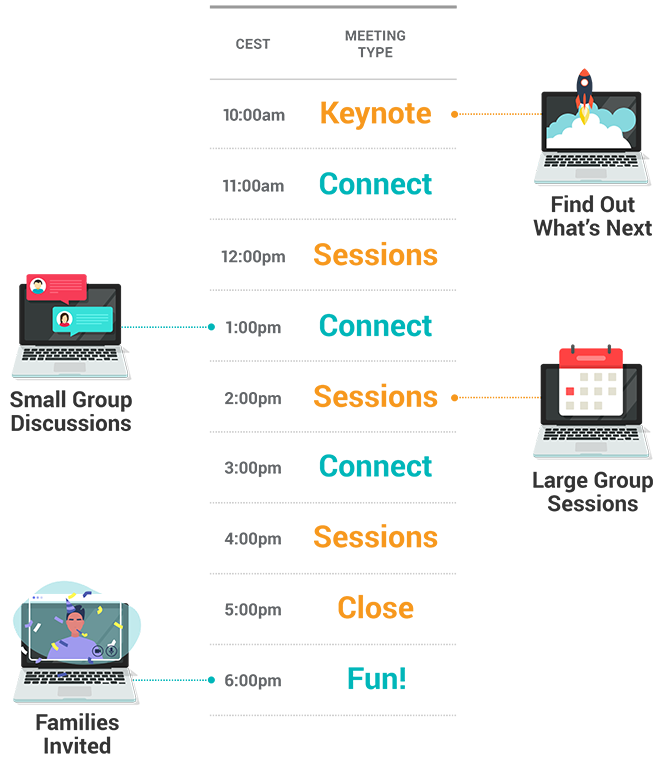 Cancer Research UK
"Virtual summit exceeded my expectations. The excellent presentations by industry leaders sparked ideas to take back to my own organisation. Coupled with the announcements about the ambitious Veeva roadmap, especially My Veeva, I leave Summit upbeat and excited about opportunities to improve clinical trial operations going forwards."
Head of Clinical Operations and Data Management
Why Attend?

Learn from industry leaders
Find out how industry leaders are transforming the drug development process and how you can apply their learnings to your processes.

See what's coming next
Veeva R&D and Quality Summit Connect is the time to see the latest innovations and enhancements to improve operations across the drug development process.

Collaborate with colleagues
Throughout our tracks and sessions, you'll be able to connect with industry contacts who face the same challenges, share best practices and learnings, and strategize on your project's next steps.
Need more reasons to attend? Learn more
Join the conversation
Bookmark this page and stay connected by following us @Veeva_EU, use #VeevaSummitEU.
Check back for ongoing updates about the conference.

Save the Date