4 Tips from Pfizer on Going Digital with Pharma Marketing
Apr 22, 2018 | vs_admin
Authors: Nicole Salis and Manuel Lima
Increasingly, healthcare providers are using virtual interactions as a primary means of communicating. Even in 2015, 80% of HCPs reported that virtual appointments were more effective for managing chronic diseases1. And when it comes to communicating with pharma field teams, we've observed that over 80% of face-to-face calls last only about two minutes.
Fundamentally, life sciences' move to digital is about empowering our most valued resource-customer-facing teams-to enhance their relationships, and deliver a more valuable conversation the way customers want it.
As we've ramped up our digital maturity, we've picked up several learnings along the way: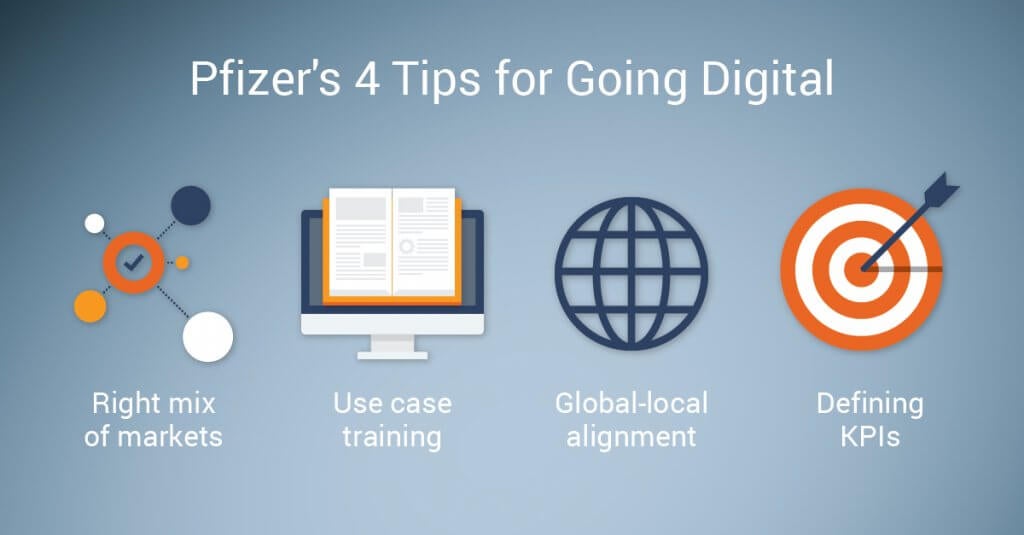 1. Pick the right mix of markets
Our choice of pilot markets was very deliberate: not only did we want to see how well the solution worked, we also wanted to assess its impact on business goals under different market conditions and across use cases. For instance, we purposefully selected one challenging market, with a complex health system and traditionally hard-to-reach HCPs, to gauge the real-word improvement on reach.
2. Train on business scenarios
When your virtual interaction capability is built into your CRM system, training is not focused on how to use the system: your field teams work in it every day. Our training was centered on use cases, and building soft skills to take advantage of the new channel. Modeling business scenarios with field teams globally encourages them to embrace the digital capability-and use it to maximize customer-facing time.
Another important driver of adoption was the fact that there was no need to retrain on content or create new materials for the channel. Veeva CRM Engage Meeting leverages our existing CLM content and activity-tracking configuration, so customer-facing teams were able to reuse familiar materials.
3. Ensure tight global – local collaboration
Our operating model was underpinned by specific design principles. Setting clear roles and responsibilities across global commercial operations, analytics, business and IT teams helped us create a best practice template for digital engagement, and ensure organization alignment.
One of the most important success factors was localizing and delivering global center of excellence training and tools, for smoother change management in order to adopt the capability. This includes manager coaching guides, an enhanced value proposition and best practices, as well as surveys of both HCPs and field teams to evaluate user experience.
4. Set the right measures of success
We wanted to leverage our pilot to truly test the model of enabling a field force rep with this capability and gather learnings to scale globally. In particular, we aimed to assess the "real world impact" of virtual communication on establishing and nurturing new relationships, improving flexibility for HCPs, and reducing operating costs.
We created three sets of metrics to measure success:
Customer engagement:
* Is the pilot progressing to design?
* How are virtual meetings contributing to the total number of customer-facing hours?
* How long is the average duration of a virtual call?
Customer and user experience:
* Is the solution impacting customer perceptions in a positive way?
* How usable is the solution for customer-facing teams?
Business efficiencies:
* What operational improvements are we seeing with an integrated solution?
We're sharing more learnings, and best practices on digital transformation, at the Veeva Commercial and Medical Summit, May 14-16, 2018. We'd love to hear from you on how you're making digital work for your organization – will we see you there?
1. Newman, Daniel. "Top Five Digital Transformation Trends in Healthcare," Forbes. March 7, 2017.