Veeva OpenData
Get accurate data faster for better customer engagement.
Reliable, complete customer reference data is critical to your commercial success, supporting essential activities like sales execution, compliance, and business analytics.
With Veeva OpenData, you gain access to approximately 16 million healthcare professionals (HCPs), healthcare organizations (HCOs), and their affiliations worldwide, covering all specialties and classes of trade. Detailed customer profiles are delivered without delay to Veeva CRM, so commercial teams can connect on all engagement channels. Designed with a global view, Veeva OpenData provides a consistent standard of quality and service worldwide. Now it is possible to harmonize customer engagement and deliver compliant interactions in every market.
BENEFITS
Better sales execution: Get real-time access right from anywhere to detailed HCP, HCO, and affiliations reference data and improve rep productivity and CRM adoption with faster responses to data change requests (DCRs).
Streamlined compliance: Immediate sample eligibility confirmation keeps reps productive and compliant, while accurate specialties minimize the risk of off-label promotion. Use a single, global identifier to accurately track and report aggregate spend.
Better planning outcomes: Accurate demographic data helps you eliminate sales coverage gaps, improve targeting, and eliminate incentive compensation errors.
Learn More
Watch Demo
Read how Veeva is working to eliminate data restrictions for life sciences.


"Veeva delivers quality customer data,
right in CRM, to improve our sales
execution and create more valued
interactions with our customers"
LEARN MORE

Features
Integrated With Veeva CRM
Veeva OpenData delivers customer records quickly to Veeva CRM. Data Change Requests (DCRs) are submitted directly from Veeva CRM, and the majority of data change requests are processed in less than a day - 90% faster than the industry average.1
REFERENCE DATA
Complete HCP, HCO, and affiliations data are provided, enabling more precise targeting, better commercial productivity, and deeper market penetration.
CUSTOMER IDENTIFIERS
Veeva OpenData HCP and HCO global identifiers help you navigate complex healthcare networks, trace visibility to cross-border engagement, and track aggregate spend.
MULTI-SOURCED FOR HIGH ACCURACY
Veeva OpenData Customer Data combines information from authoritative public and local sources, such as the AMA Physician Masterfile, American Hospital Association, NPI database, and U.S. state license boards.
RESPONSIVE STEWARDSHIP
A global staff of expert data stewards follows rigorous quality procedures leveraging web and phone research techniques, to update customer information continuously with precision.
PARTNER PROGRAM
With the 
Veeva OpenData Partner Program
, you can bring together multiple sources of customer data without the headache of three-party agreements.
1. European Life Sciences Survey Veeva Systems, 2016
Worldwide Availability
Veeva OpenData is available worldwide.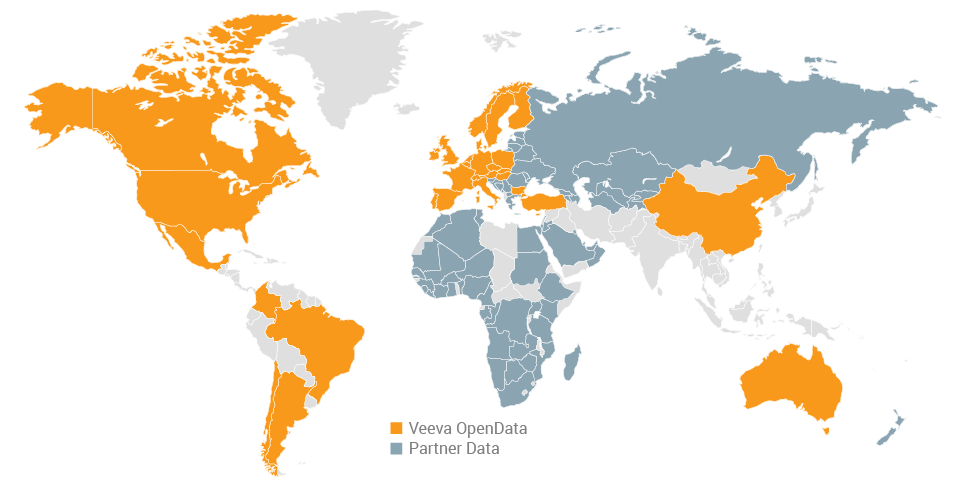 | | | | |
| --- | --- | --- | --- |
| United States | China | Germany | United Kingdom |
| France | Italy | Brazil | Canada |
| Spain | Australia | Mexico | Netherlands |
| Switzerland | Turkey | Poland | Sweden |
| Belgium | Argentina | Austria | Norway |
| Ireland | Denmark | Colombia | Chile |
| Finland | Czech Republic | Portugal | Hungary |
| Monaco | Slovakia | Luxembourg | Bulgaria |
| Cyprus | Andorra | | |
| | |
| --- | --- |
| Region | Partners |
| Russia and the Commonwealth of Independent States | Proxima |
| Middle East | Curis Health, Reptor |
| Europe | Adriasonara, ApureBase, Aquarance |
| Africa | Medpages |
| New Zealand | Medidata NZ |
Better customer data means...more productive reps
Better customer data means...more efficient commercial operations
Better customer data means...effective compliance activities
Previous
Next