Veeva Vault Submissions Publishing
Vault Submissions Publishing moves cross-document hyperlinking upstream and performs validations behind-the-scenes for greater automation, transparency, and speed.
Benefits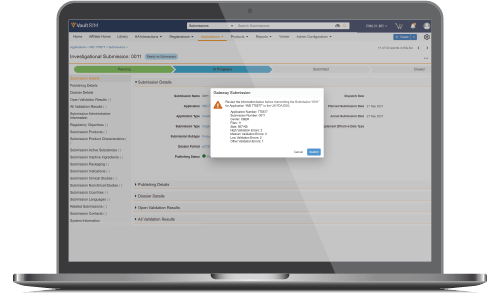 Comprehensive Oversight
Manage end-to-end submission development within a single system.
Streamlined Process
Gain direct access to the correct version without manual tracking or document transfers.
Greater Efficiency
Regulatory publishing steps are completed earlier—during submission authoring and approvals.
Unified RIM
Connect end-to-end regulatory processes and improve efficiency with the Vault RIM Suite.
Features
Assisted Submission Building
Eliminate manual steps with rule-based auto-matching between the submission content and the submission outline.
Submission Independent Hyperlinking
Create hyperlinks that are independent of the submission structure so they can be used earlier in the process during document reviews and reused across multiple submissions.
Background Validation
Automate validation and link testing with a behind-the-scenes service that identifies problems as submissions are being built.
Submission-ready Rendering
Automatically render all documents with the correct PDF standards. Navigate web links, cross references, and tables of contents directly from the viewer.
Real-time Status Reporting
Gain visibility into the complete submission process including submission status and individual document readiness.
Gateway Integration
Transfer submissions through health authority electronic submission gateways, automatically archiving all gateway receipts and responses.
eCTD and Non-eCTD Support
Stay compliant with eCTD and non-eCTD standards across the globe.

"With a continuous model, regulatory teams can identify any errors and address broken links to source data as the submission is being built so teams don't have to go through the lengthy re-publishing process over and over. Using this system, we have cut submission time by at least half."
Director of Regulatory Operations, Melinta
Learn more
Vault RIM End-to-end Demo
Resources for Vault Submissions Publishing