How the Pandemic Transformed HCP Engagement for Pharma Companies in India
Aug 23, 2021 | Sushant Aggarwal, Senior Business Consultant, APAC | Shafi Hussain, VP, Business Consulting Lead, Asia
The pandemic has changed the landscape for healthcare professional (HCP) engagement across India's life sciences industry. Digital engagement is now more important than ever, as face-to-face (F2F) interactions between sales reps and HCPs literally stopped overnight.
In this blog, we look at Veeva Pulse data which provides a view of HCP engagement across the life sciences industry in India. The findings presented here are based on pharma sales rep activities that were captured in Veeva CRM between 1 January 2020 and 5 April 2021.
Emergence of digital
Before COVID-19, pharmaceutical sales reps had been accustomed to meeting HCPs in person. But with the pandemic restricting physical access, pharma reps had to quickly switch to other channels of interaction such as video calls and emails. The big question is, what will the future of HCP engagement look like in India, once the world is back to normal? Will the HCP engagement model return to face to face? Will digital overshadow in person interactions? Or will it be a healthy mix of face to face and digital?
Looking at how pharma reps are interacting with HCPs today gives us some early indicators of where the HCP engagement model is headed. To understand how various pharma companies' reps are interacting with HCPs, we look at Veeva Pulse data: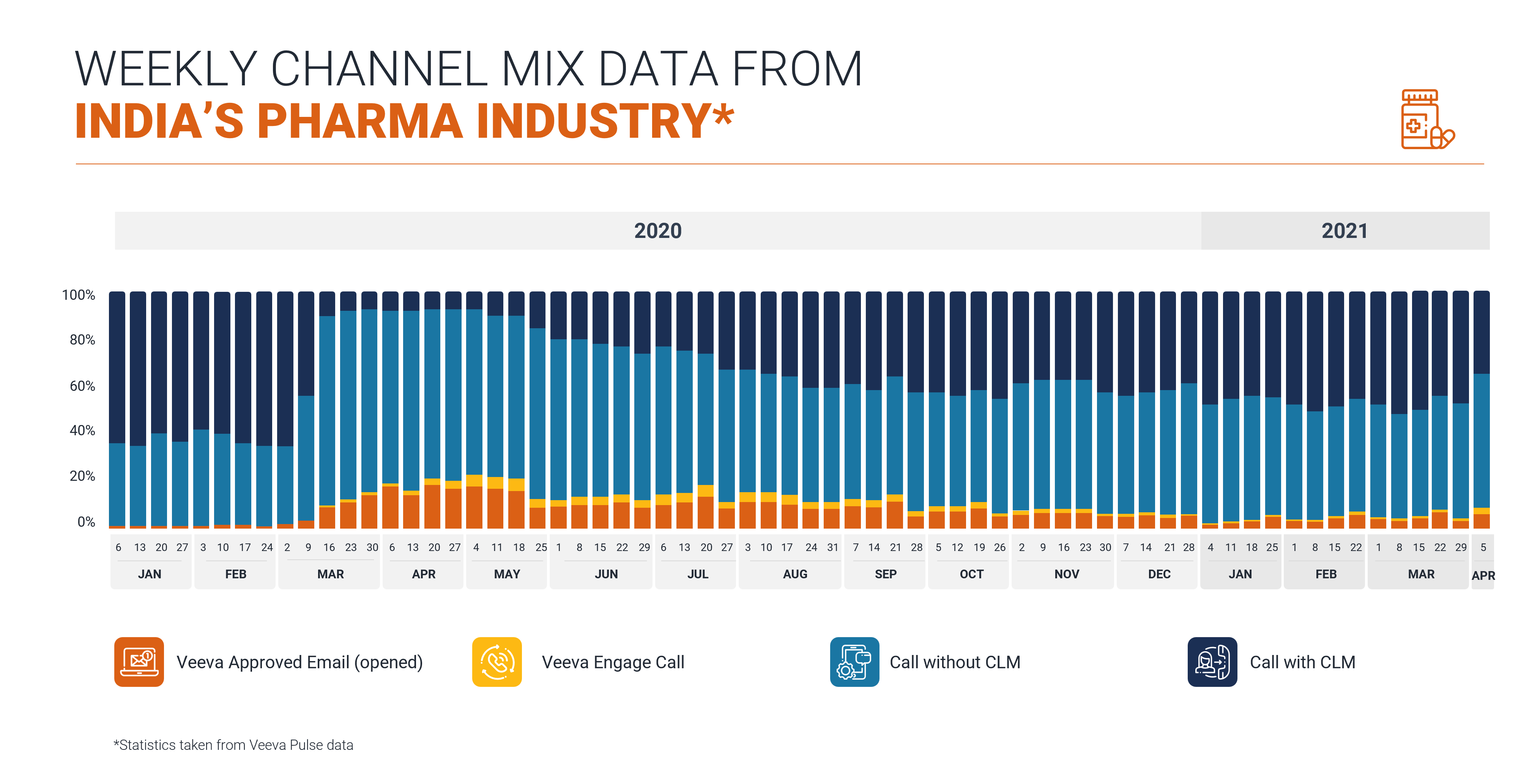 The data tells us that there has been a significant shift towards digital interactions including remote calls, email etc. during the peak of COVID-19. Currently, engagement in India seems to be moving back to face to face but digital interaction continues to remain significant.
The future of HCP engagement in India
When we look deeper into the data and analyse how early adopters of digital are engaging with HCPs, a different picture emerges.
Below is the HCP engagement channel mix trend of a pharmaceutical company in India which is a digital leader in HCP engagement: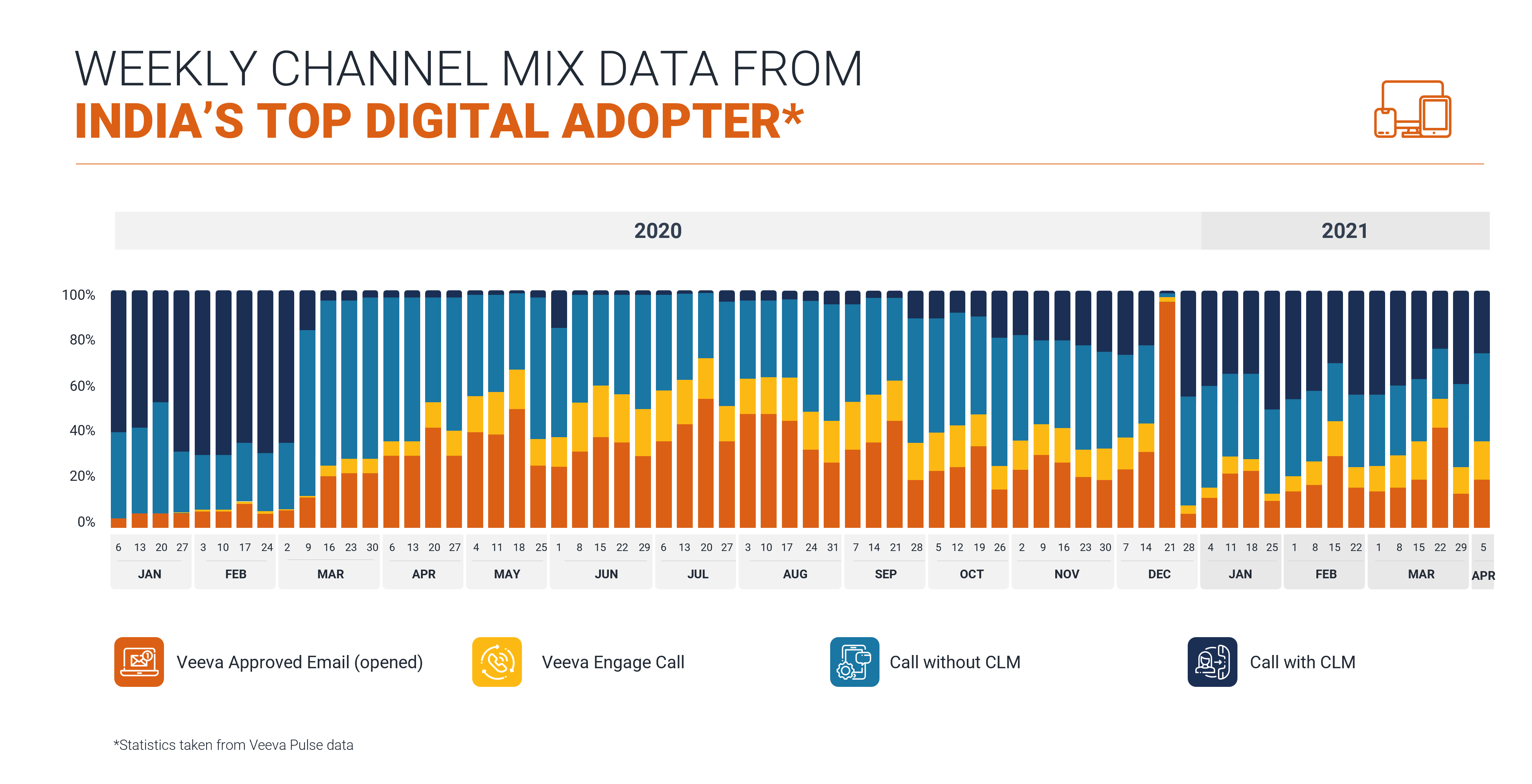 The data for this early adopter clearly demonstrates that it is not merely supporting face to face with digital activity but is heavily relying on digital channels along with face to face. With most pharma companies in India gradually getting back to face to face and reducing digital usage, this company demonstrates that they are continuing to transform their engagement strategy to significantly include digital.
Does digital really work?
We asked our top digital adopter in India – referenced in the above chart – and learnt that despite the pandemic, their organisation has maintained positive growth, and increased HCP engagement by leveraging digital. With positive results showing during 2020, this pharma company proactively instilled a digital-first mindset amongst their salesforce that would take them beyond the pandemic.
Digital channels are here to stay and to help pharma companies succeed
The pandemic changed the landscape for HCP engagement and has accelerated the transition to digital engagement. We found digital channels are successful and companies are maintaining positive growth rates and the ability to increase their coverage.
Leveraging the virtues of digital for 360-degree HCP engagement requires us to look at processes, data analytics, content, frequency, training, CRM and much more. Digital channels aren't just a supplemental tool, but can provide a competitive advantage. It is not only imperative for companies to adopt digital but a well thought out commercial strategy to remain competitive in the future.
About Veeva
Veeva is a leading provider of cloud solutions and consulting services to the global life sciences industry. To learn more about Veeva Business Consulting and Pulse Data, please reach out to Sushant Aggarwal or Shafi Hussain.
Get the latest insights from leading pharmas and biotechs on innovative approaches to commercialization. To learn more, subscribe to our Business Consulting Newsletter.