Veeva Vault Study Training
Streamline and Automate
Study Training
Unify learning management and clinical operations for
automated training and real-time inspection readiness.
Manages GCP and study-specific training
Veeva Vault Study Training manages GCP and study-specific training for research sites, CROs, and sponsor personnel.
Tailored to curricula and training requirements
It provides document, video, and SCORM/AICC training, in addition to quizzes and classroom capabilities based on curricula and training requirements. Teams can create a protocol-specific training curriculum, which automatically assigns training based on a user's role and location. Completed training is documented automatically in an inspection-ready format for study teams and CRAs to leverage.
Connected with Vault eTMF for inspection readiness
Vault Study Training connects to Vault eTMF to eliminate the need to manually capture study and site information.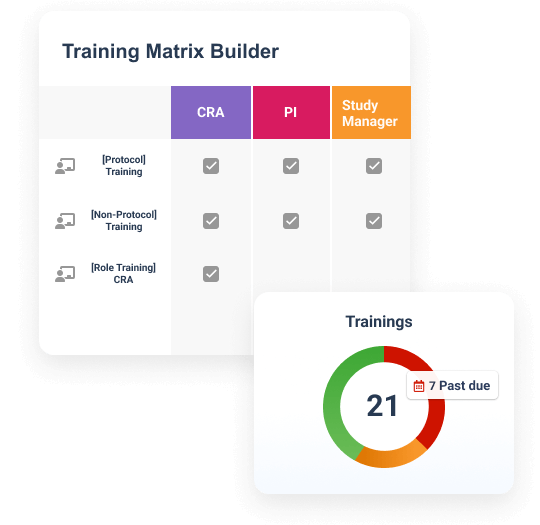 Why Vault Study Training
Efficient and compliant training
Simplify training with one application

Create, assign, and deliver role-based training for sponsors, CROs, and sites in one solution.

Ensure inspection readiness

Automate training certificate creation and evidence filing for ongoing inspection readiness.

Improve compliance for study teams

Ensure compliance with automated training alerts, on-demand content, and real-time visibility.

Drive oversight of study partners

Leverage unified reporting across sponsors, CROs, and sites to improve oversight.
"Vault Study Training gives us the opportunity to have a full, automated, end-to-end process in a validated system."
Ellen Vanderlinden, Sub-Head Training Change & Communication
Bayer
Watch customer video
"We needed a solution that eliminated as many manual processes as possible and Vault Study Training
did just that."
Grace DaFonseca, Quality Operations Manager
Cerevel
Watch customer video
"The ability to use content in Vault Clinical Suite and assign training can significantly streamline study execution and manual reconciliation."
Ed Leftin, Director, Information Technology
Ora, Inc.
Learn more
Interested in learning more about how Veeva can help?