Veeva CRM Engage for Portals
Capture immediate insights and preferences from digital interactions.
Benefits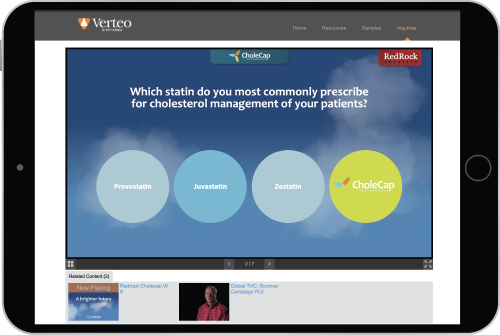 Consistency
Enable a cohesive online experience across all brands and channels.
Visibility
Better customer understanding and real-time insights into digital activity.
Better Return on Digital Spend
Ensure greater reuse of messaging across channels to improve your promotional impact.
Interactive Media Viewer
Displays content, images, and videos on your website tailored for each interaction
Delivers rich multimedia content
Available on the device of the HCPs choice
---
Complete Customer Profiles
Uses multichannel customer profiles from Veeva CRM
Delivers the right mix of rich content based on customer's needs and preferences
Eliminates the burden of integrations
---
Single Source of Content
Complete multichannel repository to manage content across channels
Simplifies access to promotional asset
Ensures visibility and control
---
Actionable Insights
Provides rich customer insights
Automatically captures data from each interaction
Real-time updated to Veeva CRM
---