Veeva CRM Engage Connect
Make it easy for HCPs to get the information they need with compliant, on-demand access to your commercial teams and brands.
Benefits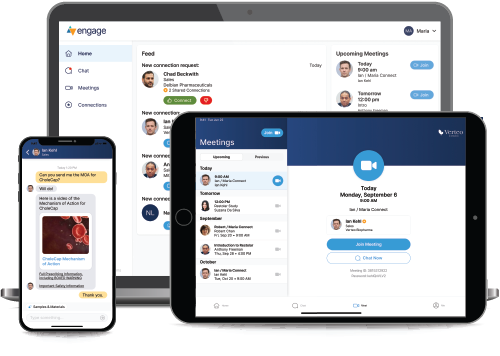 Increase Access and Engagement
Create connections with HCPs automatically and increase access in between meetings.
Let HCPs Easily Contact You
Make it easy for your customers to request information and samples, view patient resources, and meet with the right people on demand.
Stay Compliant
Unlock a new channel and respond to customer requests and questions in real-time with compliant and secure SMS texting.
Activate Field Teams
Field representatives use the Engage Connect app to respond to all HCP inquiries and texts with compliance and ease.
Compliant, Two-way Messaging
Pharma reps and MSLs can securely chat with HCP customers anytime, anywhere to deliver timely information on potential treatments.
Deepen existing HCP relationships with customer-centric engagement and chat-like messaging.
Respond more quickly to HCP requests for patient resources, content, or samples.
Provide customers with the convenience and ease of a single, compliant, industry-wide pull channel.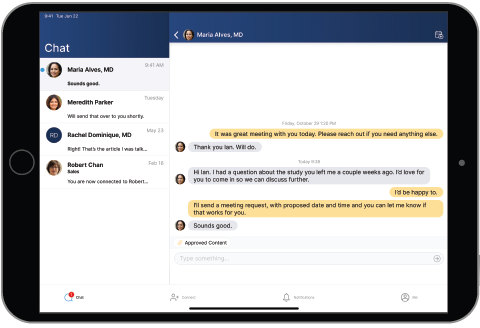 ---
On-demand Content and Patient Resources
Life sciences brands can more quickly respond to HCP requests for materials, samples, patient resources, or services.
Safely share content and resources in person, while maintaining social distance.
Respond to requests for samples and materials quickly and collect signatures remotely.
Enable HCP to self serve with easy, on-demand access to brand content and resources.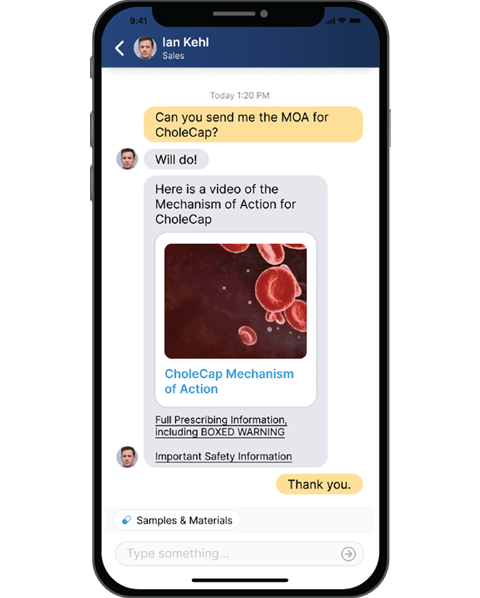 ---
HCP Centric Scheduling
Field reps and MSLs can check HCP office hour preferences and request meetings.
Ensure more effective interactions, by selecting from HCP preferred days, times, and channels.
HCPs can personalize their schedule to show office hours and office policies.
Field reps can easily select from the most convenient options for their customer.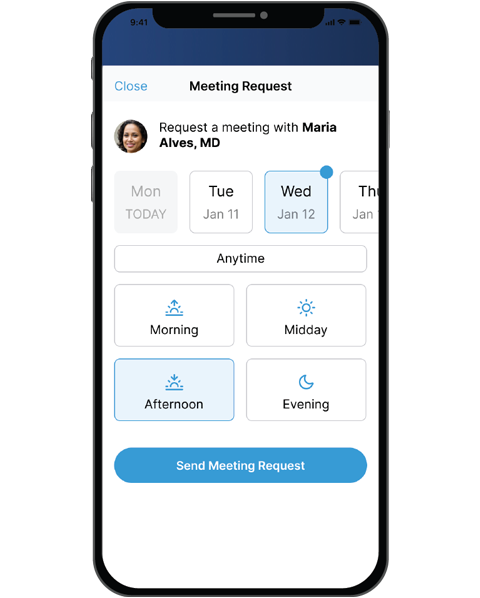 ---
HCP and Industry Connections
Reps and participating HCPs can instantly search and connect with each other, bringing multiple resources into one place.
Stay connected in between in-person or remote meetings with customers.
Consistent and easy follow up after meetings.
Create new connections with hard to reach HCPs that prefer digital engagement.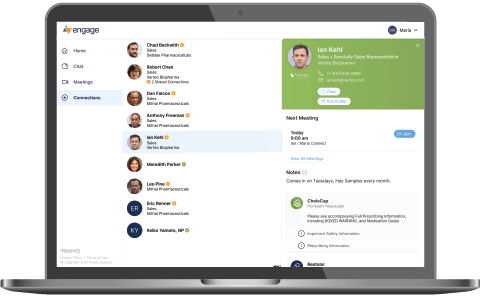 ---
"With Veeva Engage Connect, our field teams can quickly connect with HCPs in a more personal, convenient way through compliant texts, scheduling meetings, and most importantly, sharing patient resources."
Director, Field Force Automation, Sanofi
Learn how to redefine the HCP-rep relationship
Veeva CRM Engage Connect Resources
Interested in learning more about how to connect with HCPs in between meetings?