Veeva CRM Lightning
Take Your Productivity
to the Next Level
Make the Veeva CRM desktop user experience
faster and more flexible
Veeva CRM Desktop Experience
The Veeva CRM desktop experience makes life sciences commercial teams more efficient.
Benefits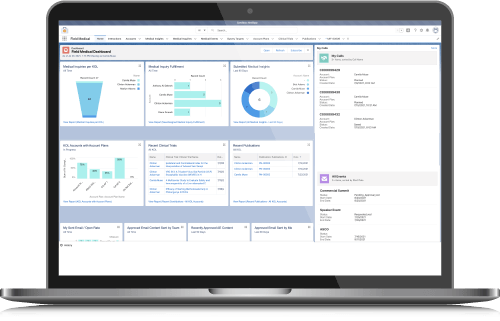 Streamlined Navigation
Save your teams valuable time with a user experience that simplifies your day-to-day activities and content flow.
Role-Based Design
Support the unique ways teams work through role-specific apps and customizable workspaces.
Insight-Centric experience
Focus on the data users need with more entry points for valuable insights right in their workflow.
Frequently Asked Questions
Here are a few frequently asked questions about the Veeva CRM desktop experience to help you get started.
How do I get the new desktop experience?
The new Veeva CRM desktop experience is built on Salesforce Lightning. To unlock the full potential of Veeva CRM going forward, customers must migrate their online Veeva CRM org from the current Salesforce Classic UI to Lightning.
---
Lightning is the latest Salesforce online user experience. It was introduced roughly five years ago and is now mature. Starting June 2021, all innovations for Veeva CRM desktop will be built for Lightning only.
---
When should I plan the transition to Lightning?
You should start planning now. The sooner you make the transition, the sooner you will benefit from faster, more productive teams. Veeva will stop supporting existing Veeva CRM capabilities on Salesforce Classic at the end of 2023.
---
How do I get started with the Lightning transition?
Veeva will provide resources and support for the transition from Salesforce Classic to Lightning. Contact your account executive to discuss a Lightning transition plan for your organization.
---
"With tailored capabilities for business users built on Salesforce Lightning, customers have greater agility responding to the changing needs of their business."
General Manager - Veeva CRM & Veeva Nitro
Learn more
3-Minute Demo: Digital Rep Lightning Business App
4-Minute Demo: Brand Operations Lightning Business App
4-Minute Demo: Key Account Manager Lightning Business App
3-Minute Demo: Field Medical Lightning Business App
3-Minute Demo: Event Coordinator Lightning Business App
Previous
Next
Interested in learning more about how Veeva can help?