Veeva Pulse Field Trends Report: 2Q22
Largest-ever engagement report reflects activity of 80%+ of reps worldwide
As the pharmaceutical industry continues to adapt to HCP preferences and hybrid commercial models, it's more critical than ever to keep your finger on the pulse of field and HCP engagement trends.
Each quarter, the Veeva Pulse Field Trends Report provides unique insights into global and regional engagement trends, with an exclusive lens into HCP interactions with more than 80% of reps and 130 million quarterly HCP-field interactions.

Download Full Report
HCPs want more digital engagement, Engage video calls drive 3x response, and leaders gain advantage using video calls 3x a week.
Return of In-Person and HCP Expectations
Access has returned, and so has the industry's race back to in-person. From April to June 2022, in-person engagement accounts for roughly 70% of HCP interactions globally. Although in-person is again the predominant channel, now that 75% of HCPs expect a blend of digital engagement, field teams are evolving to a new omnichannel model.
Global Channel Mix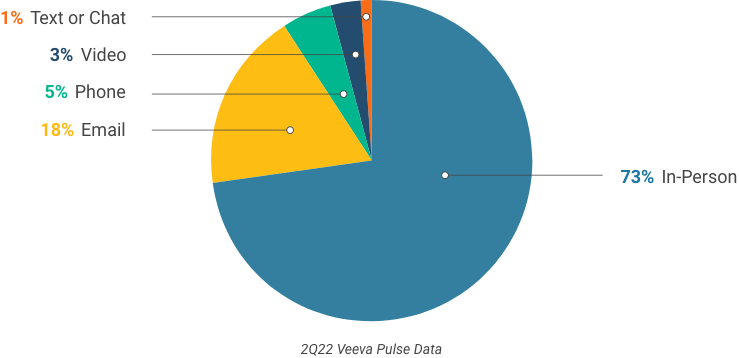 Download Full Report
Channel Mix and Rate of Return Vary by Region
The channel mix and rate of return to in-person have not been the same everywhere. For example, the U.K. is an outlier among major markets, and overall activity in the U.K. is significantly lower across all channels. The U.K. has one of the lowest HCP touchpoints at roughly 21 per user per week, of which only 32% are in-person and 43% are emails.
U.K. Channel Mix Compared to Major Markets


Download Full Report
Leading Oncology Portfolios Use Virtual Engagement
Virtual engagement is a natural complement and accelerator to in-person and has tremendous benefits to the customer experience. The top three leading U.S. oncology franchises use video meetings 2.5 times more, use content twice as much, and have 67% longer meetings compared to their peers. They complement in-person selling efforts with virtual engagement, extending the conversation and deepening relationships with digital touchpoints between in-person meetings.
Leading Oncology (Top 3)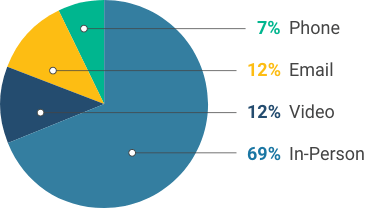 Top 20 Oncology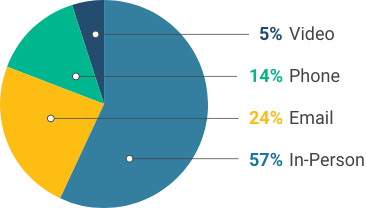 | | Leading Oncology | | Top 20 Oncology |
| --- | --- | --- | --- |
| Content Usage in Video Calls | 33% | | 16% |
| Veeva CRM Engage Meeting Duration | 47 Minutes | | 28 Minutes |
| Open Rates | 29% | | 31% |
2Q22 Veeva Pulse Data

Download Full Report
3x Promotional Response With Engage Video Calls
The use of video calls in conjunction with in-person meetings increases efficiency and impact. When engaging HCPs through a blend of in-person and virtual channels, such as Veeva CRM Engage, video engagement has three times the promotional response compared to in-person meetings alone, offering a significant advantage.
Promotional Response Coefficient

Weekly Virtual Meeting Usage by Top Global Pharma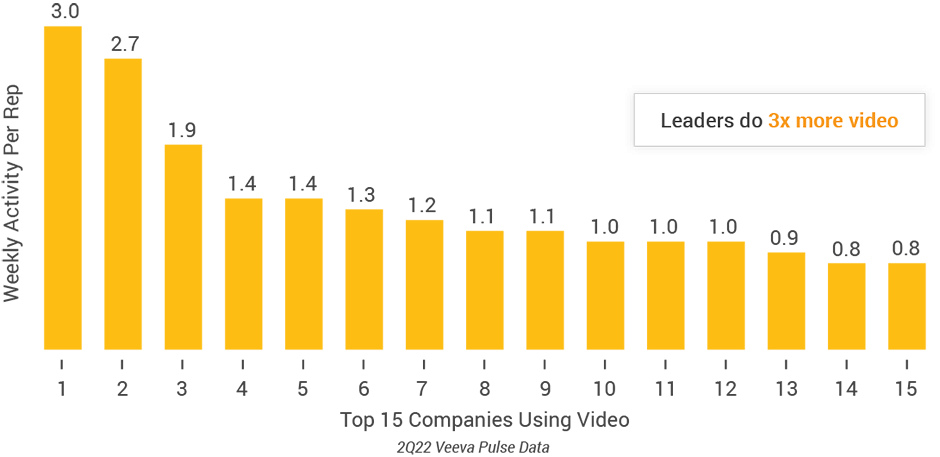 Download Full Report
Use the Right Platform to Capitalize on Content
The fundamental drivers of promotional response continue to be time with the customer and content utilization. Although content usage in video meetings is consistently higher than in-person, it can differ depending upon the platform. For example, content usage is approximately 85% globally via Veeva CRM Engage virtual meetings, compared to approximately 40% for other video platforms.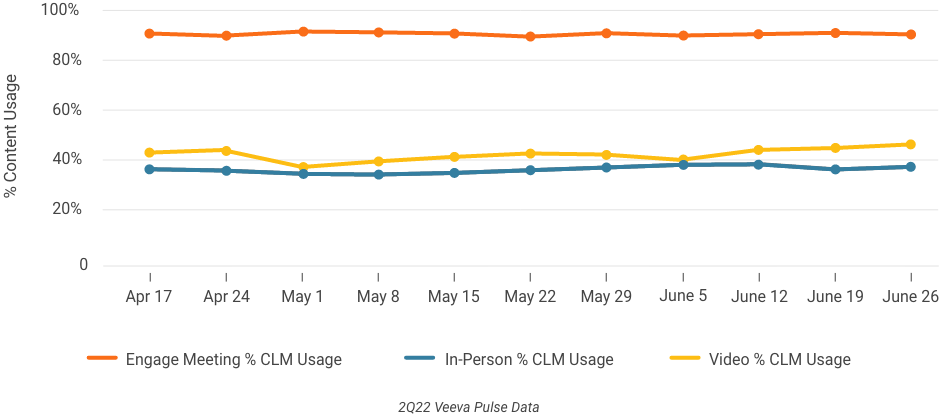 Download Full Report
Achieve Commercial Excellence
The way pharma and biotech field teams interact with HCPs is shifting once again. Success hinges on empowering field teams with data-driven insights to build the best omnichannel mix that engages HCPs when and where they need it most. The Veeva Pulse Field Trends Report, created with data and insights of more than 80% of all industry representatives worldwide, provides unique insights into HCP engagement to benchmark against industry leaders and set actionable goals to achieve commercial excellence.

Download Full Report