Veeva Pulse Field Trends Report
As the pharmaceutical industry continues to adapt to HCP preferences and hybrid commercial models, it's critical to stay on top of evolving field and HCP engagement trends.
Each quarter, the Veeva Pulse Field Trends Report provides unique insights into global and regional engagement trends based on an analysis of 600 million HCP interactions across more than 80% of biopharmas worldwide.
See the Global Insights
Content usage drives 2.5x new patient starts
Sharing digital content during HCP meetings drives new patient starts 2.5x more than meetings that don't use it. This increased promotional impact is consistent across both in-person and video channels.
Promotional impact of digital content
In-person and video meetings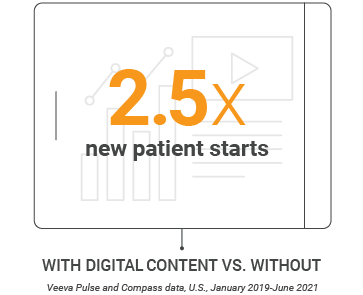 Content leaders outpace laggards by 4:1
European field teams only share digital content in 29% of HCP meetings on average. Field teams that use content the most outpace lagging companies at a rate of 4:1, a significant competitive advantage.
Percent of rep-HCP meetings using digital content
In-person and video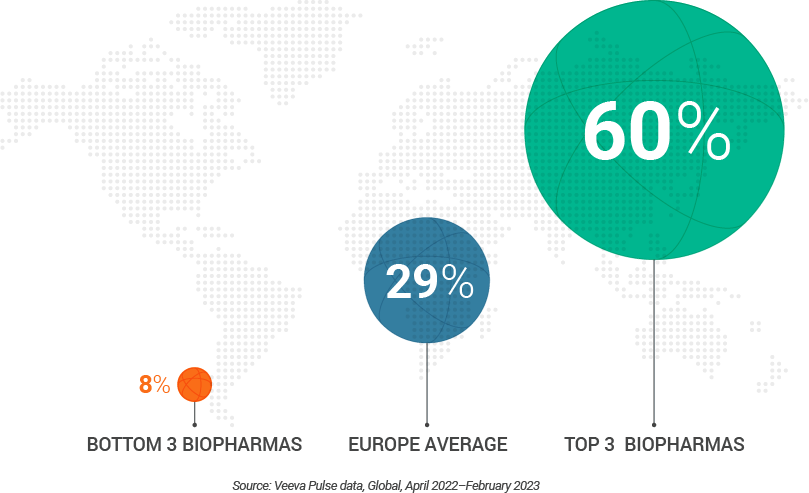 Content quality is more important than quantity
Even though biopharmas created 20% more content over the previous year, 76% of content is rarely or never used by field teams.