Modular Content
Deliver highly personalized and compliant content faster, and at scale.
Benefits
Learn how to get started with modular content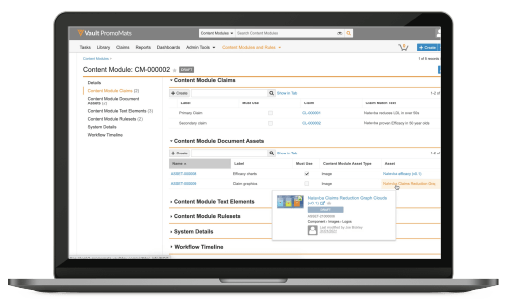 Create Relevant Content Faster
Choose from a library of pre-approved channel-agnostic content modules to create digital content faster and at scale.
Dramatically Faster Reviews
Reviewers can quickly identify which assets require review, making the approval process more efficient.
Increase Content Reuse
Reduce the cost to create content by increasing content reuse.
Impact of a Modular Content Approach
50+%
increase average speed to market
75%
of content is approved in one review cycle
20+%
reduction in the cost to create content
What is Modular Content?
Modular content is the process of assembling and reassembling pre-approved components, or "modules", into different types of content for use across regions and channels.
Components & Claims
Graphics, images, claims, copy
Module
Relationships between components and business rules to inform usage
Relevant Content
Content derived from approved modules

How Modular Content Works in Vault PromoMats
Veeva Vault PromoMats Auto Claims Linking Demo
Veeva Vault PromoMats Digital Publishing Demo
Veeva Vault PromoMats Brand Portal Demo
Previous
Next
Learn more about Veeva Vault PromoMats