Vault Submissions Publishing
An integrated solution for dossier publishing that dramatically speeds submission delivery.
Veeva Vault Submissions Publishing seamlessly incorporates publishing capabilities within the Vault RIM Suite. Veeva's unified RIM approach moves cross-document hyperlinking upstream during authoring and away from late-stage submission finalization. A continuous publishing process performs validations and link-testing behind-the-scenes and as you go, to identify issues earlier when they are easier to fix. By unifying the end-to-end process, publishing within the Vault RIM Suite offers greater automation, transparency, and speed.
BENEFITS
More efficient: End-to-end submission development within a single system.
Fewer steps: Direct access to the correct version without manual tracking or document transfers.
Finish faster: Submission publishing steps are completed earlier—during document authoring and approvals.
Unifying regulatory: Streamline end-to-end submission development, gaining visibility and efficiency with the unified Vault RIM Suite.
Learn More
Watch Demo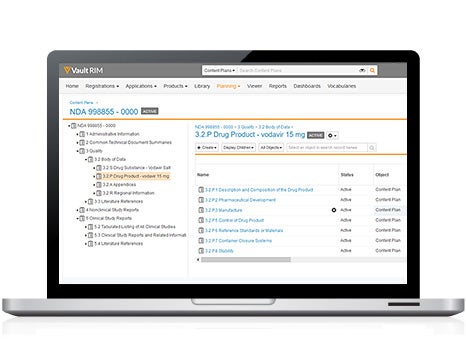 Features
UNIFIED SUITE
Complete the entire submission lifecycle, from planning and authoring to publishing and archival, within a single system.
SUBMISSION INDEPENDENT HYPERLINKING
Create hyperlinks that are independent of the submission structure enabling links to be created earlier, used during document reviews, and reused across multiple submissions.
ASSISTED SUBMISSION BUILDING
Eliminate manual steps with rules-based auto-matching of content to your submission outline.
BACKGROUND VALIDATION
Automate validation and link testing with a background service that notifies you of problems as you go.
REAL-TIME STATUS REPORTING
Gain complete visibility, from submission status to individual document readiness.
MULTITENANT CLOUD
Stay current with health authority guidances and validation criteria with three releases per year.
GATEWAY INTEGRATION
Transfer submissions through health authority electronic submission gateways, automatically archiving all gateway receipts and responses.
e

CTD SUPPORT

Support for US, Canada, and EU eCTD as well as report-level publishing. Support for additional eCTD markets and NeeS to follow in subsequent releases.