5 Ways Integrated Analytics Benefit Commercial Pharma
Jan 23, 2023 | Divya Reddy
Commercial pharma teams often seek new sources of data to inform their decision-making, but accessing industry data sets is often piecemeal and challenging to integrate. As the industry modernizes and adopts new ways of working, integrated analytics can make it easier for you to make strategic field force decisions and improve omnichannel healthcare professional (HCP) and patient engagement strategies.
When investing in your commercial strategies, developing successful analytics, measurement, and execution relies on getting the right data from the best sources. However, companies are often limited to a traditional data analytics approach [Figure 1] that involves accessing data sets that need to be stitched together. Even after weeks of data cleansing and integration, you end up with incomplete analytics.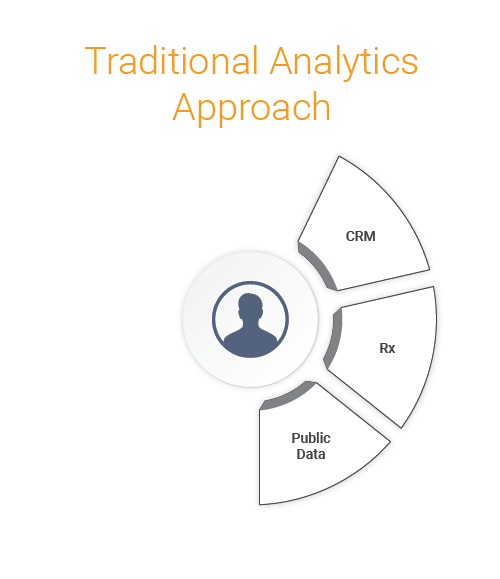 Figure 1
How integrated analytics help commercial pharma teams
Today the commercial analytics paradigm is shifting. Integrated analytics — pre-connected, unique industrywide data allowing for rapid insights to action — provides a universal view to answer any key business question. This approach surpasses the traditional model and allows you to begin data analysis immediately. And by adding additional data sources beyond CRM, Rx, and public data, you can gain added insights [Figure 2], including: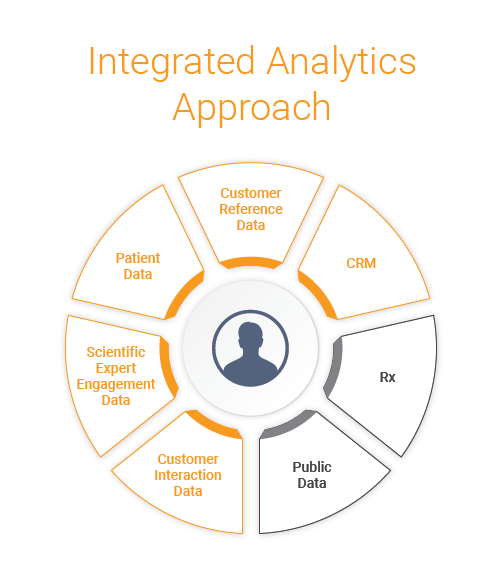 Figure 2
Integrated analytics: case studies from the field
For biopharmas getting started with integrated analytics, a first step might involve asking and answering questions about HCP access or identifying valuable new types of field segmentation, targeting approaches, and engagement channels. ​​Here are five real-world customer examples:
A global biopharmaceutical company used differentiated data that surfaced 16% more top decile targets in its rare disease market, significantly improving segmentation and targeting.
A top 10 U.S. dermatology company discovered its face-to-face engagement was on par with the industry, but competitors were increasing their frequency by 25% and improving promotional response. By augmenting face-to-face coverage with video, the company gained an estimated $60 to $90M sales opportunity.
One biotech company, eager to establish itself as a therapeutic area leader, discovered its share of voice with the top targets lagging behind top brands. In only three months, the company raised its share of voice by 13% by gaining visibility into targets' prescribing behavior and engagement preferences.
An industry leader wanted to assess its reach of decile 7+ targets compared to peer competition and identified a 26% access opportunity with new top targets. The company segmented its approach by health system, allowing for tighter go-to-market.
A global generics leader wanted to expand its reach to more HCPs and patients. It identified 800 new HCP targets, reached all new targets by smartly reallocating calls based on engagement preferences, and experienced a sales uplift of 5%.
Is your commercial team using integrated analytics effectively?
The demand for integrated analytics is growing. This year, we will partner with 15 of the top 20 pharma brands on integrated analytics projects. The reason is simple: software, data, and consulting together can help you:
Target and reach HCPs differently to gain a competitive edge
Develop more effective engagement strategies based on HCP preferences
Access medical and scientific expert data to foster informed engagement
Regardless of where you are in your field force, HCP omnichannel, and patient engagement journeys, here are three questions to consider:
Are you using industrywide data to drive your decision-making?
Is the data driving your analysis preconnected, allowing you to arrive at insights with speed?
Are you purchasing data piecemeal to answer specific business questions?
Connect with me today to discuss how integrated analytics can help you answer your most challenging commercial pharma questions.
Interested in learning more about how Veeva can help?