Equipping the Field Force of the Future with Veeva CRM Innovations
Apr 28, 2022 | Arno Sosna
Thanks to the recent growth of digital and hybrid customer engagement, new communication channels are opening up, allowing organizations to reach customers in new ways. Identifying the right channel mix and leveraging the appropriate content is critical to developing an effective digital strategy.
The latest Veeva CRM innovations allow healthcare professionals (HCPs) to access content and connect with reps on demand, simplify day-to-day tasks, gain insights faster to make more informed decisions, and improve compliance.
Optimizing Veeva CRM for the digital rep
With increased parity between iPad and desktop, field teams can work efficiently and engage with customers using the device that best meets their needs. Reps can share the content HCPs want, and automatic tracking of all media activity provides a complete view of customer interactions to analyze engagement and improve content.
Get a content-centric experience with Veeva CRM desktop app for Windows
The Veeva CRM Desktop app for Windows is now a dedicated and independent app enabling users to access their Veeva CLM media libraries whenever they want. Medical sales liaisons (MSLs) and reps can open a CLM presentation consistently and independently from the browser, in both online and offline mode. The desktop app for Mac is available in beta.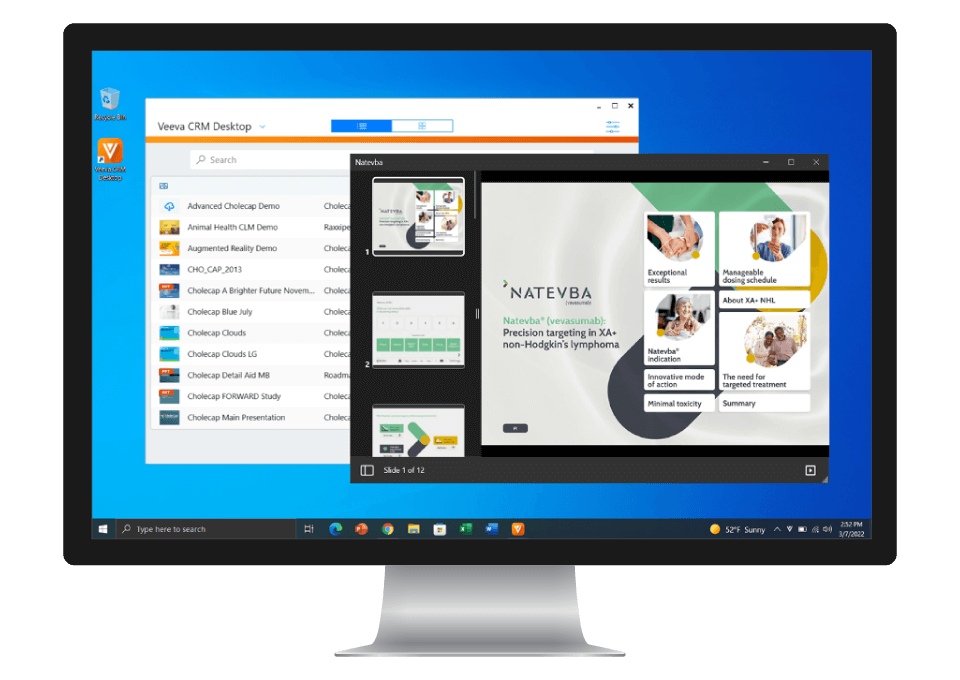 Display website content in the media library
Broaden your compliant content with the ability to access and present external website content on iPads alongside Vault content. Content administrators can create a library of websites for Veeva CRM users to access on iPad via a new tab in their CLM media player. Reps can select the desired portal websites, which launch in the embedded browser. Automatic tracking of all media activity provides a complete view of customer interactions allowing reps to analyze engagement and improve content.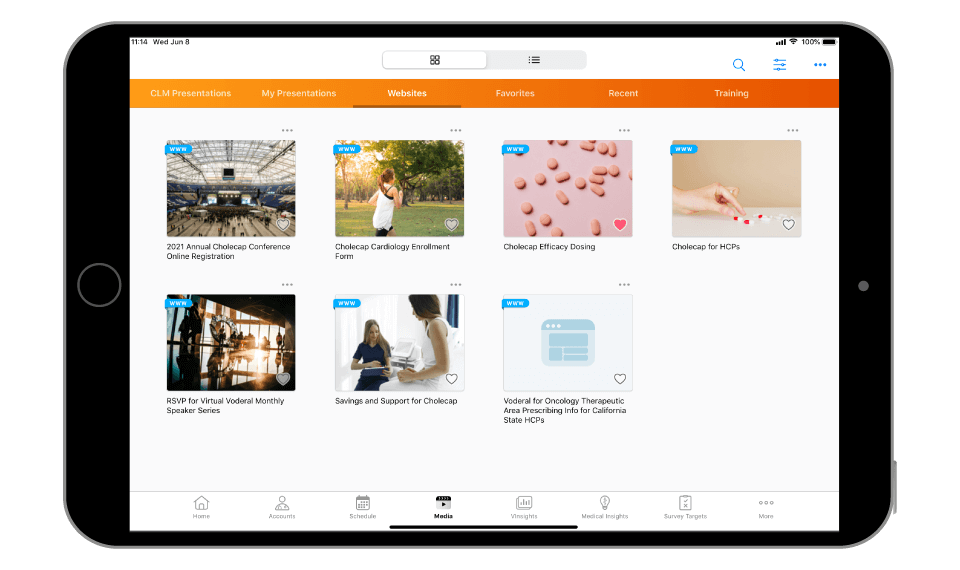 Search for accounts outside your territory
The subset of accounts accessible to a Veeva CRM user can constantly change. Account reallocations and changes can require field teams to access accounts outside of their territory assignment. Veeva CRM users can now search for accounts outside their territory, both online and when using a mobile device.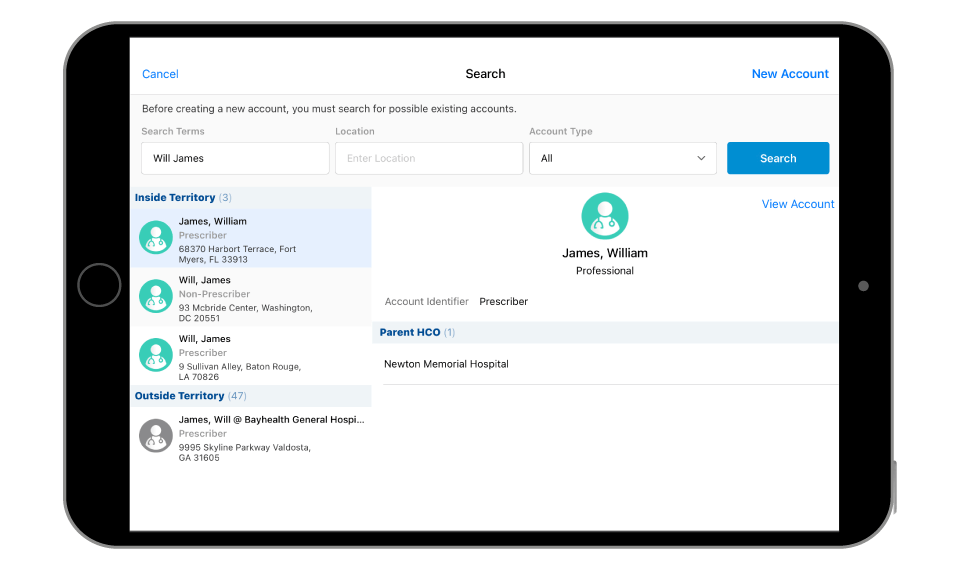 Strengthen account planning strategies
The Veeva CRM Stakeholder Navigator provides a holistic view of account relationships within a given organization, making it simple to manage key people and execute successful account management strategies. Key account managers (KAMs) may need to view accounts outside their territory to get a complete picture of the account and its relationships to perform specific tasks. Stakeholder Navigator now supports viewing and adding accounts outside a user's territory, as long as they connect to the currently-viewed hierarchy.
Making digital a two-way engagement
Today's digital transformation has impacted the way HCPs engage with pharma. Engagement is becoming less of an outward push and more of a two-way conversation that empowers HCPs to get the information they need, when they need it. You must address your customers' needs with the right content, in the right channel, at the right engagement level.
Allow HCPs to request meetings at their convenience
When scheduling interactions, there previously was no way for field teams to know when an HCP was available and vice versa. Reps can now allow HCPs to select how and when they want to meet through a dedicated scheduling website using Engage integrated with Veeva CRM. HCPs can choose a date, time, and channel that works best with their schedules, and field teams have the option to accept, reschedule, or decline the meeting times as needed.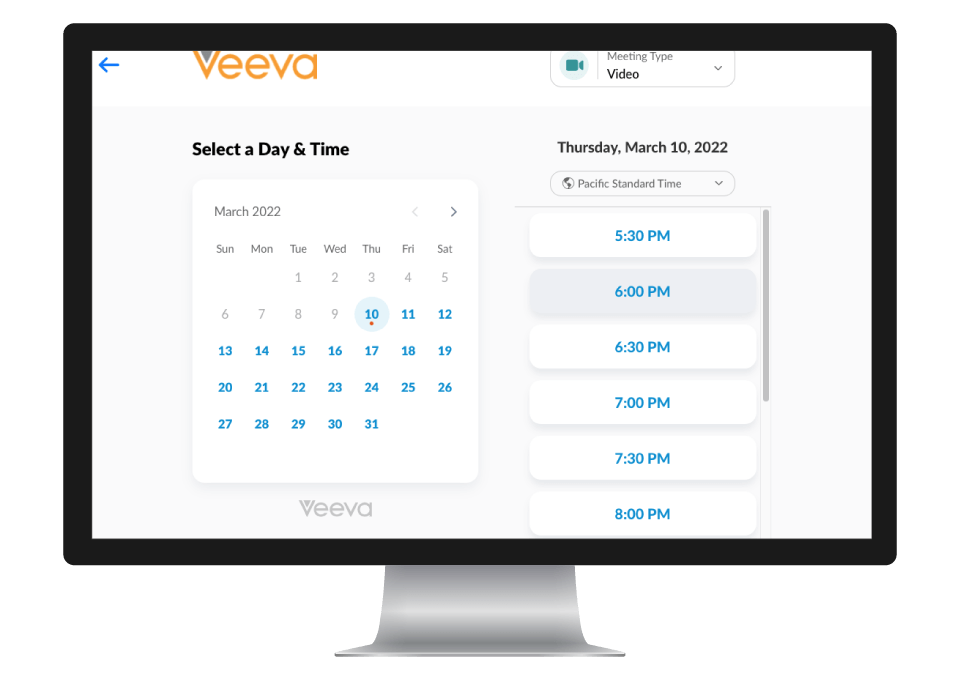 Share approved content through any channel
Not only can field teams now access and present curated external content alongside Vault content on iPads via a new tab in their Veeva CLM Media player, reps can share these Veeva CRM Engage links for website content through any channel to reach HCPs via their preferred communication channel. Representatives can share Engage links via instant messaging apps (e.g., WhatsApp, Line, SMS), Engage Connect, or by copy-pasting hyperlinks. Administrators can review the link activity performance to improve the content.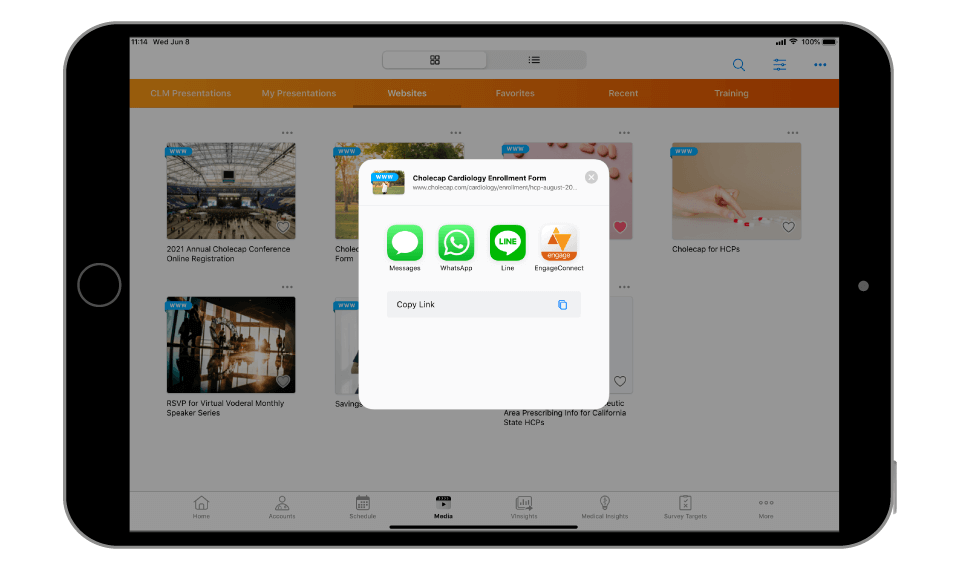 Improving the user experience
Teams can better manage day-to-day activities and review the relevant information they need with updated navigation and new functionality in Lightning.
Experience Events Management on Lightning
Events Management online users can now benefit from Lightning's updated user experience focusing on usability and efficiency. The Lightning UI sandbox beta experience applies to the following Events Management functionality:
Creating and editing an event
Adding event team members
Adding event budgets to an event
Adding speakers to an event
Adding event materials to an event
Entering expense estimates into an event
You can start testing Events Management in Lightning now.
Get direct access to your list of speakers
Event organizers can now plan an event that matches speaker eligibility and availability with direct access to their list of speakers. The new speaker tab allows organizers to review the speaker information early in the event planning process. It displays the availability and eligibility of speakers and common profile attributes such as affiliation, credentials, and specialty.
Innovating in data and intelligence
Hybrid selling requires more information to understand the effectiveness of customer engagement across channels and regions. Does your organization know the right mix of channel engagement across platforms? Is the industry seeing the same return to in-person meetings across geographical areas? Gaining a detailed understanding of what good looks like will help shape a better field strategy.
Improve field efficiency with Veeva CRM Standard Metrics
Veeva CRM Standard Metrics is a set of values that Veeva measures consistently across the industry to establish benchmarks that all life sciences companies can use to evaluate their performance. Get insights around call channel, user type, and user country to develop a common language for more accurate comparison and power downstream, customer-centric innovation.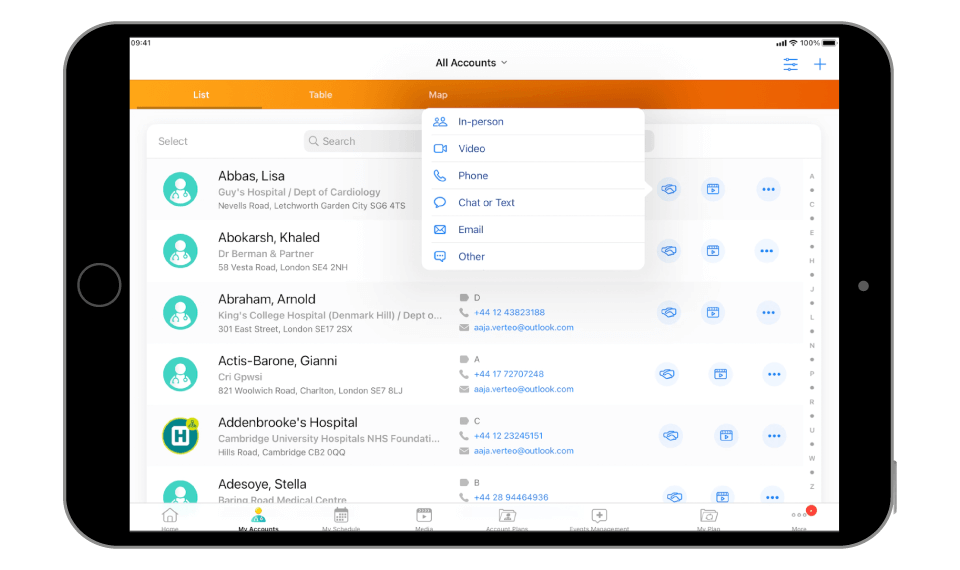 Improve compliance and increase efficiency
Ensure events stay within compliance guidelines with more granularity for events business rules and simplify operational workflows for greater control.
Lock attachments for closed events
Throughout the lifecycle of an event, various documents are required to be associated with the event. These documents can include contracts, sign-in sheets, expense forms, or receipts. Once an event is executed and closed out, the lock attachment feature prevents Events Management users from adding, editing, or deleting attachments or files from the records, which helps improve compliance. The documentation is viewable but cannot be modified.
Limit event meals by topic
The Events Management Business Rule Engine enables administrators to build custom business rules to assist event organizers when planning an event. It includes:
Event Attendance Rules: Set up attendee interaction rules.
Event Speaker Rules: Set up speaker guidelines and policies.
Expense Estimate Creation Rules: Associate frequently incurred expenses as estimates.
Expense Limit Rules: Set up expense limit guidelines and policies.
Required Event Material Rules: Require event organizers to attach supporting materials.
By creating these rules, event organizers spend less time preparing for the event's logistics while maintaining compliance related to attendance. The new Event Meals by Topic limit rule enforces repeat attendance of an event topic with meals. For example, an HCP can only attend two events with meals in a calendar year per topic.
Reduce false-positive violations with approved notes
Compliance users can now designate monitoring rules to only run against a defined combination of products, detail groups, and detail topics. With greater control over which rules run against which records, compliance users can determine which monitored phrases may be appropriate when discussing one product but not another.
Simplify operational workflows with the Veeva Align-Workday integration
Customers who use Workday as their human resources system can now benefit from an out-of-the-box integration with Veeva Align that can simplify their operational workflow by streamlining the active process when new employees join or leave the company. This new integration eliminates double data entry and reduces mistakes as employee changes get automatically picked up.
A video overview of all these release highlights is available to view on demand. Dig deeper into these new features and see more use cases at Veeva CRM Online Help.
Hear the latest innovations from industry leaders during Veeva Commercial Summit, Europe, 28-30 November 2022.
Interested in learning more about how Veeva can help?