Using Agile Design to Accelerate R&D
Jun 16, 2023 | Richard Young
GSK explains how agile design principles help future-proof its technology environment.
"Like going to space while still building the spacecraft." That is how Michel Rider, vice president of digital, analytics, and performance, at GSK, likes to describe the transformation program underway in GSK's development organization. It's mission-critical for the R&D function to continue developing medicines and vaccines for patients as fast as possible, even while her team is reconstructing their technology environment.
In recent years, GSK has made huge advances in operational efficiency that have enabled it to rebuild the oncology business and engage in immunology and neuroscience. Success has been contingent on breaking the traditional ways of working that resulted in the development function following linear processes and avoiding manageable risks, for decades. This approach inhibited the function from running even mainstream adaptive clinical trials.
However, with an organization-wide mandate to enter new disease areas, the team realized it needed a different methodology to unlock the potential of the product pipeline. GSK chose to embrace agile design principles, introducing Veeva Vault Clinical Data Management Suite (CDMS) as the platform for its transformation program.
Restructuring the discovery process
Rider's mission for the Digital, Data, and Analytics program was to build a test-and-learn culture, capable of operating flexibly and creatively within an uncertain environment. The team chose to apply agile principles to scientific processes. The agile design methodology aims to generate a set of questions and a series of parallel hypotheses, centered on customer needs.
Instead of following linear processes, the team adheres to an approach that builds in time for discussion, disagreement, and course correction. As Rider notes, "The secret to the entire conversation is accepting there will be some failures from the beginning and promoting successes where you have them."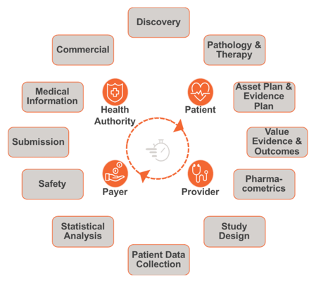 To ensure customers are consistently at the center, the team challenges its own assumptions, focusing on generating questions and gathering evidence before forming conclusions. As a result, learning is slower and incremental, yet also more rigorous.
Rider comments: "We create intentional friction to find areas of disagreement among our scientific experts and answer the questions that we don't even know yet. It allows us to think more critically about what we do and chase tremendous amounts of waste and duplication out of our system."
Building a flexible ecosystem
For companies looking to embed flexibility into their processes, GSK recommends considering not just the capabilities you need today, but future requirements that may arise if, and when, new data types are added.
Transactional systems. Development personnel and partners need frictionless processes to conduct their work. Prioritize stable, scalable platforms with excellent interoperability. Rider notes, "Veeva came in extremely strongly in terms of the interoperable environment provided. We could count on the Vaults talking to each other."
Development of data fabric. Consider a data lake strategy, so that you can separate data ingestion (collection) from consumption (analysis). Skeptical about the impact of AI/ML, GSK adopted the principle of "data fabric", or "data mesh", instead of a data platform. This strategy offers flexibility around the data types that could arise in the future.
Analytics environment. Target proactive (and predictive) performance measurement. GSK continues to benefit from insights showing overall asset progress against plans.
End-to-end standards, data stewardship, governance, and continuous innovation. Between data ingestion and consumption lies data governance. Define standards, processes, roles, and responsibilities, so that experts from across the ecosystem can access the data when needed.
Fresh thinking, stunning results
Two years into a three-year transformation program, GSK has transformed productive capacity across the organization. By using Vault CDMS, the team has vastly reduced complexity in its operational environment. Achievements include: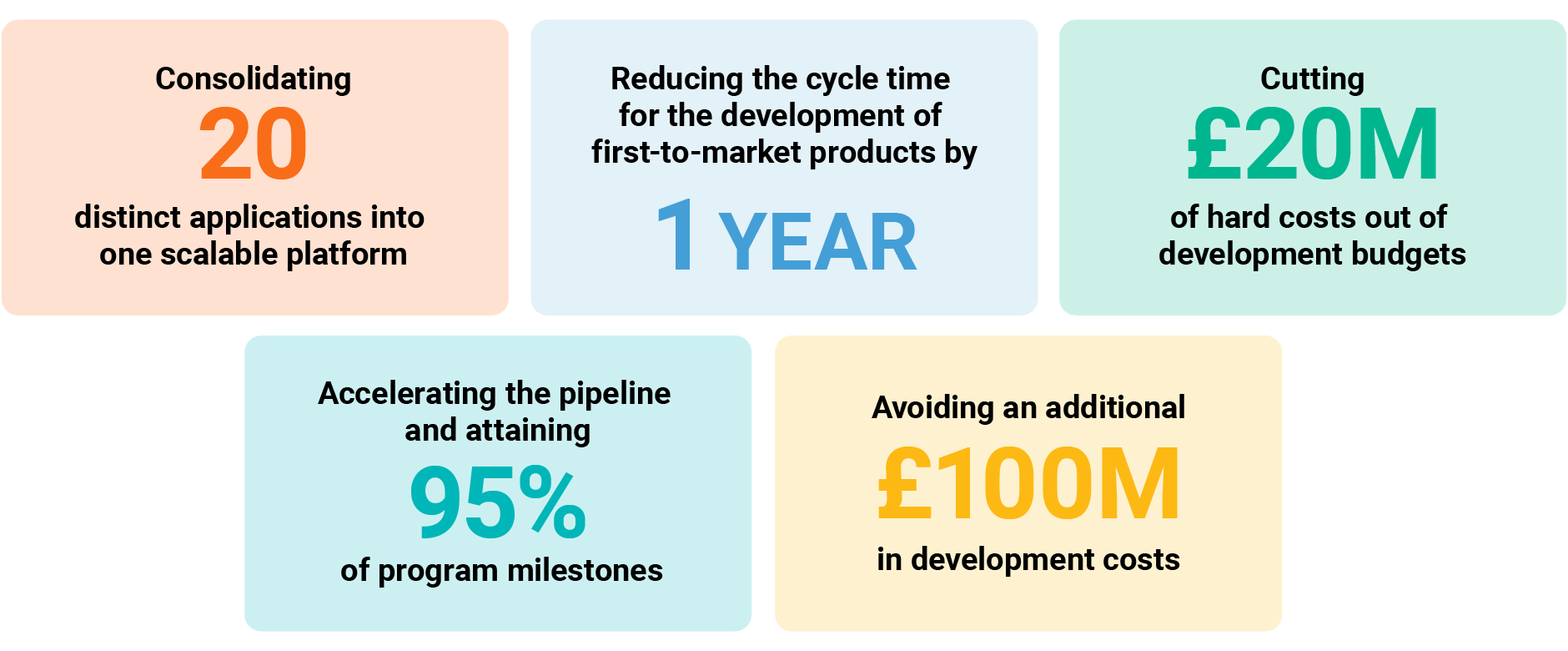 Rider concludes: "By following this process, we learned to attack everything and relentlessly place the customer at the center. As we enter this next wave in our process, we're shooting for even more ambitious targets. Our aim is to shave off three to four years from our cycle times on a consistent basis."
Facing forward
GSK is ready to embark on its 'Differentiation Phase' for the remainder of the five-year transformation program. Continuing to leverage an agile approach, the team recently strengthened its listening capacity to benefit from fresh external perspectives.
This includes a digital incubation initiative to filter and focus on promising new ideas, by running hackathons and nurturing small start-ups. "We've recognized that we need to provide a warm front door for smaller companies that could help us introduce novel software concepts," Rider concludes.
An agile design approach has empowered GSK to drive continuous customer-led innovation. Through co-creating as a team of equals, the organization has future-proofed its system and boosted its adaptability to dynamic requirements.
Hear what our customers are saying about Veeva Vault CDMS.
"Veeva came in extremely strongly in terms of the interoperable environment provided. We could count on the Vaults talking to each other."

Michel Rider, Vice President, Digital, Analytics, and Performance, GSK
Interested in learning more about how Veeva can help?