CROs and Sponsors at European Summit Attest that a Better EDC Improves Data Management
Jul 29, 2020 | Karin Ondricek
This was the first European Summit with a dedicated track for clinical data management and it signalled a coming-of-age for Vault CDMS. With the introduction of Studio in 2019, Vault CDMS brought transformational study build capabilities into the mainstream. Valued customers from Parexel, ICON, Eli Lilly, Alcon, and Vertex all spoke to this trend at this year's European Summit. These companies have tested and challenged Vault CDMS, our services team, our Agile Design methodology, and enablement. Their sessions shared examples of benefits gained using Vault CDMS and plans for data management moving forward. I provide a brief description of each session below:
In 2018, Eli Lilly launched a major transformation initiative for clinical data management. Before committing to Vault EDC enterprise-wide, they wanted to make sure it could handle their toughest trials. They are measuring Veeva's performance against five critical success factors across a broad range of clinical trials, including a complex master protocol and their largest study to date. Eli Lilly's director of clinical systems provides an open and honest overview of their experience thus far. One of the biggest impacts has been on the culture and excitement within Data Management, she said "Our data managers can dream again." Listen to Eli Lilly's session to hear why.
Parexel spoke about their pilot of Vault CDMS with a phase 1 study for a top 20 global pharmaceutical company. Their session covered the background of the pilot, successes and failures, and learnings about the functionality in Veeva's EDC. The speakers provided an excellent overview of capabilities they considered strengths or differentiators for Vault CDMS and the corresponding benefits for each constituent. The table below provides an excerpt of the information they shared and who it might benefit. For the complete overview, you can register for their session here.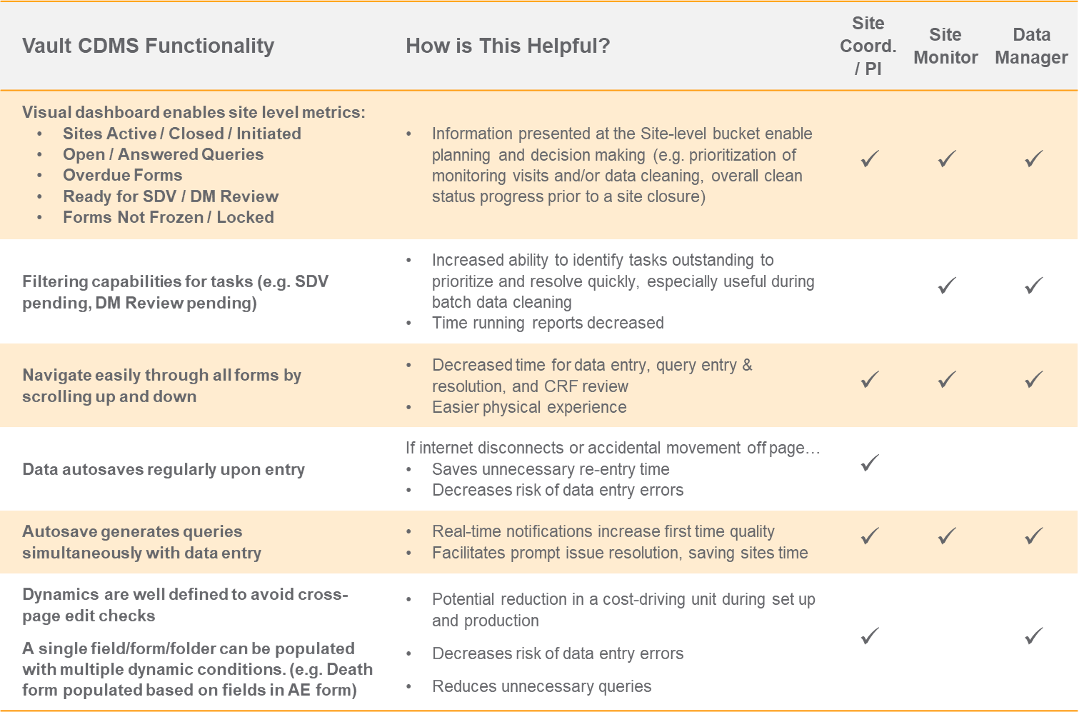 ICON was the first company trained to build studies in Studio, and they significantly deepened their experience over the past six months while building studies for Eli Lilly. The graphic below lays out ICON's observations regarding training, studio, the core EDC, and support. It is definitely worth listening to the full session to hear ICON's first-hand account of working with Veeva along with the advice they shared for on-boarding Vault EDC. They provide concreate suggestions in the areas of build, trial execution, and process changes.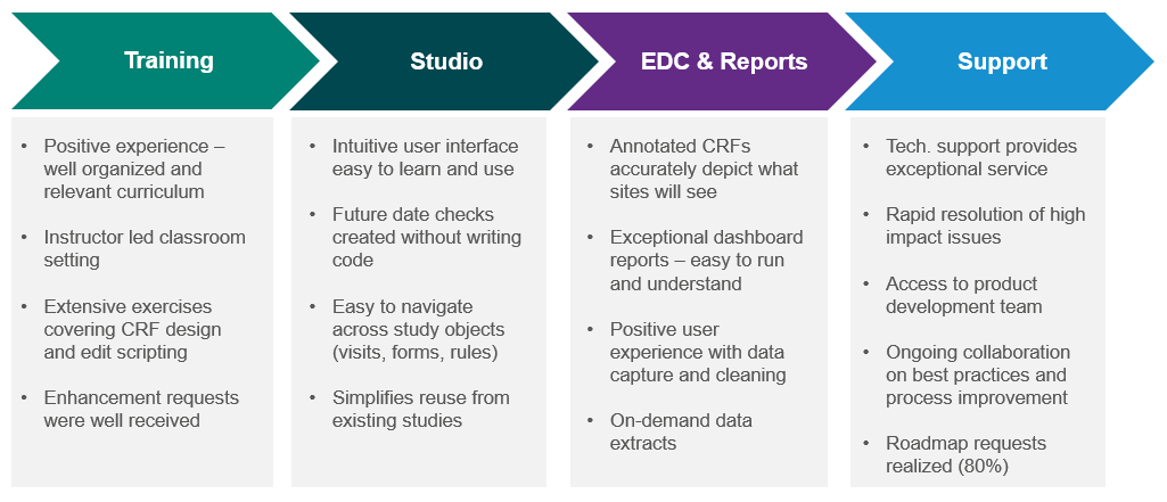 After spinning out as an independent company, Alcon needed to establish all new clinical systems. As part of building up their data management function, they adopted a new EDC and trained their team on the Agile Design build process. In just three months, Alcon had completed three study builds. Today, their data managers are building studies independently by configuring the casebooks, including validation checks and business rules. This session is ideal for companies considering a new EDC and wanting to build their own studies. Register here to hear Alcon's inspiring story and truly impressive accomplishments.
Vertex began working with Vault CDMS in 2018 and tested the system with early-phase trials (Although Vertex's early-phase trials are bucket studies with adaptive designs, 10+ cohorts, and 100+ patients – not your typical phase 1 studies.) They have adopted Veeva's Agile Design build processes and have reduced their average build times from 12-13 weeks down to just 5-6 weeks. This session covers three key drivers of their time savings: successful use of standards, eliminating standalone specs by building straight from the protocol, and minimizing UAT by using the Study Differential Report and live UAT roundtables. Vertex wraps up by sharing next steps and plans to leverage Vault CDMS in late-phase trials, new therapeutic areas, and virtual trials.
We are deeply grateful for the trust they've placed in us and the challenges they have given us. We are a better company and can deliver a better EDC because of their partnerships. We would also like to thank each speaker for volunteering their time to support Veeva's European Summit in the midst of the COVID-19 pandemic. It truly goes to show the value each company places on improving data management in their organization.