We are dedicated to building the careers of
new university graduates
throughout the company. Our programs are designed to develop you professionally in a supportive environment. Workshops, mentors, career path planning are all things you can look forward to as you grow your career at Veeva.
If you're interested in avoiding the herd and trying something different, join our diverse group – we've got career opportunities for you around the globe.
Learn by doing and have fun while you are at it.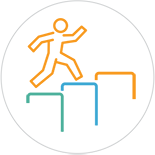 SERVICES, SALES, PRODUCT MANAGEMENT
Learn the ins and outs of the product by joining the Consultant Development Program (CDP). Gain well-rounded knowledge in four major areas: Consulting Skills, Application Functional Knowledge, Technical Platform Skills, and Life Sciences Industry. The skills you gain during CDP provide the gateway to taking your career to the next level in one of our Services, Sales, or Product Management teams.