Veeva TMF Maturity Model for Life Sciences
Current state analysis. Industry benchmarking. Roadmap to success.
Evaluate Your Organization
Eight Million Documents and
5,000 Users in 11 Months
"With Vault eTMF, we estimate a 30% reduction in time
to find, import, and process documents."
–Bryan Souder, Associate Director, Project Management, Merck
Learn More

Always
Inspection-ready.
Complete. Accurate. Accessible.
Veeva's secure, cloud-based eTMF.
Learn More
Previous
Next
Veeva Vault eTMF
Designed specifically for the life sciences industry, Veeva Vault eTMF is the only application that enables active TMF management for real-time inspection readiness, visibility, and control.
Sponsors get enhanced visibility to oversee trials more effectively. CROs gain the flexibility and control required to operationalize SOPs and efficiently manage the eTMF. Sites can focus on research with simplified document collection. Auditors and inspectors get easy online access with dedicated roles.
BENEFITS
Stay inspection-ready: Keep your TMF up-to-date at all times by automating processes with a single source of truth for sponsors, CROs, and sites.
Access from anywhere: Easily provide secure access for all study partners on any device in any geography.
Improve productivity: Replace labor-intensive manual processes with more efficient and accurate electronic processes.
Download TMF Resource Kit
Take the Veeva TMF Maturity Model Survey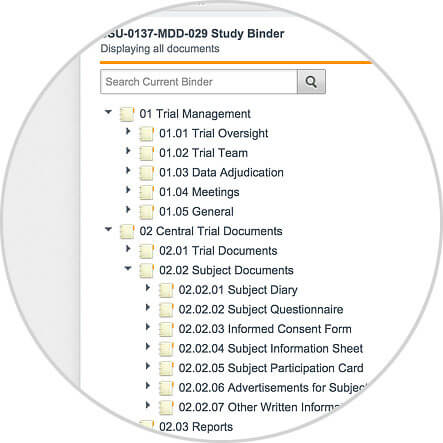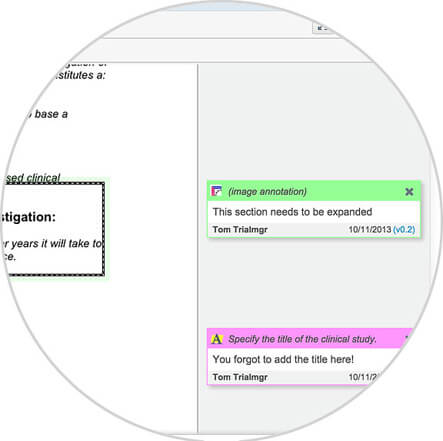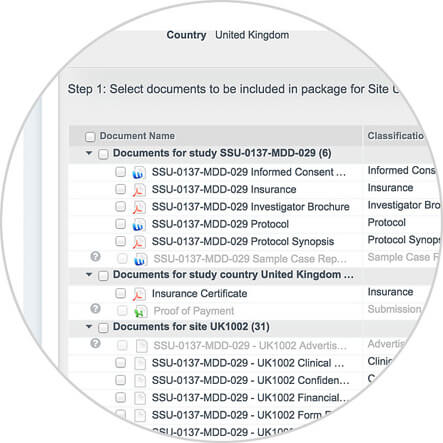 "With Vault eTMF, we believe we can provide sponsors with transparency of trial data and enable a richer, more collaborative partnership for improved trial results, including faster time to market."
Gregg Dearhammer | Chief Operating Officer, inVentiv Health Clinical

Find Out How
"With many different eTMF users, change management, including proper training and support during and after the implementation, was a critical component to success."
Bryan Souder | Essential Document Manager, Merck

Find Out How
"A system that allows us to run a status report of our TMF and pull out the documents being requested by an inspector in seconds is just priceless."
Brent Sorrells | Former Senior Director of Clinical Operations, ZS Pharma

Find Out How
Previous
Next
Features
INTERACTIVE DASHBOARDS AND REPORTS
Quickly translate insight into action. Know what's required, what's completed, and what's missing in your TMF at all times.
FASTER REVIEW AND SEARCH
Review document content and metadata simultaneously. Dynamic filters help you find data fast.
EASIER DOCUMENT QUALITY CONTROL
Improve the accuracy of the eTMF on an ongoing basis with quality-check workflows prompted at the appropriate time.
UPSTREAM SUBMISSION SUPPORT
Automatically create submission-ready files and capture details relevant for submissions processing.
FULL TMF REFERENCE MODEL SUPPORT
Supports the documents, properties, relationships, and hierarchies of the TMF Reference Model for both core and recommended documents.
TIME-SAVING DOCUMENT PACKAGES
Send documents and relevant tasks for site initiation and other site milestones within a single package.
REAL-TIME COLLABORATIVE AUTHORING
Seamless integration between Veeva Vault and Microsoft Office Online provides real-time collaborative authoring and does so in a compliant way.
See a demo.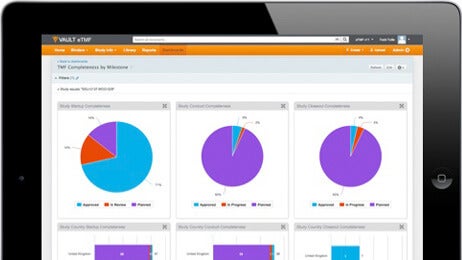 Resources

Maturity Evaluation
Veeva TMF Maturity Model

Product Brief
Veeva Vault eTMF