Veeva Vault MedComms
Centralize the creation, management, and distribution of content for medical affairs.
Benefits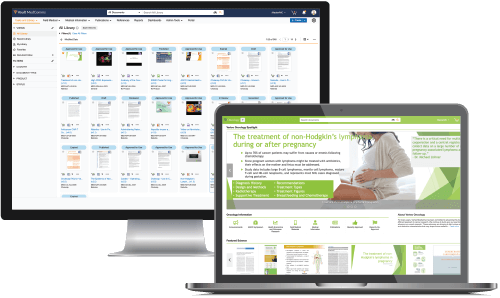 Accelerate content creation and approval
Move faster with a single, global solution for managing the full medical content lifecycle.
Ensure consistency across channels
Distribute consistent scientific content across channels and geographies, while gaining real-time insights into usage.
Take ownership of the medical content lifecycle
Establish a medical-specific content operating model and drive more agile decision making.
Holistic, compliant solution
Improve efficiency with one global solution for managing scientific content.
Efficiently author, review, and approve content
Improve collaboration with a single source of truth for all medical content
Control the distribution, access, and expiration of scientific content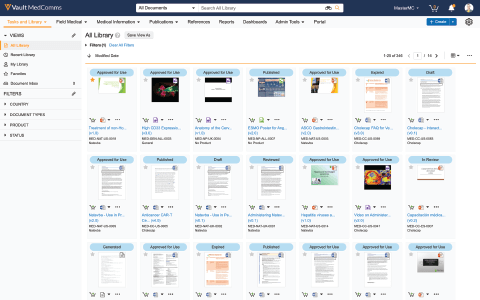 ---
Central, autonomous hub for all medical affairs
Consolidate scientific content across medical affairs.
Ensure users have access to the most current information
Establish medical-specific operating model and governance
Equip medical teams with tools, dashboards, and workflows that help them work smarter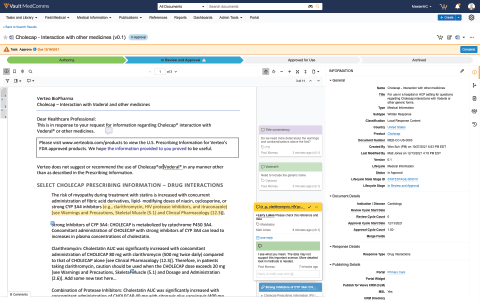 ---
Rapid content delivery
Disseminate content effectively across channels and geographies.
Easily push the latest approved content to field teams through integration with Veeva Medical CRM
Share content internally across teams with user-friendly medical portals
Distribute content compliantly across platforms and channels with global repository and open API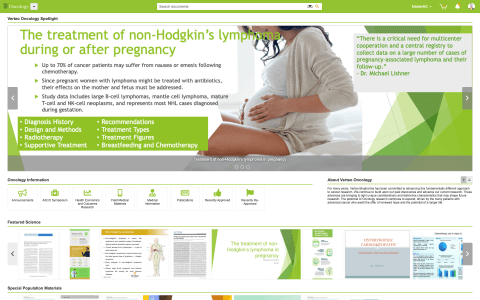 ---
Track progress and performance with easy-to-use dashboards and reports.
Drill into content issues and understand usage
View detailed metrics to get a clear picture of content volume and approval times
Gather and share operational metrics to make teams more efficient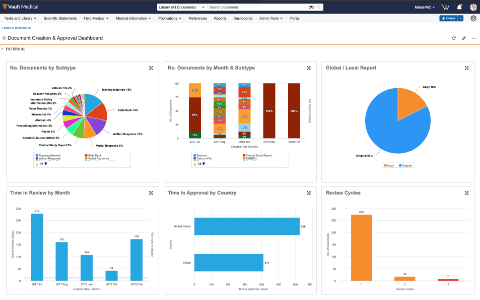 ---
Easily create local scientific content derived from global assets.
Adhere to local languages, customs, and regulations
Trace new content back to original source
Support region-specific approval processes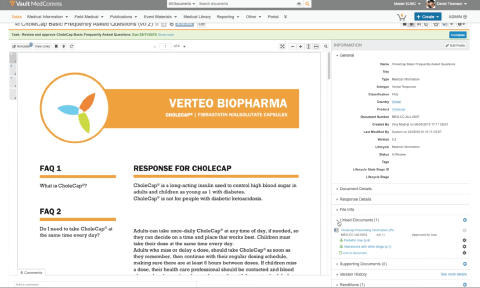 ---
Idorsia
"Using Vault MedComms and Vault PromoMats, we sustained a steady stream of impactful digital content to our field teams which is essential during a competitive launch."
Director Medical Affairs Systems, Idorsia
Watch the video

"We develop medical content on a global level and distribute it to local affiliates
with Veeva Vault MedComms. This ensures global alignment as well as
frees up country-level resources for higher-value activities."
Executive Director Medical Affairs, MSD
Watch the video
Top 20 Pharma
"As HCP expectations continue to evolve, omnichannel engagement for medical affairs needs to be personalized, seamless, and empowered by data. With Veeva we can provide the right content at the right time, using the right channel."
Senior Director, Medical Affairs Digital Excellence
Previous
Next
Single Source of Scientific Content Across Channels and Geographies
Preparing for High-Impact Engagement Using Medical Portals
Previous
Next