Veeva Vault Submissions Archive
Vault Submissions Archive provides dynamic search, filtering, and navigation across dossiers and correspondence for fast, accurate interactions with health authorities.
Benefits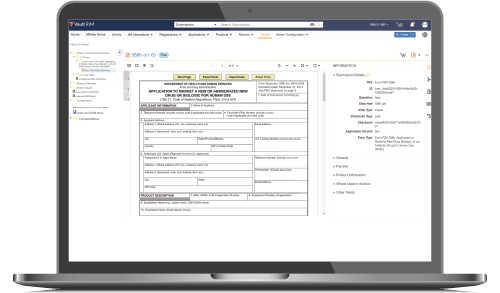 Dynamic Access Control
Share the right content with the right people based on configured business rules.
Faster Responses
Easily locate regulatory dossiers including those sent by regional offices or local affiliates to health authorities.
Global Readiness
Allow remote team members to access authorized submissions from anywhere in the world.
Unified RIM
Connect end-to-end regulatory processes and improve efficiency with the Vault RIM Suite.
Features
eCTD and Non-eCTD Import
Import final submission packages for your records and future reference. Extract and normalize data from the XML to ensure greater accuracy.
Integrated Viewer
Leverage an integrated, cloud-based viewer for eCTD, NeeS, and legacy submission formats, which reduces the number of tools on the regulatory desktop.
PDF Link Navigation
Navigate PDF hyperlinks across documents within a submission, across submissions, and even across applications. There's no need for separate tools, file shares, or downloading files.
Full Lifecycle Viewing
View the complete dossier lifecycle with current, sequential, and regulatory action views. See cumulative changes for each document.
Dashboards and Reports
Easy, self-serve reporting shows historic submissions by any combination of attributes including: product, application, region, manufacturer, and more.
Dynamic Access Control
Use rule-based security policies to dynamically calculate permissions that ensure people can access what they need and nothing else.
Advanced Data Model
A single regulatory data model enables the Vault RIM applications to contribute and share information so data flows seamlessly between regulatory tasks.
Health Authority Correspondence
Automatically organize and associate health authority correspondence with related submissions to see communications in the appropriate context.
Bulk Submission Export
Quickly export multiple submissions to support product divestitures, collaboration, and outsourced publishing.

"We're using Vault [RIM] to manage correspondence and commitments by leveraging our submission information…within the same chronology as our correspondence. We're able to do that in a way that we've never been able to do before."
Senior Director, Regulatory Operations and Information, TESARO, a GSK Company
Watch video
Vault Submissions Archive Demo
Resources for Vault Submissions Archive