Veeva Vault Submissions
Vault Submissions is a single authoritative source for regulatory submissions content from planning to authoring to assembly – all in a secure cloud environment.
Benefits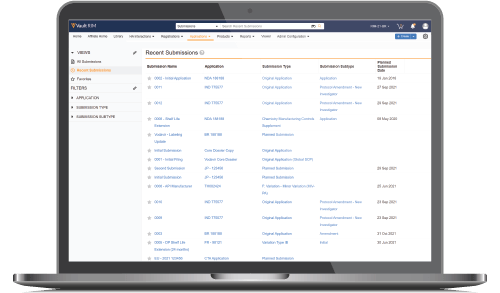 Continuous Visibility
Track the progress of regulatory submissions through actionable reports and dashboards, mitigating risks to timelines.
Speed to Market
Automate multiple tasks to speed regulatory submission authoring and assembly.
Global Alignment
Maintain greater control over affiliate submissions and health authority interactions.
Unified RIM
Connect end-to-end regulatory processes and improve efficiency with the Vault RIM Suite.
Features
Extensible Content Model
Align content taxonomy (document types, subtypes, properties, etc.) with industry best practices, like eCTD and the DIA EDM Reference Model, and extend to meet specific business needs.
Submission Content Plans
Auto-generate the table of contents for major regulatory submissions. Add planned content and report on submission status in real time. Reuse content plans globally. Watch a demo here.
Robust Lifecycle Management
Replace manual processes with flexible workflows and lifecycles that guide submission authoring, review, and approval. Authorize individuals to easily change in-process workflows by adding, removing, or emailing participants.
Global Access and Collaboration
Provide authorized users with access through a single, secure cloud location, eliminating the need to bring external users behind the corporate firewall, issue laptops, or provide network IDs
Health Authority Interactions and Commitments
Retain and classify correspondence with health authorities. Create and relate commitment records with associated tasks, and report on progress against outstanding deliverables.
Collaborative Authoring with Microsoft Office™
Simultaneously edit documents alongside multiple Vault users while utilizing the full co-authoring capabilities provided by Microsoft Office™. See a demo.
Report Level Content Plans
Compile and publish reports, such as clinical and non-clinical study reports, periodic safety reports, and investigator's brochures.Create hyperlinks that are independent of report structure so they can be used earlier in the process during document reviews.
Interactive Dashboards
Drill down through interactive dashboards to narrow in on the exact source of delays. Take action directly from the reports to address hold-ups quickly and stay on track for submission deadlines.
Resources for Vault Submissions