Veeva Vault EDC
Vault EDC brings new innovation to capturing and reviewing clinical trial data. As protocol complexity accelerates, so does the need for a modern EDC designed for agility and efficiency. Increase overall data quality, reduce build times and effort, and deliver operational excellence with Vault EDC.
Benefits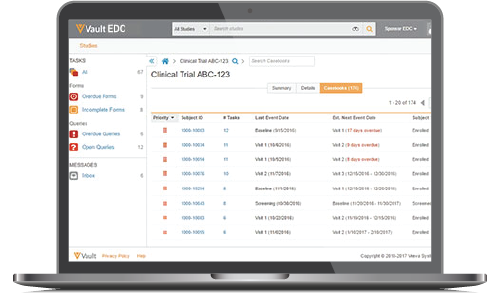 Build Studies Faster
Design studies directly in the system with Agile Design.
Get Cleaner Data with Less Effort
Speed SDV and medical assessments with role-based user interfaces that prompt action.
Run Complex Trials with No Downtime
Flexibly design and operate all studies, including master protocols and adaptive designs.
Connect Clinical Teams
Leverage Vault Connections between Vaults to facilitate collaboration and efficiency across your entire study team. Share native data across EDC, CDB, RTSM, eTMF, Payments and CTMS to power insights and workflows across teams. Learn how Veeva is supporting decentralized clinical trials (DCTs)
Agile Design with Veeva Vault EDC
An agile core is the key to achieving dramatic efficiencies unseen with other EDC systems and it empowers data managers to design, build, and run the study they need.
Features
Intuitive Study Design Studio
Drag-and-drop form builder plus configurable study components enable fast and efficient builds. The visual interface and scripting wizard for edit checks allow study designers to build and make changes directly without relying on developers.
Dynamic Data Model
Make study amendments, such as adding forms, fields, or values, without migrations or downtime. There's no more waiting — make updates as needed and deploy them to individual sites as IRB approvals come in.
Real-Time & Risk-Based UAT
Make and test updates in real-time during live interactive UATs. Eliminating the delays and back-and-forth in a traditional process speeds testing and helps you launch studies faster.
Study Differential Report
Compare two studies or versions of a study to see all the differences – every addition, deletion, and change – from the significant (the addition of a form) to the minor (a codelist or label change). Streamline UAT efforts by testing only what changed.
No Custom Functions Required
Eliminate reliance on custom code with rules, configurations, and internal capabilities all built into the Vault application. These options stay supported through all software updates so you don't worry about capabilities breaking.
Role-Based Experience
Role-based user interfaces focus on actionable work and filter out the rest. Whether the user is doing data entry or reviews, they get the ideal view and easily navigate between casebooks, events, and forms.
Local Lab Data
Manage local lab units and reference ranges for all your studies in a single, central, easy-to-maintain master list. Update reference ranges once and the new normal values are immediately available for all your studies.
Medical Coding
Code clinical terms on medications, adverse events, medical histories, and more based on MedDRA or WHODrug dictionaries. The intuitive interface minimizes manual coding with suggestions or exact-match automation, and performs batched coding with a single keystroke.
End-of-Study Media
Once a site's data is locked, package the data and notify the site with the click of a button. When they've downloaded their data, e-signed acknowledgements are captured and tracked to simplify your end-of-study processes.
Direct Access to Study Data
Real-time dashboards can display the complete status of your data, regardless of whether you or your CRO licenses Vault EDC. Direct access to study data and self-serve reports accelerate decision making by helping you identify trends and safety signals faster. Find a trained CRO in our CRO Partner Program.
See How Veeva Vault EDC Makes Study Design and Data Management Easier