Veeva Vault Training
Vault Training ensures job readiness and compliance by creating and managing role-based training requirements. Unifying document management and training, Vault Training enables life sciences companies to manage authoring, approval, assignment, and assessment of critical training materials in one place.
Benefits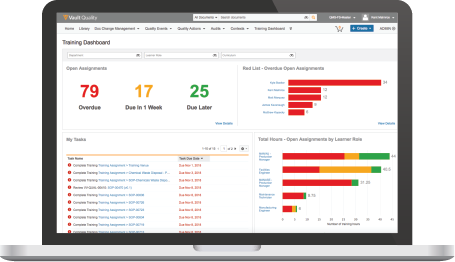 Simplify Qualification Management
Quickly create and manage sophisticated role-based training matrices.
Greater Training Compliance
Gain a complete view of upcoming or completed training tasks and status to demonstrate inspection readiness.
Gain Speed and Efficiency
Seamlessly manage training content with the delivery of time-sensitive assignments with a unified suite of quality applications.
Features
Role-based Training
Easily assign training tasks based on job function or role. Track and complete training tasks or monitor status using a role-based home page.
End-to-end Training Content Management
Seamlessly manage the complete lifecycle of training content – from presentations to curricula leveraging automated workflow – in one application.
Flexible Dashboards and Reports
Track, monitor, and demonstrate employee qualifications and competencies, or see training assignment status with delivered dashboards and reports, or create your own.
Quizzes and Assessments
Ensure competency with flexible, easy-to-configure quizzes. Learners can review question-level feedback to help remediate incorrect answers.
Automated Training Management and Distribution
Trigger training tasks based on quality events, such as approval of relevant content changes, CAPA plans, periodic reviews, or retraining. Automate training assignments based on job functions or roles.
Regulatory Compliant LMS
Easily demonstrate compliance with comprehensive audit trails, 21 CFR Part 11 compliant electronic signatures, and pre-validated system.
Training Matrices
Manage assignment maps by defining and viewing curricula and/or training tasks based on job functions or roles for knowledge and skill development, and qualification.
Tolmar Inc.
"We have confidence that Vault Training is a system that doesn't only meet our current needs but is really going to grow and develop and help us be more dynamic in the future."
Director of Organizational Development, Tolmar Inc.
Customer video
Foamix Pharmaceutical
"One of the benefits is that Vault Training is connected with Vault QualityDocs and Vault QMS. And Veeva training is really unique, where you can upload SOPs, always have the most current one on there."
Vice President of Quality, Foamix Pharmaceutical
Customer video
Dicerna Pharmaceutical
"The unified Veeva Vault QualityDocs and Veeva's training solution enables document and curriculum lifecycle management in the same system, accelerating and simplifying training development, administration, and delivery."
Global Head of Quality, Dicerna Pharmaceutical
Customer video
Previous
Next
Completing Training Assignments in Vault Training
Resources for Vault Training Hub