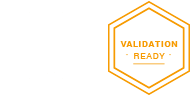 Accelerated Validation
Moving from paper to regulated cloud in just 4 weeks.
Customer Story
Learn More
Take Control.
Ensure Compliance.
Boost Quality.
Making it easy to collaborate, manage, and securely
access the right GxP controlled document - every time.
View Demo
Contact Us
Previous
Next
Veeva Vault QualityDocs
Providing superior ease-of-use and seamless collaboration, Vault QualityDocs reduces compliance risk and improves quality processes. It accelerates review and approval workflows, and facilitates sharing of GxP documents among employees and partners.
BENEFITS
Gaining control of GxP documents: Visibility into content status and processes enables proactive mitigation of issues, effective documentation management, and reduced compliance risk.
Greater user adoption: Vault's intuitive interface means even the occasional user is easily integrated into controlled document processes, and accessing the right document is simple—every time.
Increased efficiency: Automated workflows and classification streamlines processes, increasing end user productivity.
Audit readiness: Detailed audit trails, content organization, and powerful search facilitates better audits and inspections.
View Demo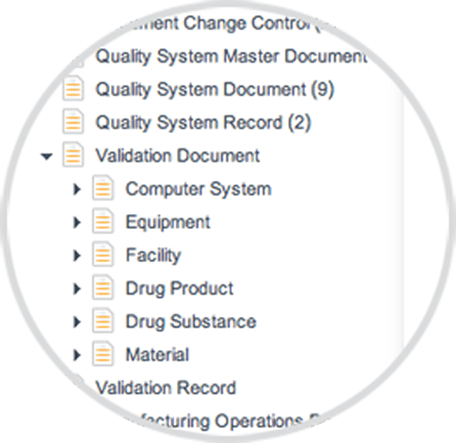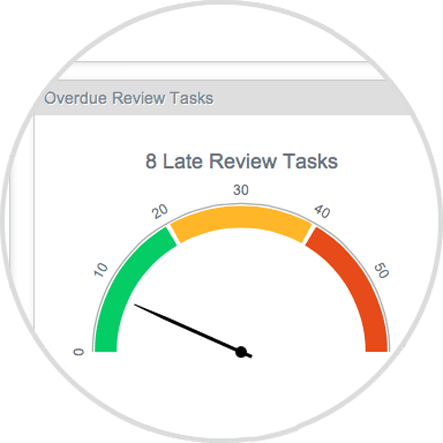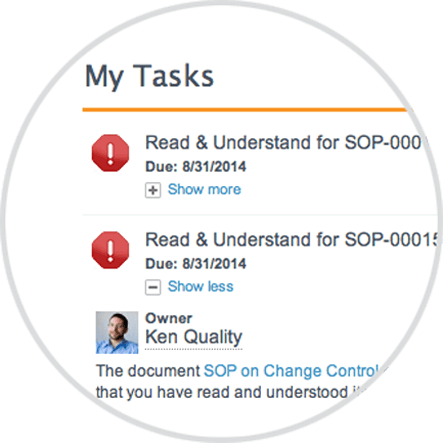 Features
COMPLIANCE REPORTING
Visibility into read and understood, periodic review, and other workflows allowing easy reporting of outstanding or upcoming tasks, and mitigating compliance risks.
CONTROLLED CONTENT ACCESS AND COPY DISTRIBUTION
Securely access and use documents from any major web browser, or if enabled, print, distribute, and track controlled PDF copies. The printed document contains a configurable overlay displaying information such as the person who downloaded it, when it was downloaded, and how long the copy is valid.
COMPREHENSIVE AUDIT TRAIL
Easily demonstrate compliance with detailed audit trails capturing every event in a document's history, including document approvers and reviewers, status changes, execution of a signature, and more.
ELECTRONIC SIGNATURE AND MANIFESTATION
Approve documents using electronic signatures and manifestations that are compliant with Title 21 CFR Part 11 and Annex 11.
INTERACTIVE DASHBOARDS AND REPORTS
Self-service reporting and dashboards enable users to see status of content and processes, making it easy to identify bottlenecks, click through the report for more detail, and share the information with your team and partners.


Learn More
Customer Story
DOCUMENT CHANGE CONTROL
Track and control document changes—such as withdrawal, approval of revised content, and release for use, automatically gathering proposed changes and reason for changes to support future audits.
REAL-TIME COLLABORATIVE AUTHORING
Seamless integration between Vault and Microsoft Office Online provides real-time collaborative authoring and does so in a compliant way.
See a demo.
QUALITY DOCUMENT TAXONOMY
Predefined document taxonomy, metadata, and pick lists for quality, manufacturing, and validation documents facilitates operational harmonization, and allows organizations to quickly adopt best practices.
CONFIGURABLE QUALITY WORKFLOWS
Build in compliance with automated quality workflows including document expiration, periodic review notification, and training flags. Easily extend workflows to quality management and learning management systems for end-to-end quality processes.
Mobile – SCANNING DOCUMENTS ON THE GO
Veeva Snap allows users to easily scan documents directly into Vault from an iPhone or iPad. With the snap of a button, documents are encrypted, secured, and automatically uploaded to your Vault. See Veeva Snap in action.
Collaborating with Partners in Vault QualityDocs at Karyopharm Therapeutics
Take Control of Your GxP Documents
Gaining Transparency with Remote Audits at ICON plc
Rapidly Deploying a Global Quality Solution
Standardizing on Vault QualityDocs Globally
Previous
Next