2019 Veeva Commercial & Medical Summit Europe: Unlocking Intelligent Engagement
Jan 28, 2020 | Chris Moore
Happy New Year! As we embark upon another exciting year for the life sciences industry, I wanted to reflect upon Veeva Commercial & Medical Summit, Europe that took place last month, where I had the opportunity to meet and interact with industry leaders.
More than 1,200 life sciences professionals gathered at the event to share best practices for improving customer engagement and discuss how commercial models are evolving in the era of precision medicine and outcome-based healthcare. As treatments continue to get more specialized, it is becoming increasingly important to have targeted and relevant conversations with key stakeholders. Life sciences companies are leveraging content and channels to improve engagement and using data to drive deeper insights.
Keynote speakers from Bayer and Shionogi Europe discussed how digital engagement is evolving in this era of unprecedented innovation in the life sciences sector to generate truly integrated end-to-end experiences. They highlighted their extensive work with the Veeva Commercial Cloud, particularly in the arena of Veeva Open Data and Nitro as part of driving this innovation.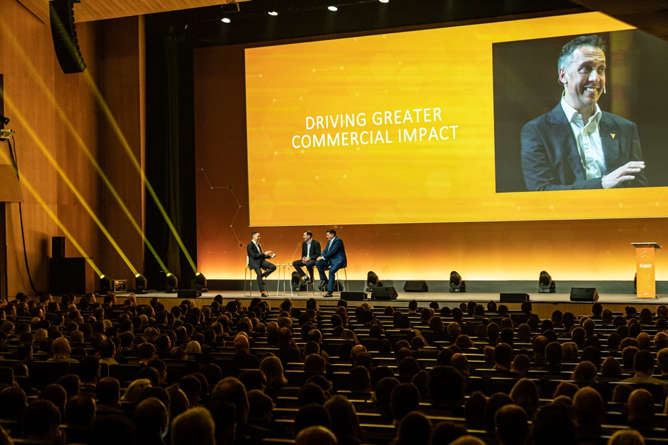 Chris Moore, president of Veeva Europe, conducting a fireside chat with experts from Bayer and Shionogi
Veeva works with life sciences companies such as Bayer and Shionogi to unify customer engagement and target the right people, at the right time, with the right content, through the right channel, supported by an AI-enabled foundation. This is what we call intelligent engagement, which was the focus of the Summit. It enables our customers to focus on their core business of delivering treatments to patients in a better, faster, and more compliant way.
There were many customer stories at Summit that demonstrated the impact of intelligent engagement using Veeva's products. A range of industry experts talked about implementing change in their organizations and shared their journey of digital transformation, including:
Philippe Houben, global head of data excellence at Boehringer Ingelheim (BI), discussed how BI is leveraging customer data to power multichannel engagement, which has resulted in higher adoption, more complete calls, and increased productivity for the company.
Andy Williams, head of global medical information and operations at GSK, explored how the company is driving deeper engagement by aligning its communications with evolving physician expectations in the changing precision medicine landscape. This is delivering higher scientific exchange around disease states, therapeutic choices, and therapy-specific outcomes.
Malik Chahed, director of multichannel customer engagement and data strategy at Novartis, spoke about how the company implemented rep orchestrated channels, correct infrastructure, and field force training as part of a holistic multichannel engagement mode. This has resulted in activating five digital channels, executing 43 rollouts across 34 countries and six key brands, up to 63% increase in HCP interactions, and 5-20% reduction in cost per call.
Morten Kruse Sørensen, global director of multichannel excellence and operations at Novo Nordisk, presented the company's use of a central commercial content hub that streamlines the content supply chain and enables its affiliates to produce, approve, and share modular content with efficiency and compliance, resulting in faster asset production, increased reusability, and reduced costs.
Our customers are leading digital innovation throughout the industry. At every Summit, we recognize the trailblazers that are driving better customer engagement. This year, we celebrated Veeva Heroes from Boehringer Ingelheim, Bluebird bio, Bayer, GSK, Shionogi, and Novartis, who are paving the way for their organizations' digital transformations and showing the industry how intelligent engagement can advance commercial execution.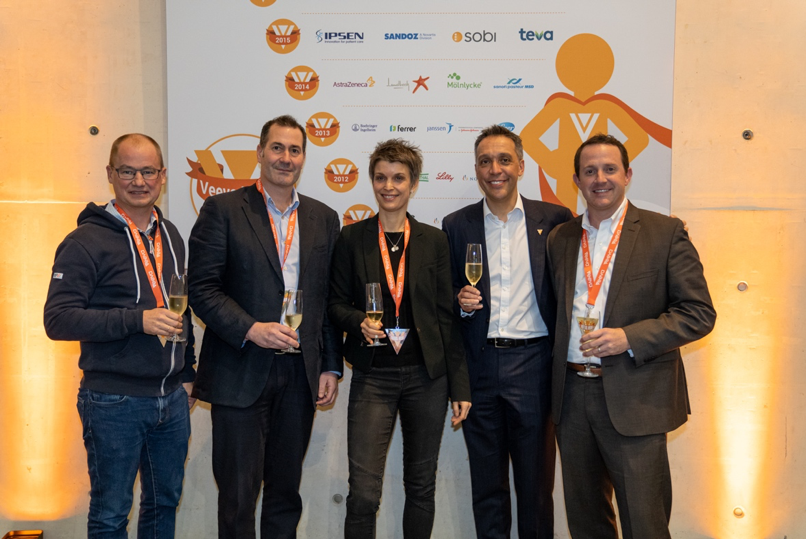 Chris Moore, president of Veeva Europe, with Veeva Heroes
At Summit, we also announced the latest innovations in Veeva CRM that enable improved collaboration and productivity. Salesforce Lightning Business Apps for Veeva CRM delivers tailored, role-based applications and functionality for specific business user types. Veeva CRM Dynamic Attributes enables business users to quickly add new data fields in Veeva CRM and capture additional information about HCPs and their organizations. We also launched Veeva OpenData Explorer, a new web-based portal to access approximately 16 million HCPs, HCOs, and their affiliations spanning 34 countries, that gives the industry even greater flexibility in how it uses its data.
As we enter the New Year, we remain committed to empowering life sciences companies with technology that transforms their commercial execution, so they can focus on their important mission to deliver treatments to patients. We look forward to seeing you at the 2020 Veeva Commercial & Medical Summit, Europe on 1-3 December in Barcelona.