Ensuring Launch Success: The Ultimate Challenge for Pharma
Mar 28, 2023 | Gill Butler
With increased competition for highly targeted patient populations, executing a successful drug launch is more important — and difficult — than ever. The difference between a hit and a miss can equate to billions of dollars in revenue. Due to the pandemic, nearly three in five launches experienced a significant decline in expected financial performance. 1
During an in-depth conversation with Gill Butler (vice president of strategy for Link at Veeva), Mark Rees-Saunders, senior director of global field medical excellence at Astellas, shares his insights on addressing three of the key challenges impeding product launch success:
Gaining real-time key opinion leader (KOL) understanding across multiple channels
Medical science liaisons (MSLs) aren't on the ground fast enough before launch
Pharma is slow to respond to healthcare professionals' (HCPs) omnichannel preferences
Challenge #1: Gaining real-time KOL understanding across multiple channels
In the last two years, MSLs have learned how to use virtual meetings and other digital tools to communicate complex scientific information to KOLs. Yet for some activities, they continue to rely on the manual approach, sifting through growing volumes of information to identify the right experts, learn about their latest scientific activities, and research new markets.
GB: How do you identify and understand key people as quickly, and in as much detail, as possible?
MR-S: The need for KOL insights starts well before launch. You need to understand your expert pool during R&D and clinical trials. For MSL resourcing and medical planning, you should be able to answer: Who are the key external experts for that launch? How many are there? Where are they based? What do they do?
As you approach the launch, you need a deeper understanding of these external experts: their clinical and academic interests, networks, and social media involvement. These insights form the foundation for great scientific interactions. It shows respect and empathy for the KOL whose time you are taking up. Engagement should start early, and it doesn't stop.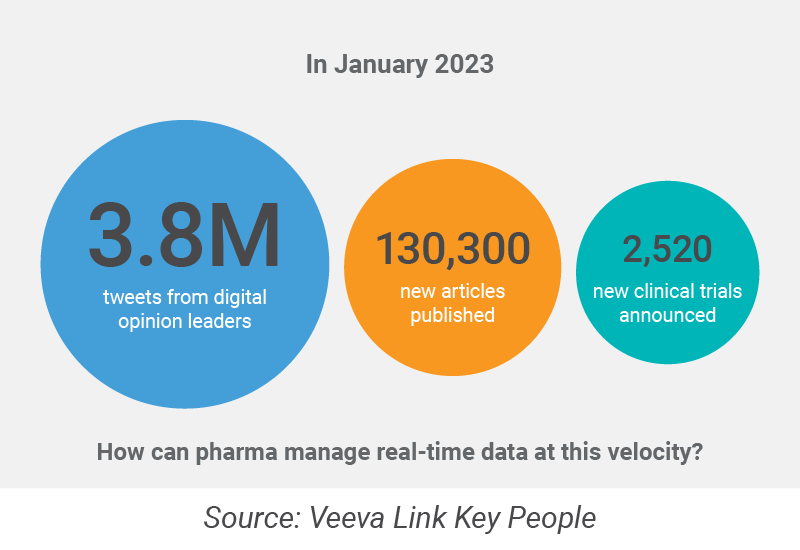 Challenge #2: MSLs on the ground do not mobilize fast enough before launch
MSLs engage with a wide variety of stakeholders before and after a launch. Mobilizing early ensures they can provide stakeholders with study data and real-world evidence, nurture existing relationships, and build new ones.
GB: How much time is sufficient to mobilize MSLs?
MR-S: About 18 (possibly even 24) months before launch is ideal. Any later than that may compromise the ability of MSLs to identify the right people and develop credible and trusted scientific relationships. The insights MSLs gain once mobilized are one of the greatest assets for developing the overall medical strategy. That takes a long time to do well, and the shift to virtual engagement could require the timeframe to extend.
Challenge #3: Pharma is slow to respond to HCPs' omnichannel preferences
If pharma companies can provide stakeholders with the information they need, when and how they need it, they will have a competitive advantage.
GB: How can the sector embrace this change while maintaining the quality of its interactions with HCPs?
MR-S: We don't want to lose the valuable, deep scientific exchanges MSLs have with their external experts via historical face-to-face engagement, but we also need to adapt to the post-COVID world. People's expectations around communication channels have changed. We need to move with the times and make sure clinicians get what they want in terms of clinical and scientific data and engagement. We have to measure the value, assess the quality of those engagements irrespective of channel, and ensure we deliver value consistently.
GB: Finally, how does Veeva Link Key People help identify and engage KOLs?
MR-S: People within medical affairs (and in particular field medical) increasingly need to understand HCPs' clinical and academic interests, activities, networks, and also how they engage with social media. All this information needs to be live, so if an MSL is engaging with a KOL tomorrow, they can see what that KOL published last week, which congress they attended, and whether they posted on social media. Tools such as Veeva Link allow this to be easily visualized, via a single platform. Veeva Link has gone beyond KOL profiling and identification and allows assessment of share of scientific voice (SOSV) and sentiment analysis, potentially showing the impact of medical affairs interventions, which is invaluable.
Watch the webinar to gain more insights into product launch success.
___________________________________
1 McKinsey, Ready for Launch: Reshaping Pharma's Strategy in the Next Normal
Interested in learning more about how Veeva can help?