Investigator Retention Pro Tip: Speed Clinical Trial Payments
Feb 25, 2020 | Henry Galio
Site Payment Pains in 2020: Late, Little Visibility
If you have to pay clinical research sites for conducting clinical trials, then you know the importance of on-time payments to retain good investigators for future studies. But many sponsors and CROs struggle to pay on time, with just 13% of sites receiving payment within the most common net 45 payment cycle.1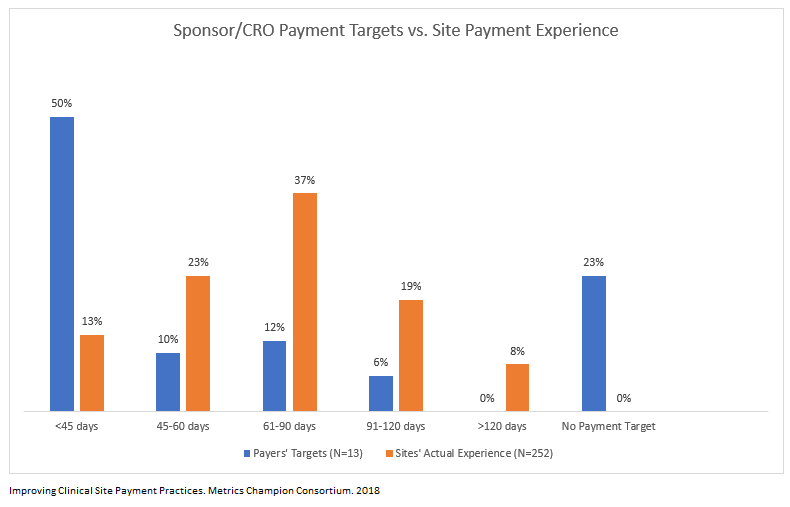 Why is it so challenging for sponsors and CROs to pay sites on time? There are two key reasons:
Outdated technology and Excel files break down with today's complex global trials.
Sponsors and CROs must keep track of payments to different sites and investigators. Depending on the size of the study, this can amount to hundreds of sites. When those sites are located around the world, different currencies, payment methods, and regulations must also be taken into consideration. Legacy technology can't handle these complexities.
Sponsors, CROs, and sites lack visibility and transparency to payments data.
For CROs and sponsors managing their trials in-house, accounting for what's earned but not paid and accrued is a monumental challenge. With no visibilty due to outdated tracking methods, site payments become an afterthought. For CROs that need to communicate to sponsors the amount of funds to transfer to ensure timely site payments, lack of visibility causes delays and negatively impacts site satisfaction.

It's clear the process needs to be improved. That's why Veeva built Vault Payments – to simplify and standardize clinical trial payments.
Veeva Vault: The Key to Speeding Site Payments
Designed to support complex trials, Vault Payments enables sponsors and CROs to pay sites faster and more accurately. With full visibility to upcoming and pending payments, it's easier to optimize execution and cash flow.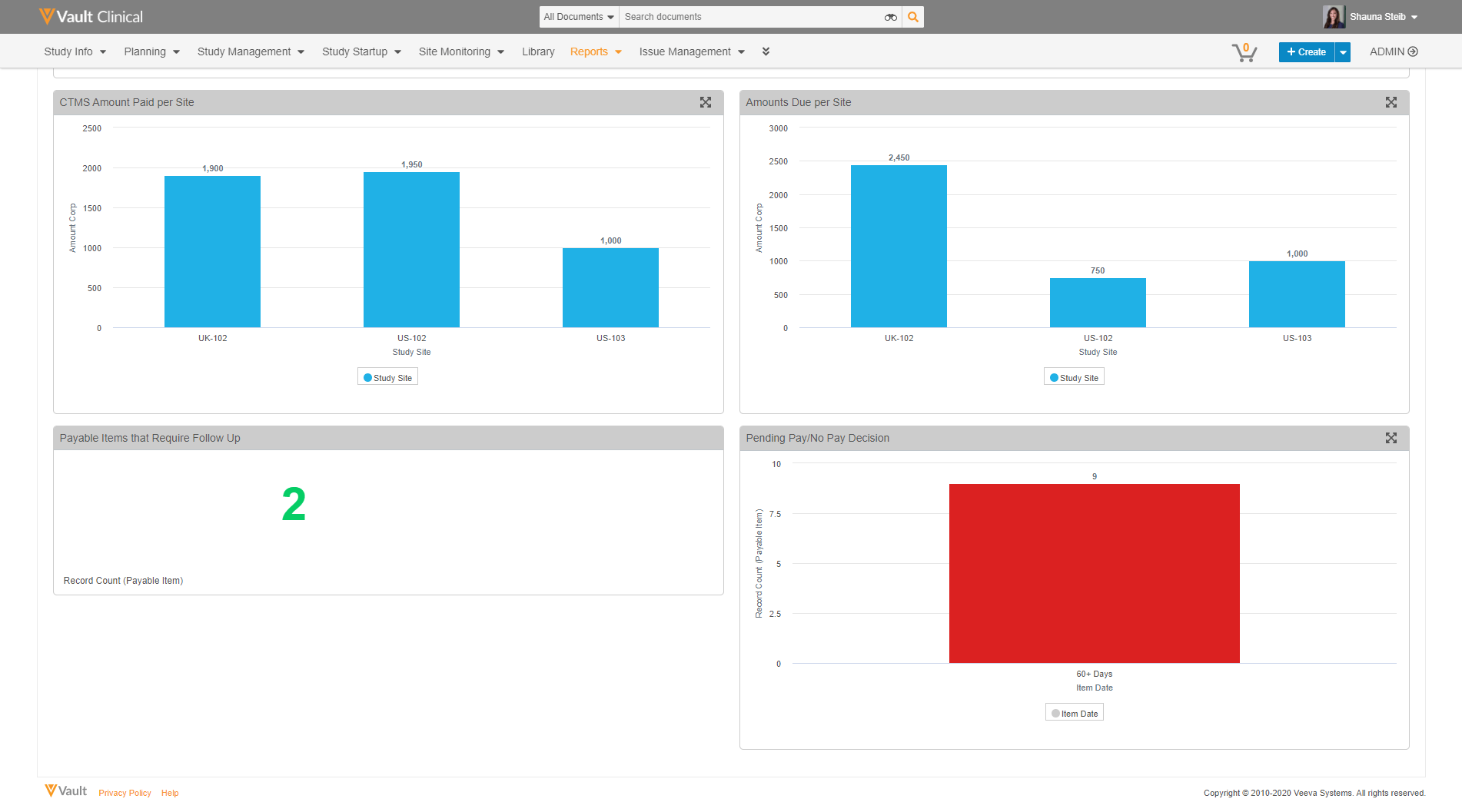 What makes Vault Payments more effective than legacy payment solutions and Excel files?
It's unified with Vault CTMS. Data needed to identify, track, and report payments is seamlessly managed in Vault CTMS and unified with Vault Payments. Subject visits in Vault CTMS trigger payable items in Vault Payments, simplifying payment management.
It's flexible. Vault Payments supports complex, next-gen trial designs with easy configuration of studies, fee schedules, and payment rules that can evolve with your trial.
It's easy to use. Vault's intuitive, simplified user experience reduces the number of clicks for standard activities, such as preparing batch payments. Information is easily consumable via reports and dashboards and available in one cloud system, simplifying the payments process.
With configurable fee templates and schedules, global payment requests, and real-time reports and dashboards, Vault Payments streamlines clinical trial payments. Watch a 3-minute overview demo for a sneak peek of key features.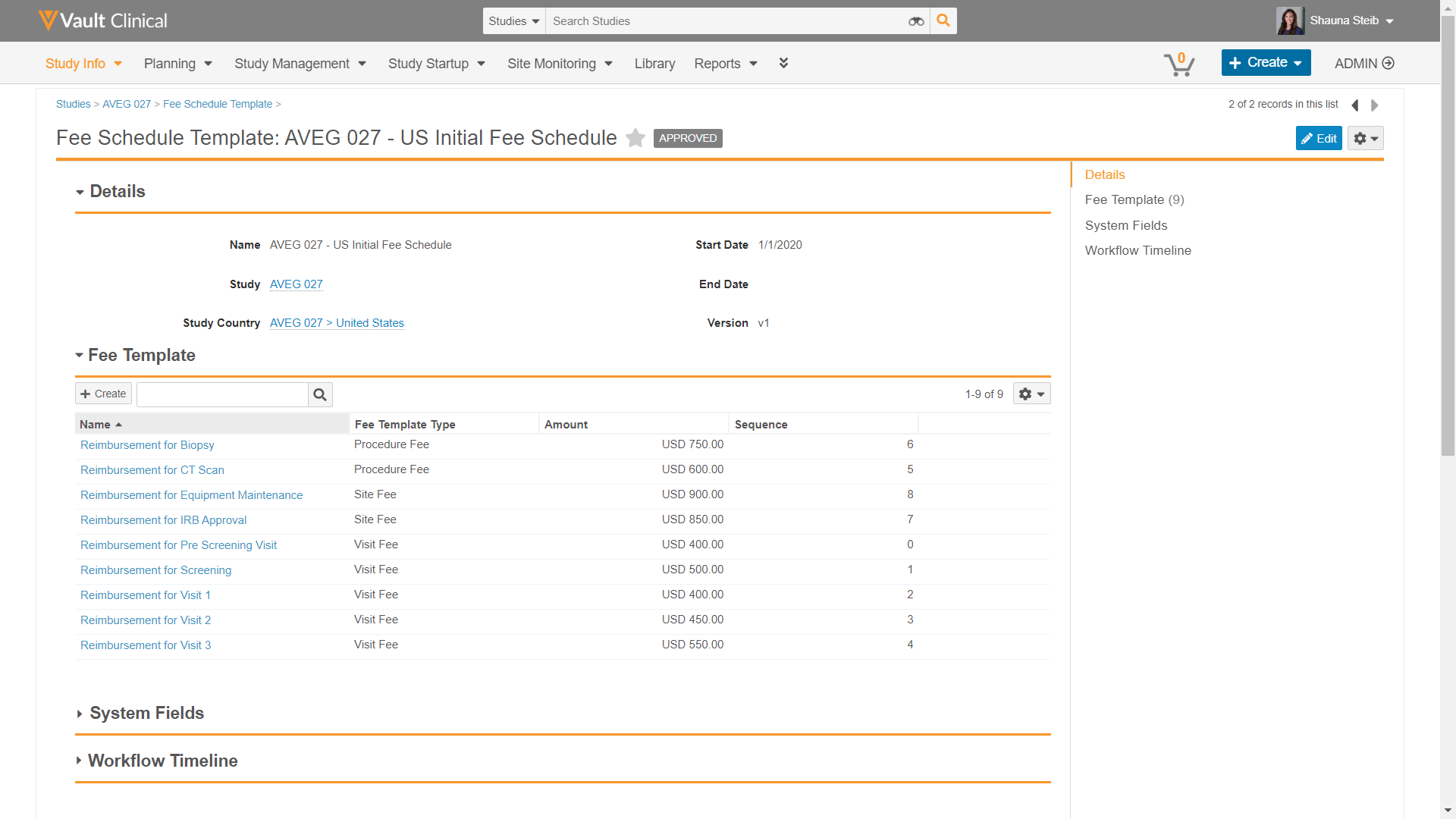 How to Get Started with Vault Payments
If you're looking for a deeper dive demo, or you're a current Vault CTMS customer and want to configure Vault Payments, get in touch with us. With three customers already live, join the movement to faster, easier site payments that improve investigator retention today.
---
1 Improving Clinical Site Payment Practices. Metrics Champion Consortium. 2018.
Interested in learning more about how Veeva can help?