Veeva CRM MyInsights
Empower field teams to make data-driven decisions for more impactful engagements with
a tailored CRM user experience.
Benefits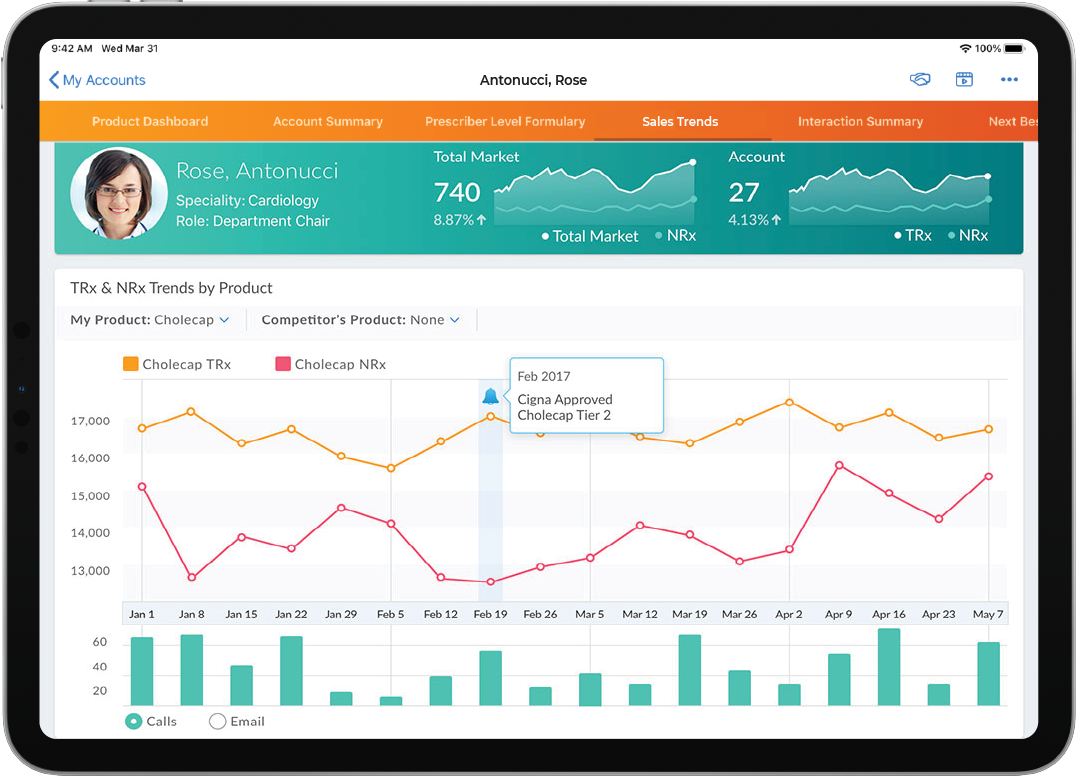 Connected
Enable your teams to make more data-driven decisions with powerful connectors that bring a variety of data into Veeva CRM.
Personalized
Make your Veeva CRM org as unique as your business with an array of customization options.
Interactive
Transform Veeva CRM into a productivity driver that helps your field focus on what matters most.
Interactivity within Veeva CRM:
View a customer, start a call, or update a status right from a CRM MyInsights screen—built-in functionality lets you tailor your Veeva CRM workflow to your business needs.
Smart Linking lets users navigate between pages and data records, taking your field team to wherever they need to be in Veeva CRM.
MyInsights Edit gives users the ability to change Veeva CRM data from CRM MyInsights screens, helping users complete their tasks in fewer clicks.
Embedded actions enable users to interact with Veeva CRM workflows like call reporting, Veeva CRM Approved Emails, and Veeva CRM Suggestions, so you can prompt action in the places that suit your brand strategy.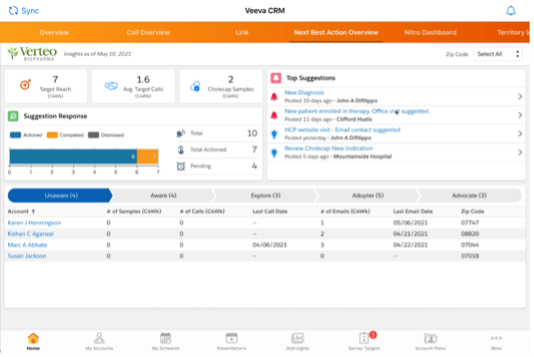 ---
Preserves Veeva CRM data security:
Firewalls and special access in Veeva CRM are maintained in CRM MyInsights, so you can rest easy knowing that the right people see the right information.
---
Seamless connectivity:
Reduce the time and errors that come with manual data loads. External integrations help data from your existing sources flow directly into CRM MyInsights screens.
---
MyInsights Studio:
Designing the right insights for your team has never been easier. With CRM MyInsights Studio, you can build, preview, update, and deploy CRM MyInsights screens all from the same unified user interface.
---
GSK
"With Veeva CRM MyInsights, our reps have access to pre-call planning information that saves them about 30 minutes daily".
Director, Field Platforms, GSK
Learn More
Actionable Data Insights for Better Execution