"Would I recommend Veeva to other sponsors?
Definitely. We see the vision and it's aligned with what's really important in clinical systems."
– David Templeton, clinical systems manager, Intersect ENT
Watch Video
Veeva Vault Coder
Veeva Vault Coder provides an intuitive interface and innovative coding tools that yield fast and accurate coding for any clinical trial.
Map highly variable free text entries or verbatim terms to standard codes based on MedDRA or WHODrug dictionaries. Vault Coder supports coding clinical terms for data on trial medications, adverse events, prior surgeries, medical histories, and more.
BENEFITS
Minimizes manual coding: Code multiple requests with a single click using innovative features to group or batch requests.
Work quickly and accurately: An intuitive UI that minimizes clicks, helps coders speed through terms.
Speeds query resolution: Unified querying with eCRFs speeds communication and resolutions with sites.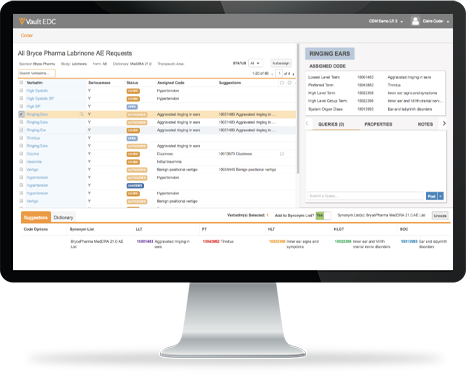 Features
AUTO-CODING AND SUGGESTIONS
Vault Coder will automatically code any term with an exact match in your customizable synonym lists. Close matches are provided as suggestions and ranked by relevance.
GROUPINGS OF IDENTICAL TERMS
Code a group of identical terms with a single click. The application intelligently groups terms for coding, such that users can apply the appropriate code to a group of terms with a single key stroke.
BATCHES OF EQUIVALENT TERMS
Users can run verbatim searches to identify variations of a unique term, such as Acetaminophen and Paracetamol. Relevant results can be batched together and coded with a single key stroke.
CUSTOMIZABLE SYNONYM LISTS
Synonym lists are customizable and can be maintained at the form level or across studies. Manual coding helps populate your synonym list, increasing auto-coding hit rates in the future.
POP-OUT CODING PANEL
For easy management of coding workstreams, Vault Coder is designed with a modular, split-screen interface. Users can simply pop-out the coding panel to view suggestions and dictionary subtabs on a second monitor.
STANDARD DICTIONARY SUPPORT
Support is provided for the industry-standard World Health Organization Drug Dictionaries (WHODrug B3 and C3) and the Medical Dictionary for Regulatory Affairs (MedDRA 20.0+). You can up-version forms and synonym lists to current licensed versions.
UNIFIED WITH EDC
Code requests are generated automatically at form submission and code values are stored directly within Vault EDC. When a form change in EDC affects a coded property, Vault Coder manages all aspects of the change management workflow automatically, reducing manual efforts across all users.
INITIATE QUERIES
Send and receive messages to a site directly from within Vault Coder. See a complete discussion thread regarding each coding query.
Resources

Product Brief
Veeva Vault Clinical DataManagement Datasheet

CUSTOMER MEMO
Memo to Customers on Medidata's Claims