First-ever Clinical Suite
Unifies CTMS and eTMF
One process, one system, and one view across clinical operations.
Learn More
2016 Veeva
Paperless TMF Survey
eTMF application use doubles to improve inspection readiness and shorten clinical trial time.
Learn More
Previous
Next
Veeva Vault CTMS
Veeva Vault CTMS is the only true multitenant cloud solution that unifies information and documentation for a single source of truth across clinical operations. Sponsors, CROs, and investigators can have one source for clinical master data with a single system of record for study, study country, and study site information. Now life sciences companies can reduce complexity, increase transparency, and speed time to market.
BENEFITS
Faster trials: Real-time, actionable insights into trial status improve efficiency and performance.
Better decision making: A full view of your global operations in a single system enables more strategic trial planning.
Streamlined clinical operations: By unifying trial information and proactively identifying site issues, Vault CTMS eliminates manual processes to enable better study management.
Read More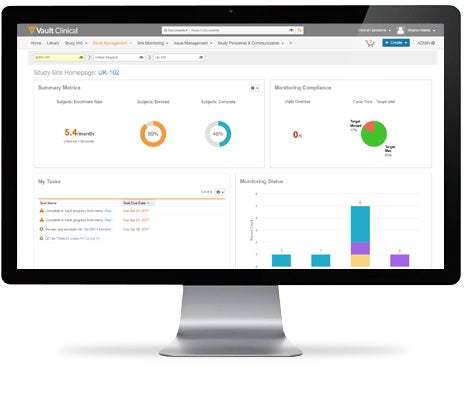 Features
STUDY PLANNING AND VISIBILITY
Plan and track study milestones across trial-related activities to optimize trial resources and to proactively plan for events such as aligning clinical supply arrival with site initiation visit or assessing site performance across studies.
TRIAL CONDUCT
Assess progress on activities such as site management, by monitoring and subject enrollment against goals, identify sources of delay and take corrective action to restore momentum.
SITE MONITORING
Document and identify trends on site adherence to ICH/GCP guidelines. Confirm study is conducted in accordance with the protocol from anywhere on any device. Implement a remote monitoring strategy to reduce your number of site visits, track and resolve issues in real-time.
SINGLE SOURCE OF TRUTH
Leverage the same trial content and data across Vault eTMF and Vault Study Startup. Submit trial information and documentation once and leverage it across different systems, sites, and countries.
SINGLE SOURCE FOR CLINICAL MASTER DATA
Ensure high quality data across clinical applications with one system of record for master study, study country, and study site information.
DASHBOARDS AND REPORTS
Create easy, self-serve reports showing documentation and information by any combination of attributes including: portfolio, study, region, country, investigator, site activation status, and more.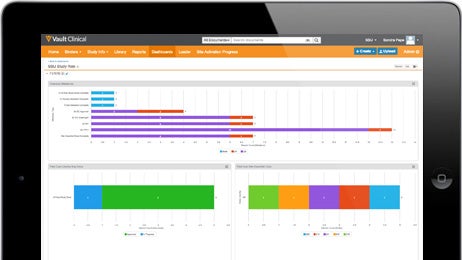 Resources

Press Release
Veeva Vault CTMS to Transform Clinical Operations

Product Brief
Veeva Vault Clinical Operations Brief