Electronic Data Capture for Modern Clinical Trials
Vault EDC for clinical trials provides a fast and intuitive interface for capturing and reviewing data from sites. Eliminate constraints and run the trial you want with a modern EDC system.
Benefits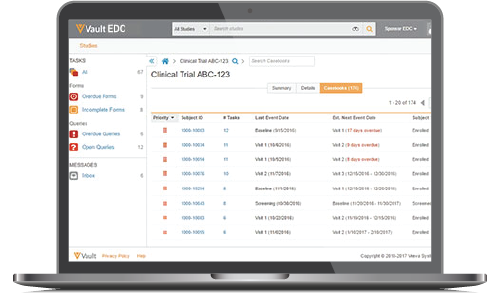 Take Back Control of Your Studies

"Eliminating custom functions is a game-changer, even complex designs are easy to build."
Tanya du Plessis, Bioforum

"We did 11 post-production changes with no downtime or migrations."
Evelyn Dorsey, Cara Therapeutics
User Acceptance Testing with Agile Design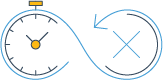 Live, Interactive Design Reviews
"We had done three rounds of UAT
in two days."
Michelle Harrison, Vertex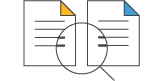 Risk-based UAT
"The Study Differential Report in Vault CDMS
is amazing. It saves us loads of time..."
Tanya du Plessis, Bioforum
Veeva's Agile Design approach focuses on user acceptance early in the build process to cut weeks from your build timelines.
While the Study Differential Report identifies everything that changed, so you can test only what's needed.
Features
Studio Design Environment
Drag-and-drop form design with easy reuse of templates and standards. Innovative features such as dynamic visits and forms, a scripting wizard for edit checks, and self-documenting specs enable you to build studies quickly and efficiently.
Modern Site Experience
A modern user experience greatly increases usability, adoption, and performance. QuickJump navigation reduces time spent navigating between casebooks, events, and forms. And QuickView filters show exactly what work remains to be done.
QuickView
Personalized user interfaces provide immediate direction of users' tasks and minimize time spent searching for information. The role-based user interface optimizes the order and structure of data differently for data entry versus data cleaning and review to provide the ideal view for each activity. See a demo.
Real-time & Risk-based UAT
A system-generated Study Differences Report accurately documents all changes between two studies. Use your standards or template study as a reference to eliminate UAT requirements on previously tested forms and fields.
Real-time updates to the casebook or rules during live, interactive UATs speeds testing by eliminating the delays and back-and-forth in a traditional process. Hear how it works or read the blog.
Assessments
Make assessments of clinical data, such as serious adverse events, by collecting assessor decisions and other data. Assessors see a limited set of read-only data from the subject's casebook to help inform their decision. Vault stores a snapshot of the supporting data along with the assessment.
Randomization Essentials
Exclusively for medical device trials – Randomize subjects using different approaches including ratios, strata, blocked, and mixed-block, all with no extra license cost. Veeva's randomization replaces the risks of manual spreadsheet or envelope methods or removes the cost and effort of comprehensive IRT solutions for medical device studies with straight-forward requirements. For pharma and biotech companies, Veeva offers robust, productized integrations with leading RTSM providers, including Suvoda, 4G Clinical, and more.
Amendments Without Migrations
Make design changes to active studies easily and with no migrations. When new requirements are added, any completed forms are reverted to an incomplete state and the new fields are flagged for site personnel to populate. Read more about Veeva's approach to casebook amendments without migrations.
Direct Access to Study Data
Direct access to study data and self-serve reports accelerates decision making by helping you identify trends and safety signals faster. Sponsors can receive real-time dashboards displaying the complete status of their data, regardless of who licenses the EDC system -- the sponsor or their CRO. See our CRO Partner Program participants to find a CRO who can build and deliver studies in Vault EDC.
Best-in-class Cloud Platform
A scalable cloud platform shared by sponsors and CROs. Vault EDC benefits from modern software development and a flexible core architecture. With a true multitenant platform, Veeva delivers a rapid pace of innovation to provide the best EDC for clinical trials. See demos of what's new in our latest release.
Direct Connection to Vault CTMS
Operational data from Vault CDMS is sent directly to Vault CTMS for timely and accurate reporting on subject status. With a single click, Clinical Research Associates (CRAs) in Vault CTMS navigate directly to a subject casebook in Vault EDC. See how information flows automatically between systems.
Local Lab Data
Manage local lab units and reference ranges for all your studies in a single, central, easy-to-maintain master list. Update reference ranges once and the new normal values are immediately available for all your studies. Read the datasheet to learn why entering data is also easier for sites.
Is it Worth the Effort to Switch to Veeva's EDC?
2 Minute Demo: Vault CDMS QuickView for CRAs
Using Vault CDMS and the Veeva Vault Clinical Suite
Make Amendments with No Migrations and Zero Downtime
Previous
Next