Veeva Vault Training

Looking for Quality for Other Industries? 

Click here
Veeva Vault Training manages training requirements to ensure compliance and role-based qualification for job and audit readiness. With centralized training records and a single audit trail, easily demonstrate compliance – always staying inspection ready.
BENEFITS
Qualification management: Quickly create and manage sophisticated role-based training matrices.
Greater training compliance: Gain a complete view of upcoming or completed training tasks and status.
Unified quality: Seamlessly manage training programs, quality processes, and content together with the unified Vault Quality Suite.
Always audit and inspection ready: Easily demonstrate compliance with centralized, comprehensive training records and activities.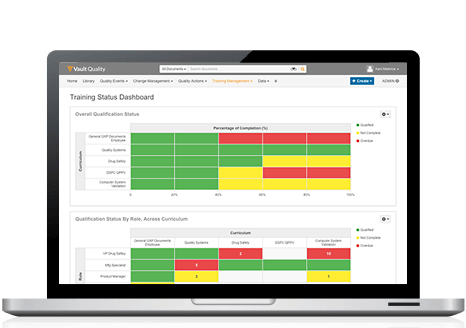 Features
Industry-specific Application
Rapidly deploy an industry-specific training solution that includes best practice workflows, dashboards, and reports.
Role-based User Homepage
Easily track and complete tasks, or monitor statuses with a role-based home page for trainees, training coordinators, managers, and compliance officers.
Training Matrices
Manage assignment maps by defining and viewing curricula and/or training tasks based on job functions or roles for knowledge and skill development, and qualification.
Automated Assignments
Reduce administration overhead by automatically assigning training tasks and or curricula based on job function or role.
Quality Event-driven Tasks
Trigger training tasks based on quality events such as approval of relevant content changes, CAPA plans, periodic review, or retraining.
Contact Us
End-to-end Training Content Management
Collaboratively manage the complete lifecycle of training content – from authoring, to approval through assignment and completion – in one application.
Task Notification
Regularly notify trainees and managers on upcoming or past due training tasks.
Reports and Dashboards
Track, monitor, and demonstrate employee qualifications, or see who trained on specific content with delivered dashboards and reports, or create your own.
Audit Trail
Demonstrate compliance with a single, comprehensive audit trail capturing all training events including adding/removing an assignment to curricula or job roles, or completion of training tasks.
Mobile Access
Trainees can securely access training content and managers can rapidly view status reports on any device, anywhere, anytime.
2 Min 16 Secs Demo: Completing Training Tasks in Vault Training
Dicerna Improves GxP Training Effectiveness with Veeva Vault Training
Strengthening Quality Management with Training
Previous
Next