Top 3 Vault PromoMats Features to take Advantage
of in 2020
Dec 18, 2019 | Caitlin Lahonta
2019 was all about speed. Life sciences companies launched over 40 novel drugs this year, nearly 100% growth compared to 20161.
Speed drove our innovation in Veeva Vault PromoMats, too, from automating manual processes like claims management to giving teams better visibility into document lifecycles. Simplifying these everyday tasks is enabling customers like you to focus on what matters most: developing more personalized, relevant content to educate patients and doctors on life-saving treatments.
Here's a quick recap of our top Vault PromoMats innovations from 2019 that will help you prepare for your 2020 content goals.
1. Vault Auto Claims Linking
What is it: With the power of AI, Vault PromoMats automates the creation of reference links on claims made within a promotional material. After scanning a library of claims, Vault annotates each claim in a document with a link to the supporting reference information, such as a clinical study.
How this feature will help you: Vault PromoMats Auto Claims Linking gives medical, legal, and regulatory reviewers the peace of mind that promotional claims are substantiated by the right references. This saves these time-constrained resources the worry of double-checking the accuracy of reference links. In one click, they can easily find the relevant study that supports each claim.
Teams no longer have to stress whether claims link to the right reference document. You can also lower costs on additional agency hours and instead focus your efforts on producing great materials.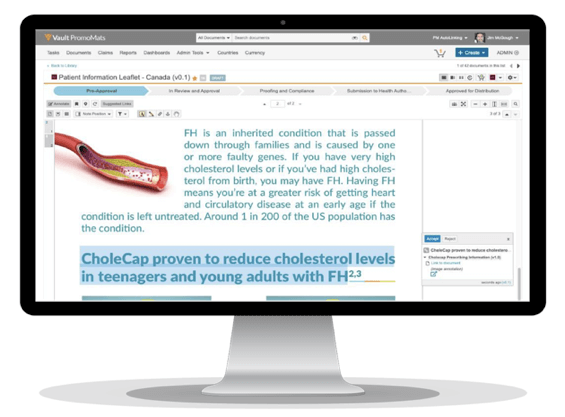 Learn more about Vault Auto Claims Linking here.
2. Standard Metrics
What is it: Standard Metrics tracks process metrics with greater consistency to help optimize content creation. The built-in picklist of values organizes documents according to a specified set of doc types – which enables Vault PromoMats to automatically calculate key data points about the MLR process, such as:
How long different content types spend in review
The number of review cycles by content type
How long different content types take to become approved
How this feature will help you: Unlocking key insights about your content can help you gauge how efficiently content moves from draft to distribution. You can instantly access this information through Vault's reporting and dashboards, and use it to pinpoint possible process bottlenecks.
The power of Standard Metrics isn't limited to just your company's data. As more customers use this feature, we will begin to define industry-wide benchmarks so you can compare your company to other organizations. For example, you can look at approval times for different types of content and determine whether your company is operating better than, at, or below average. This context will empower teams to identify areas where they can sharpen processes even further.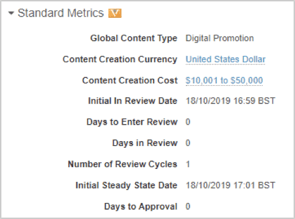 Learn more about Standard Metrics here.
3. Automated Image Renditions
What is it: Vault's Automated Image Renditions feature allows you to define and create up to 15 image renditions at the point of document upload and classification. This includes standard image types like PNG files as well as Adobe Photoshop and Illustrator native formats.
For example, when uploading a TIFF file, you can instruct Vault to automatically generate a web-ready JPEG that's optimized for this channel. Veeva Vault Digital Publishing takes this feature one step further by publishing the desired image rendition to your company's website.
How this feature will help you: With the ability to configure attributes such as photo quality and color space, Vault PromoMats enables you to easily generate hundreds of custom derivative assets for your different channels, all at once.
Automating this tedious task through Vault PromoMats not only frees up time from manual work, but also helps you maintain control over images and their renditions for better compliance. And, with Vault PromoMats' reporting and dashboards, you can compare the performance of image types to better understand and refine your content strategy.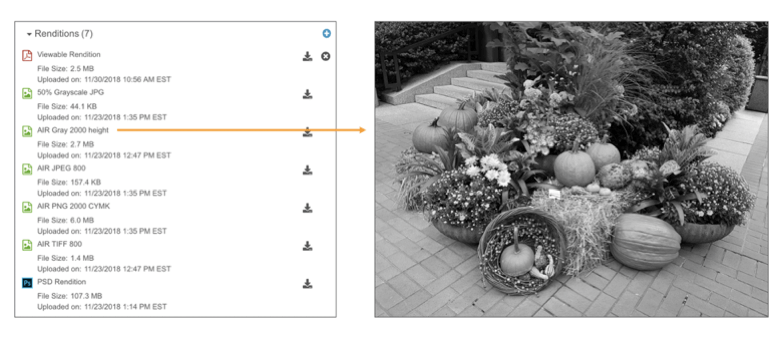 Learn more about Automated Image Renditions here.
Interested in learning more about these innovations? Join our upcoming January 23 webinar on Vault Auto Claims Linking to get expert advice on rolling out this feature at your organization.
___________
1. https://www.fda.gov/drugs/new-drugs-fda-cders-new-molecular-entities-and-new-therapeutic-biological-products/novel-drug-approvals-2019