Delivering for the Five in 10,000 Patients Living With a Rare Disease
Feb 27, 2023 | Chris Moore
Significant progress is underway in pinpointing treatments and speeding diagnosis, thanks to digital trials and data-driven commercial strategy.
Estimates indicate that up to 30 million people are living with a rare disease in the European Union alone.1 Diagnosis remains painfully slow, and patients suffer the consequences. With between 6,000 to 8,000 rare diseases to consider, healthcare professionals (HCPs) often fail to spot the symptoms within relatively small patient populations (five or fewer in 10,000 people). The right diagnosis may take years or never come at all.
Pharma companies trying to deliver effective treatments for rare diseases are searching for the proverbial needle in the haystack. During development, it's a challenge to find, recruit, and retain patients for trials. Getting to a viable product requires seamless coordination of clinical data, document review, and regulatory submissions across multiple functions. In the commercial phase, medical science liaisons (MSLs) have to identify and engage the right experts to shape their medical strategy. After launch, many field teams struggle with access: 65% of accessible HCPs meet with three or fewer pharma companies in Europe.2 It's unsurprising that 95% of rare diseases have no approved treatment.3
With the odds stacked against them, pharma companies of all sizes need to unlock the clinical and commercial value of their vital work swiftly. Here's how some leaders are transforming their approach to data and technology to speed the delivery of new treatments to patients.
Accelerating the development pipeline
Pharma companies need to recruit patients suffering from rare diseases quickly, cost-effectively, and across diverse locations to participate in clinical trials. Thankfully, the industry's accelerated pathway toward digital trials makes it possible to find patients scattered across the population while keeping costs low. However, retaining their involvement in a trial can be an uphill struggle, particularly if the trial is site-based and their health deteriorates.
To improve retention, patients deserve more choice over how to participate in studies from one day to the next, whether in person or through digital means, based on their daily health status and personal preferences. Wearable technology, electronic Patient-Reported Outcomes (ePRO), and remote monitoring devices can help track patients' health status. But technology needs to keep pace with these scientific developments. Traditional electronic data capture (EDC) systems no longer give study teams the whole picture, and data managers lack the tools to manage non-traditional data at scale.
Once the trial is over, companies need to find ways to cut the time and cost of developing a safe and effective treatment for a rare disease. An integrated approach to technology and data could help to accelerate their product pipelines by improving cross-functional collaboration and establishing a single source of truth across clinical, regulatory, safety, and quality.
For example, Alexion's rapid growth trajectory required a fourfold increase in clinical trials over three years, without overwhelming its people, processes, or systems. The company was able to build a flexible foundation to support its fast-growing development pipeline by improving clinical data management and trial oversight, consolidating regulatory information, and boosting efficiency in quality document management. Michael Sauter, senior director of global regulatory operations, notes: "Stakeholders are starting to realize the advantage of having a single system where everything is located."
Data fuels precision engagement
Once pharma companies have an authorized product, the race is on to identify and build relationships with key people whose insights will determine medical strategy. Finding the right people focused on rare diseases is not straightforward and can require resource-constrained teams to prioritize just a handful of experts. As Malcolm Crooks, chief operations officer at COUR Pharmaceuticals, comments: "I worked on a program in the U.K. where there were only 300 patients in the whole country suffering from a specific disease, with data held in one registry in Salford, near Manchester… It was a unique challenge to work with one key opinion leader, but also an opportunity to understand their ecosystem and discover how to support patients' needs with our solutions."
This high-value engagement requires meticulous preparation. However, MSLs are under pressure to quickly identify and reach out to experts, digital opinion leaders, and community leaders – and well ahead of launch. To be effective in their outreach, they require one point of access to relevant, up-to-date information on key people's clinical and academic interests. Given the volume and velocity of clinical research data now exchanged and debated on social media, medical affairs teams that rely on a manual approach could easily lose track of the latest developments [Figure 1]. Instead, they need compliant access to social media feeds, and other published resources, so they are fully prepared before they speak to an expert.
Figure 1: A Dynamic New Landscape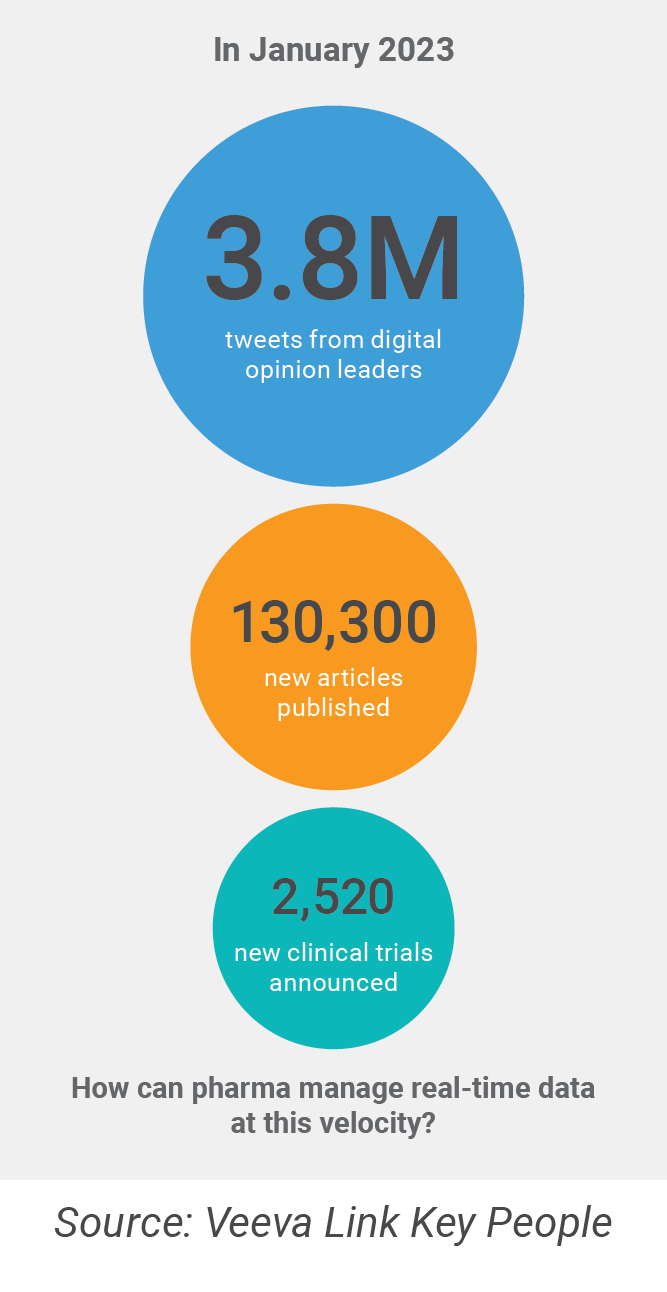 After launch, some companies get a head start on market access and prioritize field activity by HCP/KOL types, primary centers, and specialty. One biotech focused on rare and serious diseases was able to hit the ground running in countries where launches were live because its management team had access to dashboards based on clean, real-time customer reference data on the full ecosystem surrounding its drug. Through early visibility of market potential, it could even hire key roles in markets yet to launch.
With few customers for any given product, companies need to effectively marshal their limited resource capacity. This makes it critical for the field force to appreciate the value of new technology and start using it. Elodie Privat, sales analytics and operations lead at Novartis Gene Therapies, describes the situation when launching a product for spinal and muscular atrophy: "Whenever we launch in a country, we need accurate data for HCPs and specialties. If you don't have accurate data, you won't build trust, and users won't adopt the technology."
Data can pinpoint the path forward, even when patient journeys are complex and varied (like in rare autoimmune diseases). In North America, end-to-end patient data is increasingly used to map the most likely patient pathways from diagnosis to treatment. For example, ANI Pharmaceuticals used advanced customer segmentation and technology to build specialized field teams in months, empowering them with information on different patient segments, therapeutic areas, and HCP customers. Field teams succeed because they prioritize engagement based on which doctors have the most appropriate patient visits and what they tend to prescribe.
Finally, improving HCP awareness of a rare disease is key to reducing diagnosis time. For this, HCPs need seamless access to information to make an early diagnosis – for example, education about symptoms they may be unaware of and at risk of ignoring. At one company, field teams have shared insights into the patient pathway (including surveys on the patient experience) and other real-world evidence with HCPs. By combining CRM data (e.g., when a field team member last met a customer) with external data sources (e.g., HCP demographics, online journeys, and activity), the field team has developed impactful relationships with the most relevant doctors in the health ecosystem. It can now deliver innovative treatments to patients faster because of its established connections with HCPs.
Rising to a unique challenge
The challenges posed by rare diseases require a different approach across the end-to-end process of bringing a treatment to market. Technology and accurate data have to work together at every stage. Clinical, commercial, and market access teams must be able to share insights and collaborate sooner to accelerate the launch process.
With no margin for error, companies of all sizes focused on this area need an early view of market viability to commercialize new treatments at scale. They also need to equip MSLs with the right tools to work in a hybrid way, based on HCPs' changing preferences and needs.
Despite the barriers, leading companies are getting so much closer to discovering and delivering for the five in 10,000 affected by rare diseases. For patients and HCPs alike, an accelerated pathway to rare disease treatment cannot come soon enough.
Watch Malcolm Crooks explain how COUR Pharmaceuticals is responding to the unique challenges of rare disease.
---
1 European Commission, Research and Innovation, 'EU Research on Rare Diseases'
2 Veeva Pulse Field Trends Report
3 The Lancet Diabetes & Endocrinology, 'Spotlight on Rare Diseases', Vol. 7, Issue 2, February 2019
Interested in learning more about how Veeva can help?