How to Eliminate 5 Friction Points in HCP Engagement
Jan 18, 2023 | Tom Marvel
I once spoke with a primary care physician who told me he really valued how pharma gives him the information he needs to make evidence-based decisions. However, when asked if he's ever tried reaching out to a rep to get this information, the physician's answer was, "No."
"Would I even know where to start?" he said. If reaching out to reps was easier though, he said he'd try it out.
As the product leader for Veeva CRM Engage, this is the exact problem my team is trying to solve for. Healthcare professionals (HCPs) today have schedules that are more varied than ever, and every time they have a question that a rep isn't there to answer, it creates friction that can delay the right treatment to the right patient.
Here are the latest solutions we've developed to overcome some of these barriers and ensure that your HCPs feel fully supported throughout their prescription journey.
1. Digital Business Card
Do you remember the last time you used a business card?
If I meet someone interesting at an industry conference, my go-to is to connect with them on LinkedIn. It's fast, convenient, and one place I can go to for all my business contacts—and unlike a business card, whenever someone changes their contact information, I can see it immediately.
During one of our design interviews with our HCP advisory board, some HCPs told us they keep track of their pharma contacts with a Rolodex of everybody's business cards. The cards often get outdated and are easily damaged or lost, which makes the HCP's connection to the help they need very fragile.
The need to stay connected without physical cards inspired the Digital Business Card feature in CRM Engage. After a rep and an HCP complete a virtual meeting in CRM Engage, the HCP's contact list is automatically updated with the rep's contact information.
When the rep's information changes, the HCP can see it instantly, making for a lasting connection the HCP can rely on any time.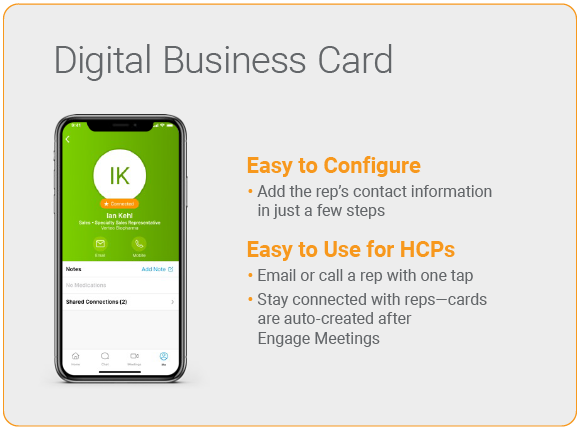 2. Integrated Scheduling
Imagine trying to schedule dinner with a friend. You ask them when they're available. "Oh, it depends," they say. "But I know you get off work at 5, get home at 6, and go to bed at around 10. So I'll stop by sometime between 6 and 10. Is that good with you?"
This is what it's like for many doctors trying to meet with their pharma rep. They often have no visibility into the rep's schedule, and don't know when to expect the rep in the office. When they do coordinate an appointment, it often involves many rounds of email or phone calls before they can finalize a time.
To eliminate this time-consuming back-and-forth, we've built an Integrated Scheduling feature in CRM Engage that lets doctors and reps communicate their availability with ease.
Reps designate availability on their calendars, which displays for the HCP on a booking portal. HCPs then choose a time and preferred channel (in-person, video, or phone) and submit a meeting request that automatically goes back to the rep's calendar in Veeva CRM. Then the rep can accept or decline the meeting request, which sends an email back to the HCP.
But unlike other scheduling apps, all scheduling transactions are tracked and stored, making it possible to report scheduling details for compliance purposes.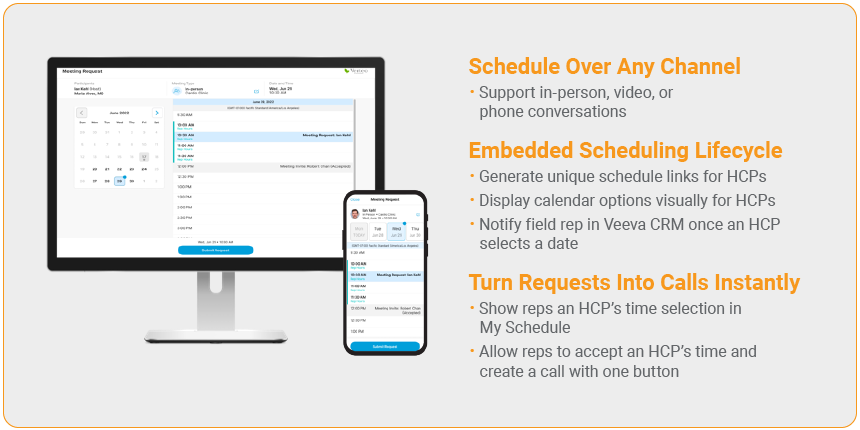 3. Sharing Content via Web Link
A 2022 Veeva Pulse Field Trends Report found that content usage was on the rise, with 85% of virtual HCP meetings conducted in CRM Engage utilizing in-meeting content. Between meetings, however, asynchronous content sharing is more difficult.
While compliant rep-triggered email has made sending content at the HCP's request easier, there is often still a delay in time before the HCP can check their email and access the content.
Field teams need a way to share content through even more channels and at the moment HCPs need the information. For that, we've built the Sharing Content via Web Link feature.
With this feature, Veeva CRM administrators can configure certain pieces of content or websites to be shareable through various instant messaging channels using a traceable link. This link records when and how the content was sent and logs when viewers interact with the content.
So whether an HCP and rep prefer to use native CRM Engage chat capabilities or another chat tool, they can exchange content through either channel with the same standard of compliance.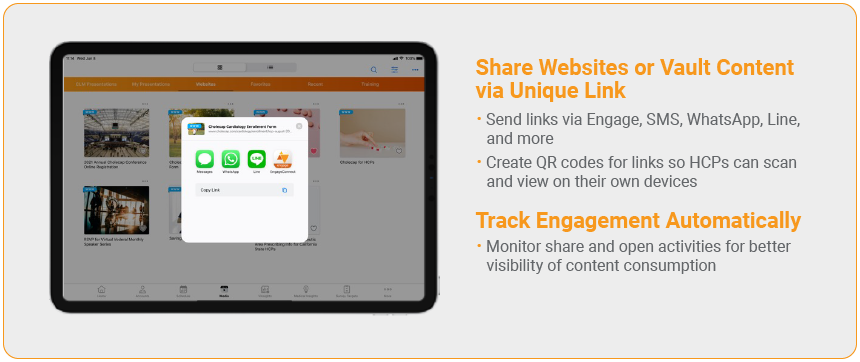 4. Remote Signature Capture
The legacy process around signatures can also create friction that keeps HCPs from getting the help they need, resulting in delayed treatments for patients.
Field teams often need to collect signatures in person, which means that even if the HCP requested a sample or a medical inquiry over the phone, they wouldn't be able to receive service until after the next office visit from the rep.
We recently expanded the signature capture functionality in CRM Engage to address this situation. The Remote Signature feature generates a QR code or a link that reps can send to HCPs over any messaging app or text channel so that HCPs can complete signatures quickly and get service faster.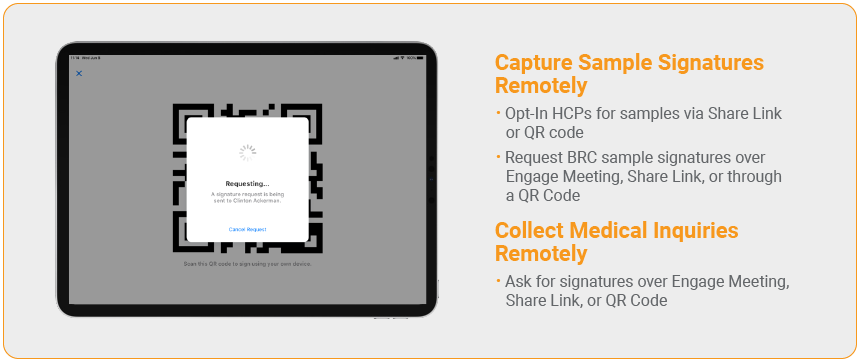 5. Compliant Chat
What does an HCP do today if they're in the middle of prescribing a drug for a patient and suddenly have a question?
We asked many HCPs during our design research for CRM Engage, and the most common answer, surprisingly enough, was "prescribe another drug."
They could call or email a rep, but there's no guarantee that the rep will be available when they need help. Some HCPs participating in our research said they would text—however, texting over unsanctioned channels poses a compliance risk due to a lack of traceability, which is why many life sciences companies discourage the practice.
This feedback is a huge reason we've incorporated a compliant chat function into CRM Engage, where all interactions are monitored and logged for compliance. Our chat function also works with the Approved Notes feature of Veeva CRM, which gives compliance teams more oversight into free text fields. Compliance teams can define a list of blocked words, and then receive alerts when reps use one or more of the blocked words in their communications.
Reps can also send content and reply to HCP sample requests in the chat with CRM Engage's built-in functionality, helping your field teams be more responsive while maintaining traceability. It could make the difference between getting a patient on therapy that's only good enough, or therapy that's just right for them.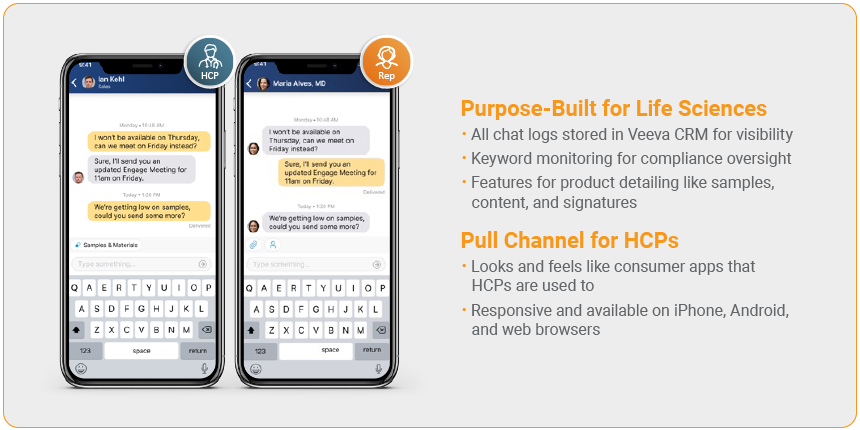 If you currently have a CRM Engage subscription, all of these features are available to you today.
We hope they'll help deepen the relationship between HCPs and pharma and by doing so, empower more HCPs to use the latest innovations in therapy to help patients live better lives.
Want to see more ways these features can enhance your engagement strategy? Watch this webinar replay.
Interested in learning more about how Veeva can help?